Travel With a Baby – When Can You Start and What Not To Forget?
Published by

Dominika

Created:
8. 7. 2021
Updated:
8. 7. 2021


Don't know when it's possible to travel with a baby? Or what to pack in a backpack so nothing is missing later? We have written down it for you – How to prepare for the trip. When you can start travel with a baby. What to pack for the baby. And which common mistakes you should pay attention to.
You may be wondering if traveling long distances with a baby is a good idea, or – if you are already determined to go – how to deal with the journey. Since when is it possible to travel with babies without fear and especially how to pack quickly for the trip?
When Can a Baby Start Traveling?
The Age of the Baby
Although there is no age limit for baby traveling, pediatricians usually agree that you should avoid more difficult journeys with your newborn in the first weeks of life (at least the first three months). This is especially true for those means of transport where a larger number of people are concentrated (plane, train) and there is a higher risk of infection.
💡 TIP N.1: Tips for Traveling with a Baby
Health Status and Nature of the Baby
If your baby is healthy, you can start traveling from about three/four months of its age. However, take into account not only the baby's health but also his nature. While some children are very phlegmatic and will not have major problems with traveling, some children may be more sensitive to changes in the environment.
What To Pack With You for the Baby
Take the following list as a base for packing baby's stuff. The list will vary depending on the age of the baby, the season, the destination, the type of accommodation, transportation, and your favorite and used products.
💡 TIP N.2: The list of basic and important things to pack travel with a baby.
Baby Clothes
First Aid Kit/Drugstore
Changing
Food
Other
Toys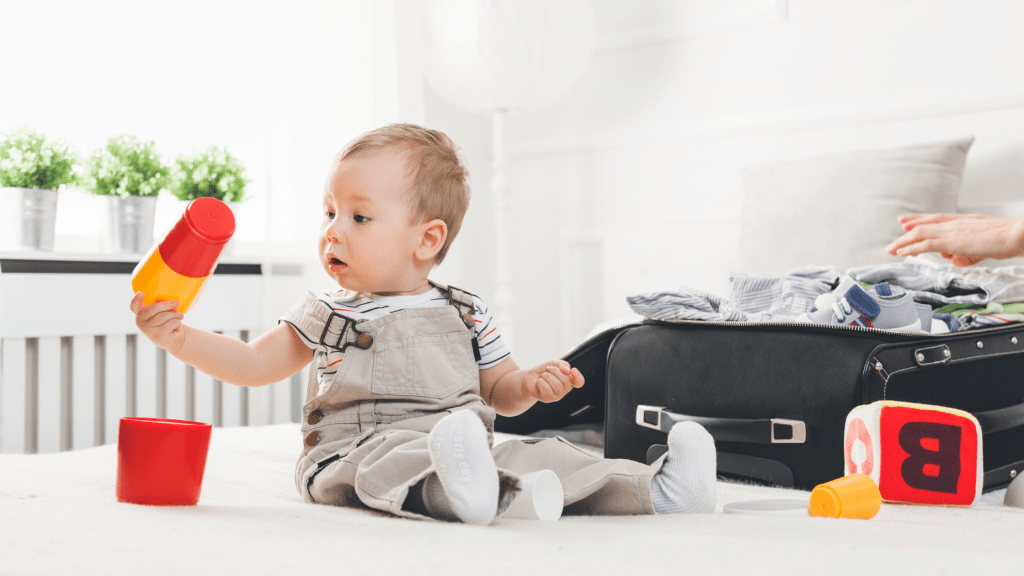 What To Have on Hand During the Trip?
In the case of a long journey, it will be necessary to take a break with the baby during the day after 2-3 hours for feeding and changing diapers, in which you also let the baby stretch a little and play on the tummy. So keep in mind that it is good to have all the necessary things for these activities at hand – preferably in a classic baby's bag.
💡 TIP N.3: How to Choose a Diaper Bag
What To Pack in the Baby's Bag
Changing
Disposable diapers, disposable changing pads, wet wipes, baby clothes, plastic bag / bag for used diapers.
Others 
Necessary documents, cloth diaper/handkerchief, favorite toy, pacifier, spray disinfection. If you do not breastfeed, then also everything you need to produce feed during the trip.
Identity Document
If you are going on holiday abroad, do not forget your baby also needs his passport or ID card. An identity card is a cheaper and usually a faster alternative. Due to the fact that the baby on the identity card must be similar as looks now, the life of the baby's passport is relatively short.
Also, think about travel insurance not only for yourself but most importantly for your baby. Security is security and travel insurance for children is significantly cheaper than for adults. And, of course, have a classic insurance card with you.
The List of Other Things You Will Need
You should prepare properly for each trip and plan the whole route carefully.
💡 TIP N.4: How to choose a holiday suitable for a baby?
Don't forget to pack all the important things. In particular, you should take:
Car seat
Buying a quality car seat is the basis. Buy one that has the appropriate certificate and meets all safety requirements. Also, always make sure several times that it is securely fastened, and if you put it on the front seat, make sure that the passenger airbag is switched off.
💡 TIP N.5: How to choose a perfect car seat
Food and drink on the go for baby
If the baby is still breastfed you have won! Otherwise, it is necessary to prepare bottles for the trip, milk, enough boiled water, and baby foods.
💡 TIP N.6: 60+ HOMEMADE Baby Food Combinations
Spare diapers, disposable changing mats and wet wipes
You should also bring with you all the things you need to repack your baby and the baby's first aid kit. Put common treatment products and first aid aids into it.
And finally, one proven tip. It is much better to travel with a baby in the evening. Baby sleeps most of the journey and you also avoid congested traffic during rush hours when travel by car.
Check out also: