Tips for Flying with a Baby

Even if you can fly with a newborn baby, it doesn't mean that you should.
Most experts advise limiting newborn's exposure to large groups of people so that they don't get sick.
Flying with a baby onto an airplane (or more than just one) exposes your baby to viral illness and other infections. This exposure is the main issue to consider when you travel with a baby, especially by air.
Traveling by bus or train would also expose your baby to many unfamiliar people and diseases.
Planning
If you travel with a baby by air it is mostly for a long time. That is why it requires plenty of preparation to ensure your baby is not only comfortable but safe during and after the flight.
Before you plan your baby's first trip, it is a good idea to talk to the doctor to be sure that it is safe.
Check with the carrier that you are using. Each airline has its own policy. For example, some airlines allow babies as young as two days old to fly, but babies one week old and younger must have a medical form completed by a physician.
Get pediatrician's opinion
Bring baby's birth certificate (proof of age)
Be prepared for everything – delay, diaper disasters, illnesses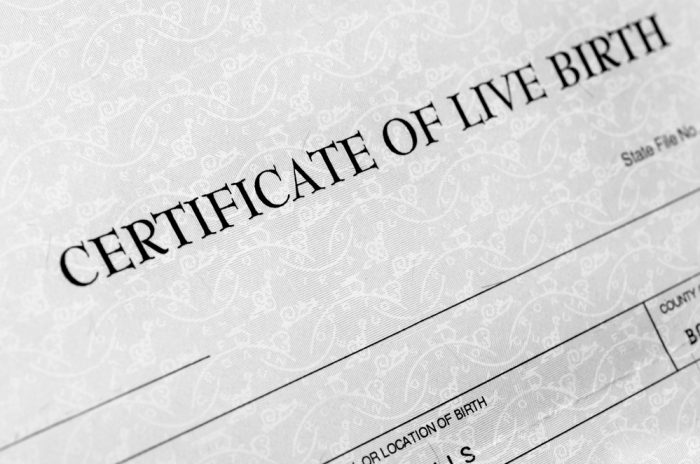 What to pack
Definitely be minimalist while you flying with a baby. Babies don't need as much as we think and that certainly goes for a newborn baby. Pack into small cloth bags, so it's nice and easy and saves space.
Keep your baby's diapers, wipes, changing mat, bottom cream, wet bag, empty plastic bag for used wipes or solid diapers, and plenty of non-noisy toys that won't disturb other passengers in one bag which you'll take into the plane. Have a separate small bag only for clothes. For newborn always had a spare vest and two outfits, plus two blankets that were warm but also folded up small.
Also have a small case with a thermometer, baby analgesia, an aspirin, a balm and any baby medication.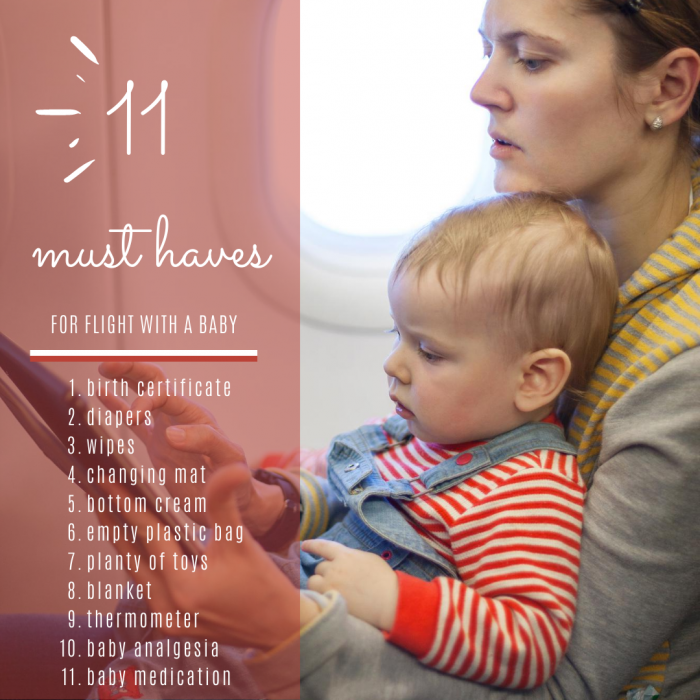 During flight
Cabin pressure – encourage swallowing during takeoff and landing. You can do this by breastfeeding or by using a bottle or pacifier.
Dehydration – happens much more quickly in babies than adults. Take extra effort to keep your baby well hydrated.
Changing diapers – the toilet is very small for changing diapers. Speak with the flight attendant, some of whom may allow you to use their jump seat or provide you floor space near the galley or bulkhead.
Warm food – a flight attendant is usually happy to heat a bottle for you. But check the temperature as the galley system can often make liquids very hot.
Sick people – make a point of avoiding anyone who seems sick or is sneezing or coughing. Wash your hands regularly and use your waterless hand cleanser.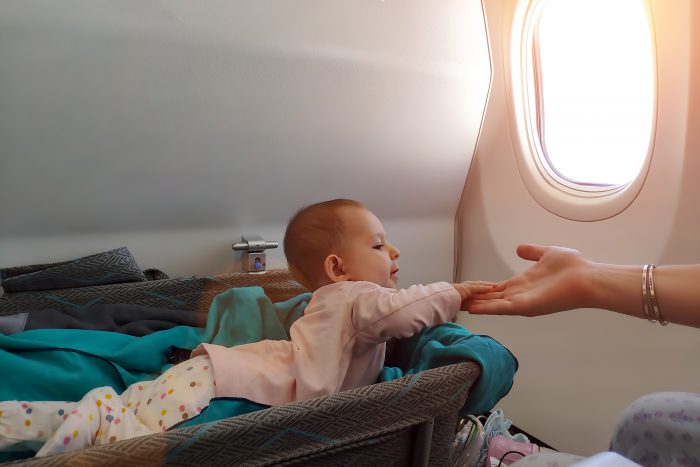 Check out also: