17 Baby Beach Essentials
Published by

Dominika

Created:
19. 7. 2022
Updated:
19. 7. 2022



Traveling with a baby for the first time is never easy, especially if you are traveling by plane and staying in a hotel. However, holidaying with a baby on the beach brings a whole range of challenges – the salty sea water, the sand and many other.
A beach trip with little kids can be a great source of family fun, but remember sun safety rules and prepare baby beach essentials before you head to the beach.
What Do You Need at the Beach With a Baby?
The following list of baby beach must-haves will help you whenever you take your baby to the beach.
In general, the following baby beach essentials come in handy:
Outdoor sports stroller – it will go over everything (it has inflatable wheels and is cushioned) and it can carry an incredible amount of stuff besides the baby. Plus it has a roof with SPF 50.
Thin picnic blanket – easy to fold, with a membrane underneath so it doesn't get wet as a baby beach mat. It is washable and therefore easy to maintain.
Beach towel – to put on picnic blanket for absorbency, comfort and easy maintenance. After all, it's easier to wash beach towels than a picnic blanket. You can wrap yourself or baby in it if needed.
Quick-drying towels – they suck well and dry quickly in the sun. After getting out of the water you can wrap the baby in one of them.
Umbrella/sunshade – some are made with sun protection. It can be quite warm in the sun even in the late afternoon, especially on the beach. It's important to make a place with shade on the beach. You wouldn't want the baby to overheat. After all, they can't adjust their body temperature yet.
Baby beach tent – it's better to get a beach tent that's easy to hide in if you'll be spending a lot of time at the beach. The beach tent is great for babies, especially for napping, feeding, and overall privacy.
Baby beach clothes:
Swimming and changing suits – swimsuits do not dry on babies, so it is important to change them immediately after getting out of the water. Baby beach set of sun-protective clothing can the baby wear in the water as well as out of the water. UPF-protected clothing keeps children cool, comfortable, and safe from the sun.
Bathing cap with neck tie and another cap – protecting head against overheating is extremely important, especially for babies as they cannot regulate their body temperature.
Swimwear with SPF 50 – ideally a long-sleeved shirt and shorts. Baby's skin is very delicate and sensitive. Sun protection is extremely important. After all, the sun is almost unknown to the baby's skin, so direct sun exposure should be avoided as much as possible. It is important to protect the baby's skin as much as possible.
Sunscreen SPF 50 – it's gentle on baby's skin, contains all the good stuff and doesn't destroy corals. Plus, we have organic and organic after sun lotion.
💡TIP: How to Choose Sunscreen? Click HERE for the ultimate guide.
Other baby beach necessities:
Moist wipes and water-based disinfectants – to clean everything you need.
Paper tissues – when a child loves the water and wants to get into the waves, God knows what will come out of his nose. So tissues are a sure thing.
Spare nappy for the journey home – water, bathing and splashing encourage secretion and sometimes peeing.
Baby beach toys – water toys and/or sand toys. Always take the most popular one.
Snack – pack mainly fruit and vegetables in small boxes, and maybe some biscuits. The baby will definitely get hungry after swimming. A bib is a good idea too if you still need it. With a baby, it's all about the food.
Drinks – room temperature for the baby – in addition to mother's milk, which the little one has unlimited, take fresh juice mixed with water (1:10).
Baby beach bag – instead of a classic beach bag, get a mesh bag. You can pack important things in. It doesn't hold sand and it's quick to find anything in it.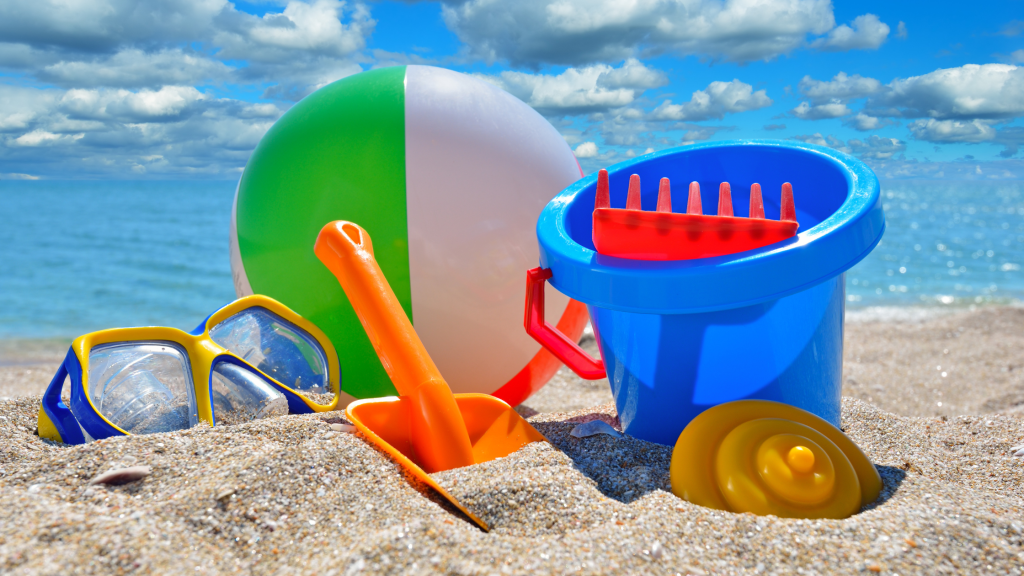 7 Sun Safety Tips from Annie
Get special protective clothing for the baby.
Always cover the child's head.
Invest in quality sunglasses that include a UV filter.
Try to spend most of your time in the shade. Stay at the hotel between 10am and 4pm if possible.
Choose the right sunscreen with the highest SPF.
Apply sunscreen regularly, ideally every two hours or after bathing.
Keep your baby cool all the time.
💡TIP: Take the right precautions to protect your kids from the sun – read more details HERE.
What do I need to take my 6 month old to the beach?
We recommend the following baby beach essentials in addition to the ones already mentioned: swim diapers, baby carrier, and baby sunglasses.
What do I need to take my 3 month old/2 month old to the beach?
Do you plan to take your 3-month-old or 2-month-old to the beach? No matter what age your baby is, you can take him or her to the beach! However, before you take your baby to the beach, you should consider some important factors.
At first, never do more than a few hours at a time.
Secondly, the baby should wear clothing and headgear, as well as sunscreen. Do not forget a pair of sunglasses.
Thirdly, babies younger than six months should stay at home from 10 am to 4 pm.
Last but not least, don't forget to bring all the essentials we've listed in this article.
This Might Also Be Helpful to You: