Traditional Christmas🎄Drinks And Starbucks Tips
Published by

Dominika

Created:
10. 12. 2020
Updated:
27. 9. 2023

Among the many Christmas traditions – baking Christmas sweets, stressing about Christmas gifts, and watching Christmas movies – to look forward to each year are favorite cocktails and punches.
Are you feeling holly and jolly yet? Don't worry if you can't answer, the holidays can be stressful even this year, we have the perfect solution, a little bit of these drinks!
Whether you choose to serve a festive candy cane cocktail or a warming whiskey punch, these Christmas cocktails are sure to help you celebrate the holidays in a good Christmasy spirit.

Eggnog
Eggnog is a holiday classic and it is a favorite party drink when the Christmas season rolls around each year. While there are many ways to make eggnog, few recipes are as traditional as this one which features brandy and fresh eggs.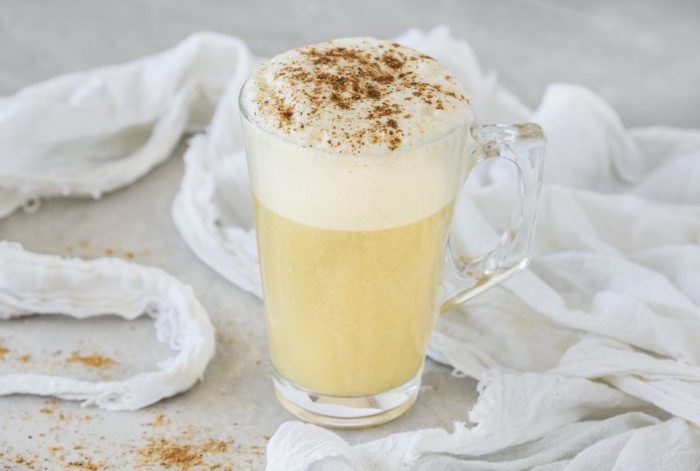 6 large eggs
1/2 cup sugar
1/4 teaspoon salt
2 teaspoons vanilla extract
1/2 teaspoon grated nutmeg (plus more for garnish)
2 cups brandy (if you want non-alcoholic, just skip this ingredient)
1 cup milk
How To
Beat the egg yolks, 1/4 cup of the sugar, salt, vanilla, and nutmeg (if using) together until it is very thick and has a light yellow color.
Slowly beat in the brandy and milk.
Cover and chill overnight in the refrigerator.
Shortly before serving, beat the egg whites to soft peaks.
Gradually beat in the remaining 1/4 cup sugar and beat this mixture to soft peaks again, creating a meringue-like cream.
Slowly pour this cream over the chilled brandy mixture, folding it in gently.
Serve the eggnog in a mug, Irish coffee glass, or punch cup and grate nutmeg over the top for a garnish. Enjoy.
Source:The Spruce Eats
Wassail
Wassail is a traditional holiday punch that has been served for centuries. It is a comforting drink which families would serve to carolers and other visitors during the Christmas season. The tradition of going house to house to visit like this is known as wassailing and groups often spent an entire day or evening making their rounds.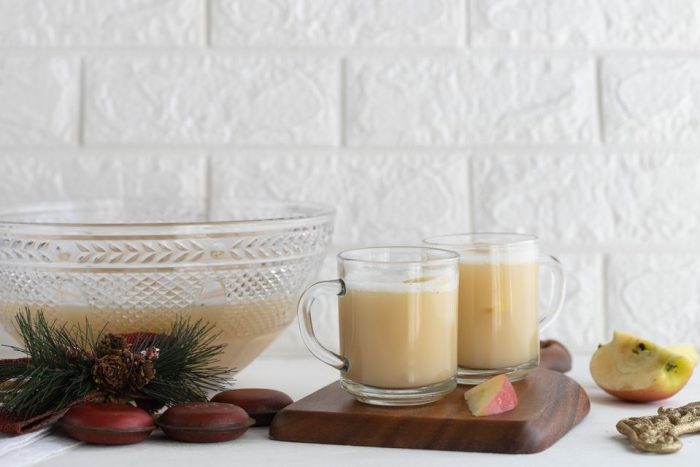 1 cup water
1/4 teaspoon nutmeg (ground)
1/4 teaspoon ginger (ground)
1/4 teaspoon cardamom
5 to 6 cloves
2 cinnamon sticks
2 750ml bottles dry sherry
1 cup sugar
1/2 cup brandy (if you want non-alcoholic, just skip this ingredient)
3 egg yolks
6 egg whites
How To
Gather the ingredients.
In a saucepan, combine the water and spices. Simmer over low heat for 10 minutes, without allowing it to reach a boil. Stir occasionally.
Add the sherry and sugar and continue to heat and stir for a few minutes, ensuring the sugar dissolves completely. Remove from the heat.
In a small bowl, beat the egg yolks. Beat the egg whites in a separate bowl.
Stir the warm sherry mix and egg yolks together in a heat resistant punch bowl or wassail bowl. Add the brandy.
Whisk in the egg whites until foamy.
Serve and enjoy!
Source:The Spruce Eats
Hot Buttered Rum
Hot buttered rum is a favorite winter drink and it's irresistible. It is both sweet and warm, which is just the kind of comfort you want on the coldest days of the year.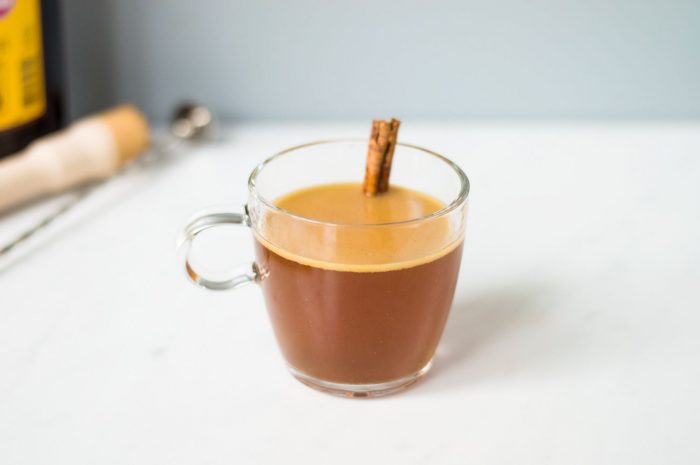 1 teaspoon ​brown sugar
1 tablespoon butter (soft)
1 dash ​​ground cinnamon
1 dash ​ground nutmeg
1 dash ​ground allspice
1 splash vanilla extract
2 ounces ​​rum (if you want non-alcoholic, just skip this ingredient)
5 ounces water (hot)
How To
Gather the ingredients.
Place the sugar, butter, and spices into the bottom of an Irish coffee glass or mug and mix well or muddle
Pour in the rum and top it with hot water.
Stir. Serve and enjoy!
Source: The Spruce Eats
Butterbeer
"Harry Potter" introduced us to all manner of wizardry, from intricate potions and spells to flying brooms and fantastical creatures. But curious drinkers have always gravitated toward one invention in particular: Butterbeer.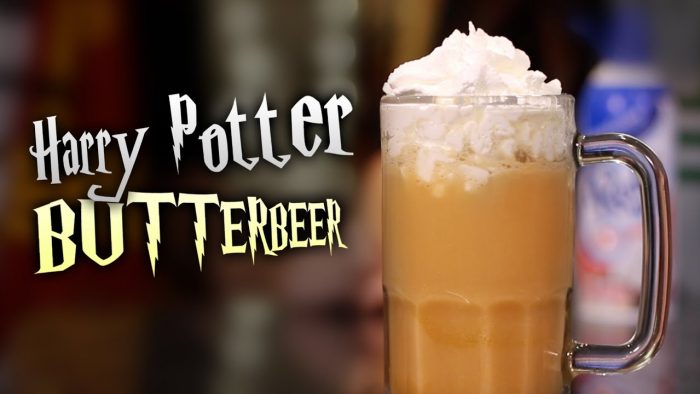 Ingredients
3 cups whole milk
1/4 cup unsalted butter (room temp)
1/4 cup brown sugar (packed)
1 2-liter cream soda
1 3.4 ounce box Butterscotch Instant Pudding
1 tbsp vanilla
1/4 tsp ginger paste
1/4 tsp cayenne
How To
Combine milk, butter, and brown sugar in a large microwavable bowl. Whisk to combine.
Heat in microwave for 3 minutes.
Whisk together until the butter is melted and sugar is dissolved.
Whisk in 1/2 bottle of the cream soda.
Add in the butterscotch instant pudding mix.
Add the vanilla, ginger, and cayenne. Whisk well to combine.
Pour in the rest of the bottle of the cream soda.
Either heat in the microwave, on stovetop or pour into a crockpot to keep it at a consistent temperature.
Optional: Add whipped cream to the top of each cup of butterbeer and drizzle butterscotch sauce on top of the whipped cream.
Source:Princess Pinky Girl
Punch
Make holiday entertaining a little easier by mixing up a flavorful punch. This non-alcoholic recipe offers a delicious combination of apple cider and blood orange with a delicate sparkle that's very refreshing.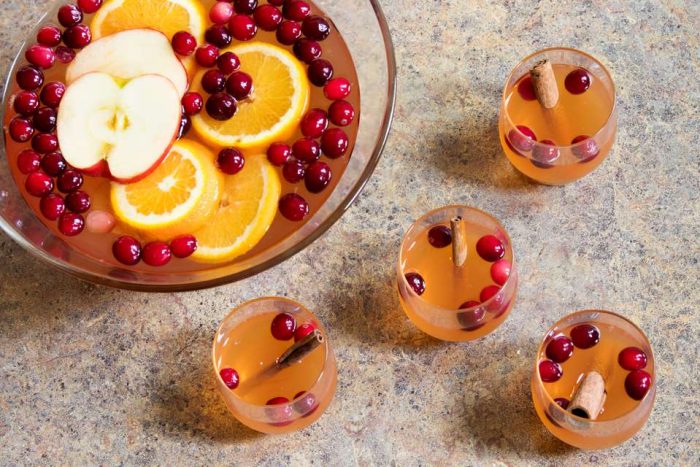 64 ounces apple cider
1 cup spiced syrup
2 cups frozen cranberries (divided)
1 apple (sliced)
1 orange (sliced)
22 ounces sparkling blood orange juice (chilled)
1 (750mL) bottle sparkling grape juice (chilled)
Garnish: frozen cranberries
Garnish: cinnamon sticks
How To
Gather the ingredients.
In a large pitcher, combine the apple cider and spiced syrup. Stir well.
Add about half of the frozen cranberries and all of the apple and orange slices to the pitcher. Cover and refrigerate overnight (or at least three or four hours) to allow the flavors to marry. Keep the remaining cranberries frozen.
When it's time to serve, add the sweetened apple cider and all of the fruit to a punch bowl. Finish it off with the sparkling blood orange and grape juices. Stir to combine.
Source: The Spruce Eats
Check out also:
The Hot Toddy
Warm, toasty, and just in time for winter, the hot toddy is a classic hot cocktail that is very simple to make. The basic recipe requires only a base liquor, honey, lemon, and tea.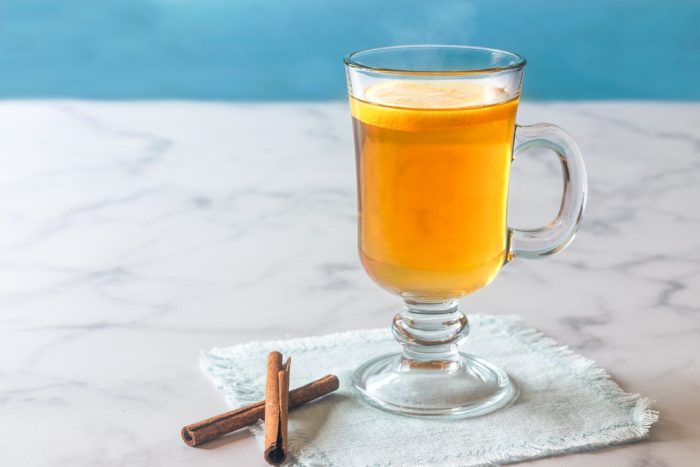 1 cup water
1 tea bag
1 tablespoon honey
1 1/2 ounces​brandy, whiskey, or rum (if you want non-alcoholic, just skip this ingredient)
1 tablespoon freshly squeezed lemon juice
Garnish:Lemon wedge and cinnamon sticks
How To
Gather the ingredients.
Heat the water in a tea kettle or the microwave. Once warm, add a tea bag and allow to steep for about 3 to 5 minutes (or according to the tea's recommended).
While brewing the tea, heat your mug or an Irish coffee glass by filling it with warm water.
Once the glass is warm, dump the water out and coat the bottom with the honey.
Add the liquor and lemon juice to the glass, then fill with the brewed tea. Stir well to incorporate the honey. Serve and enjoy.
Source: The Spruce Eats
Spiced Mulled Wine
Mulled wine, the wine drinker's version of a classic hot toddy, is a traditional holiday treat in many Old World countries. A fruit-forward wine is best for this recipe. Wines with very nuanced flavors will be lost to the spices, brandy, and fruit.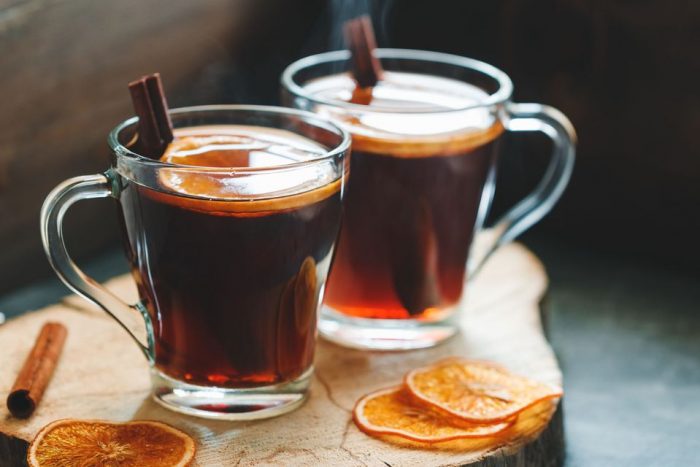 1 medium orange (peeled and sliced; keep the peel)
8 to 10 cloves
3 sticks cinnamon
2 teaspoon ginger (fresh, cut in 8 to 10 small pieces; or 2 teaspoons ground ginger)
1/3 cup honey (or sugar)
1/4 cup brandy (if you want non-alcoholic, just skip this ingredient)
1 (750-milliliter) bottle red wine (if you want non-alcoholic, just replace wine with juice)
How To
Gather the ingredients.
To make the perfect cup of mulled wine, combine all of the ingredients in either a large pot or a slow cooker.
Gently warm the ingredients on low to medium heat for 20 to 25 minutes. Avoid boiling or simmering.
Stir occasionally to make sure that the honey or sugar has dissolved completely. When the wine is steaming and the ingredients have been infused, it is ready to serve.
Source: The Spruce Eats
Glögg
Glögg is a traditional Christmas punch in Scandinavian countries. It's a lot like mulled wine, but it packs on the flavor and uses more alcohol than normal.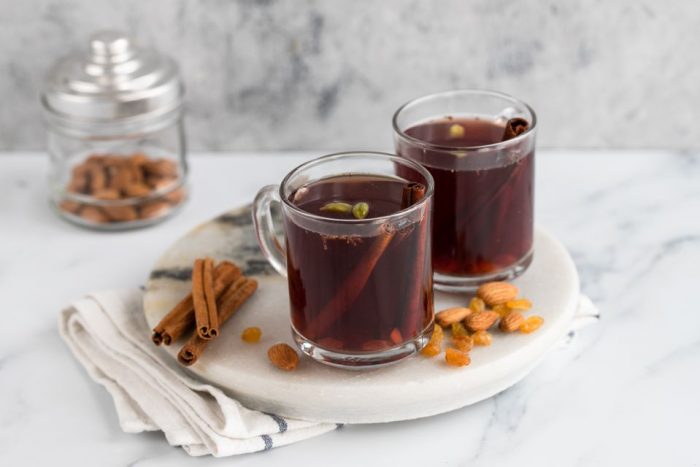 4 cups water
1 cup brandy (or spiced rum)
Peel from 1 large orange (cut into large strips)
2 tablespoons whole cloves
2 teaspoons vanilla extract
10 cardamom pods
1 (1/2-inch) piece fresh ginger (peeled and slightly crushed)
1/2 teaspoon nutmeg (freshly grated)
4 sticks cinnamon
1 (750 mL) bottle dry red wine (if you want non-alcoholic, just replace wine with juice)
1 cup vodka (if you want non-alcoholic, just skip this ingredient)
2/3 cup brown sugar
How To
Gather the ingredients.
In a large pot, heat the water, brandy, and spices, bringing the mixture to a boil. Reduce the heat and simmer for 10 minutes.
Stir in the wine, vodka, and sugar, and simmer for 1 minute.
Strain out the cloves and orange peel and decant the glögg, leaving the other spices behind.
Add raisins and almonds to each glass upon serving. Serve and enjoy!
Source: The Spruce Eats
English Christmas Punch
English Christmas punch is a traditional warm drink that is perfect for holiday parties. It is easy to make and the mix of rum, red wine, and the tea of your choice is fantastic against the citrus fruits.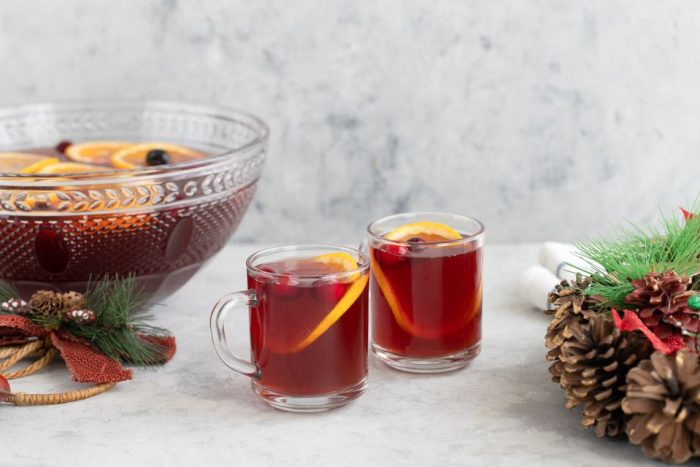 750 ml bottle ​dark rum (if you want non-alcoholic, just skip this ingredient)
750 ml bottle dry red wine (if you want non-alcoholic, just replace wine with juice)
3 cups strong brewed tea
2 cups ​sugar
1/2 cup orange juice
1/2 cup lemon juice
2 cups seasonal fruits (for garnish)
How To
Gather the ingredients.
Heat, but do not allow to boil, all of the ingredients in a saucepan or chafing dish.
Stir well until all of the sugar is dissolved.
Pour the heated mix into cups and add seasonal fruits like orange slices and cranberries. Serve warm.
Source: The Spruce Eats
Peppermintinis
Peppermint bark fans, meet your match. If you're feeling EXTRA, pair it with our other favorite holiday treat, pretzel peppermint bark.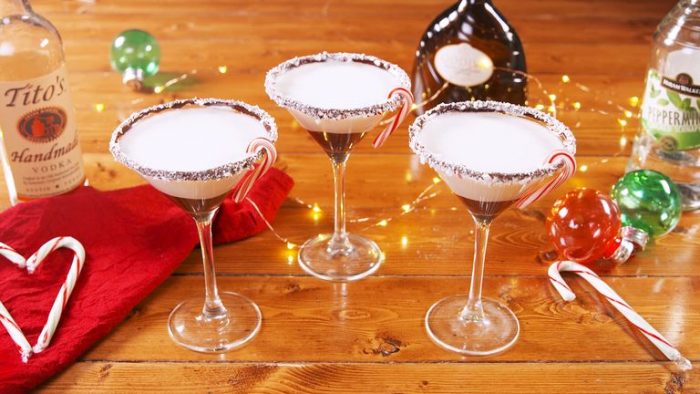 1/2 cup semisweet chocolate chips, melted
1/4 cup crushed candy canes
6 oz. white chocolate liqueur
4 oz. vodka
2 oz. peppermint schnapps
2 tbsp. heavy cream
Ice
3 small candy canes
How To
Pour melted chocolate onto a shallow plate, and place crushed candy canes on another shallow plate. Dip rims of martini glasses first in chocolate, then in candy canes. Pour remaining chocolate into the bottom of glasses and swirl to coat the bottom ⅓ of glasses with chocolate. Place glasses in freezer while you prepare the drink.
Combine white chocolate liqueur, vodka, peppermint schnapps, and heavy cream in a cocktail shaker. Fill to the top with ice and shake until cold. Divide drink between 3 glasses and garnish with a candy cane before serving.
Source: Delish
BONUS: Starbucks Seasonal Beverages List
Starbucks keep their seasonal beverage range secret until the run up to their launch. Below is the full list of festive coffees and chocolate based drinks which have been available at Christmas over the last 23 years.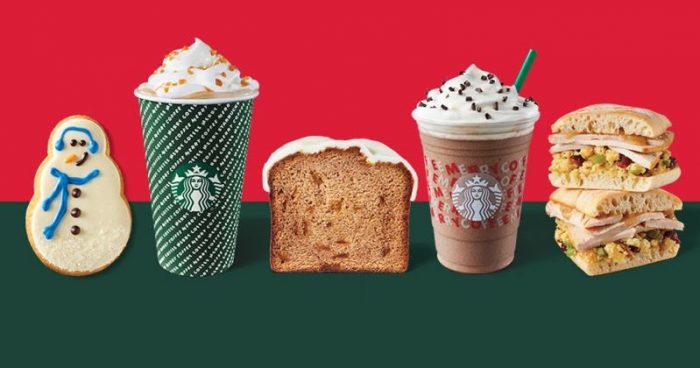 Steamed milk with an espresso, flavored with a caramel Brulée sauce and topped with whipped cream and caramel Brulée topping.
A seasonal chestnut infused chocolate flavour in espresso with steamed milk, topped with whipped cream.
A deliciously creamy, chocolaty blend, topped with whipped cream and golden white chocolate curls.
The Starbucks Christmas classic. Real eggnog, mixed with a bit of milk, espresso, and topped with nutmeg on top.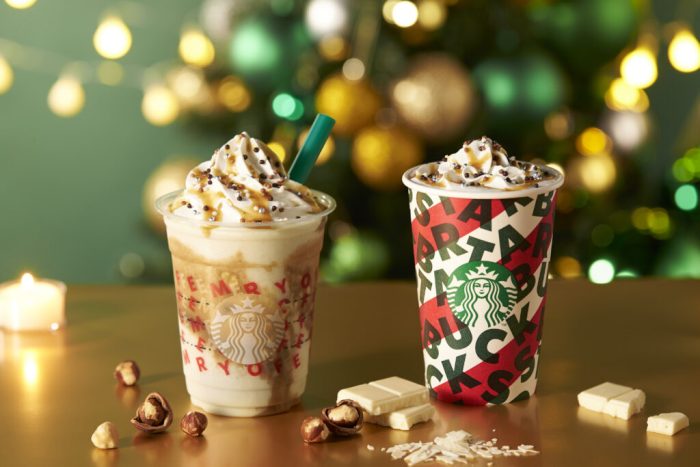 Another Christmas classic, a fresh latte with a couple of shots of gingerbread syrup, topped with whipped cream and nutmeg.
Mocha and almond syrup blended with steamed milk, topped with chocolate whipped cream and finished with swirls of mocha and honey drizzles.
A classic mocha with peppermint syrup, topped with whipped cream and some festive red sprinkles.
A freshly steamed latte with toffee nut syrup and crunchy toffee sprinkles.
All these festive drinks are available in the 2020 Christmas season!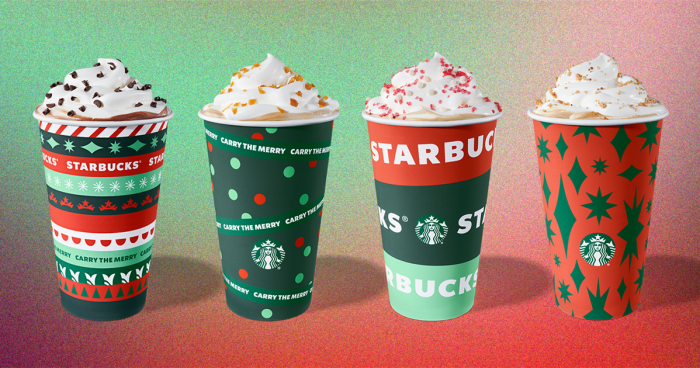 Source: Count Down To Red Cups
Check out also: