Kris Jenner Kids Names

Kris Jenner is the mother of six kids from two marriages. With Robert Kardashian, she had four children: Kourtney, Kim, Khloe, and Rob. Rob is one and only son from this marriage. She also had two daughters during her marriage to Caitlyn Jenner: Kendall and Kylie.
Kris has built an empire on her family name and there's no denying the Kardashian family hold some serious power. The Kardashian-Jenner brand has spawned numerous reality TV series, as well as several makeup lines, fragrances, and apps.
Kris Jenner gave all of her kids "K" names, except for Rob, who was named after his father.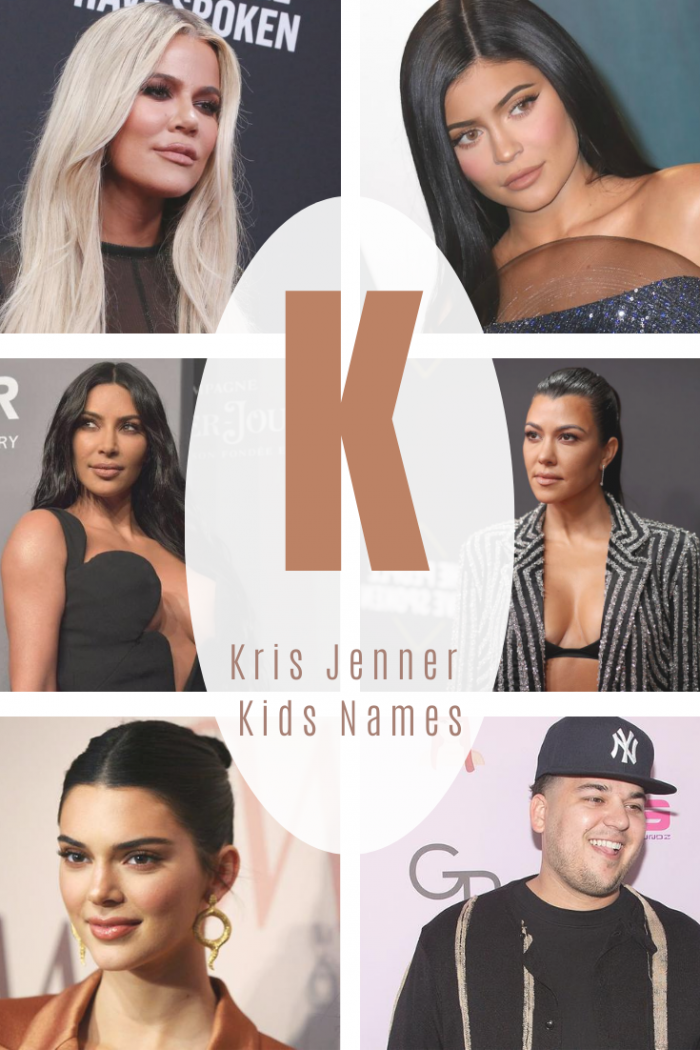 Kourtney Kardashian is the oldest of the Kardashian sisters. Before stardom hit, she was studying Theatre Arts at the University of Arizona. After graduating, she went on to star on Filthy Rich: Cattle Drive, and not long after, her family got their big break with Keeping Up with the Kardashians.
Kourtney means: Short nose
The Kim Kardashian West is the middle sister, and probably the best known. She is the queen of selfies, kimojis, and all social media, because of her fashion, contouring skills, and the story of her rise to fame.
Kim means: Noble or brave

Khloé Kardashian is the youngest of the Kardashian sisters. She's been in three spin-offs of the original family series and is currently the star of two new shows from E!, Kocktails with Khloé, and Revenge Body. Khloé looks rather different from her sisters which have sparked rumors about her parentage. Khloé became a fitness enthusiast a few years ago and showed off her body transformation in her book, which was the best seller.
Khloé means: Blooming, young green shoot, green foliage or shoots of plants
Robert Kardashian Jr. is the youngest member of the Kardashian clan and has famously stayed out of the limelight. He runs his own socks company, Arthur George – the label's name is a combination of his middle name, Arthur, and his father's, George.
Robert means: Fame and bright
Kendall Jenner is one of the world's highest-paid models. Kendall keeps her social life more private than her sisters.
Kendall means: Royal valley
Kylie Jenner is the youngest of the Kardashian-Jenners. She is officially the world's youngest self-made billionaire thanks to her now-iconic brand, Kylie Cosmetics which ranges from lip kits to skincare.
Kylie means: Graceful, beautiful
More inspiration for baby names: