5 Tips How to Use Baby Monitor Effectively
Published by

Dominika

Created:
1. 3. 2022
Updated:
26. 7. 2023
Using Annie as your baby monitor is super simple. All you need is Annie Baby Monitor app and at least two devices. You don't need to buy any new devices, use those you already have – smartphone, tablet, laptop, Apple watch, Onvif/HomeKit camera in any combination.
Annie baby monitor is a reliable baby monitoring app that's trusted by thousands of parents across the world. This baby monitor app is very simple to use and easy to set up.
We prepared a list of top 5 features that we believe are essential for effective baby monitoring with any baby monitor. Let's take a look at what can give you Annie Baby Monitor app. 
1. Using Annie as Video Baby Monitor
Annie is a reliable audio and video baby monitor giving the parents peace of mind.
When monitoring, you see and hear your baby in real-time, and you can check all previous activities – how long has your baby been sleeping, when the last noise was registered, etc. Audio and video recordings are saved to your device.
Annie detects movement. Therefore, this app informs you immediately after any motion is detected. Also, the automatic video recording function allows you to look back at, e.g. at what woke up your baby. This function starts recording as soon as motion is detected.
In addition, this baby monitor app is so sensitive to sound that you will hear the slightest laugh, mumble or hiccup of your baby. You can adjust the noise sensitivity according to your preferences.
Nowadays, as parents, we do not only raise our kids but also work from home. Sometimes we would like to, of course, just sit down and drink a hot coffee in peace.
If you need to respond to a few emails, make a video call on your phone (or any devices you use for baby monitor app), scroll through Instagram, or just watch some series on Netflix, then you will definitely enjoy the picture in picture feature. This feature allows monitoring your sleeping baby while using the phone for any use.
2. Soothe Your Baby with Lullabies and White noises
Every baby is unique. Some sleep better in complete silence around them, while others fall asleep better with a noise or a lullaby playing in the room. Annie baby monitor app provides you with the options to choose whatever works for your baby in any situation.
Select from over 15 lullabies and white noises – from natural noises, household noises, and musical instruments to the sound of mom's heart.
Annie also helps with making your baby's sleeping environment cozier. The night light feature You control the light, however, the light shines from the baby's device. With the adjustable intensity, you can set a brightness that will suit your needs. Besides that, the night light feature helps you recognize what is your baby up to at night. Turn on the light on the baby's device and see for yourself. Annie truly is a baby monitor app that adapts to the needs of both the parents and the baby.
3. Soothing the Little One Remotely Thru Baby Camera
When your baby falls asleep, the last thing you want to do is to wake your little one up. With the two-way video and audio features of the baby camera, you can talk to your baby and try to soothe your little one with your voice remotely. Baby responds to facial expressions, so we know that two-way video communication is important.
If your baby can't fall asleep, it may help you to calm the little one down. And if your baby has already woken up and you are not near, the microphone with the two-way video can help to reassure your baby that you are already on the way to the baby's room.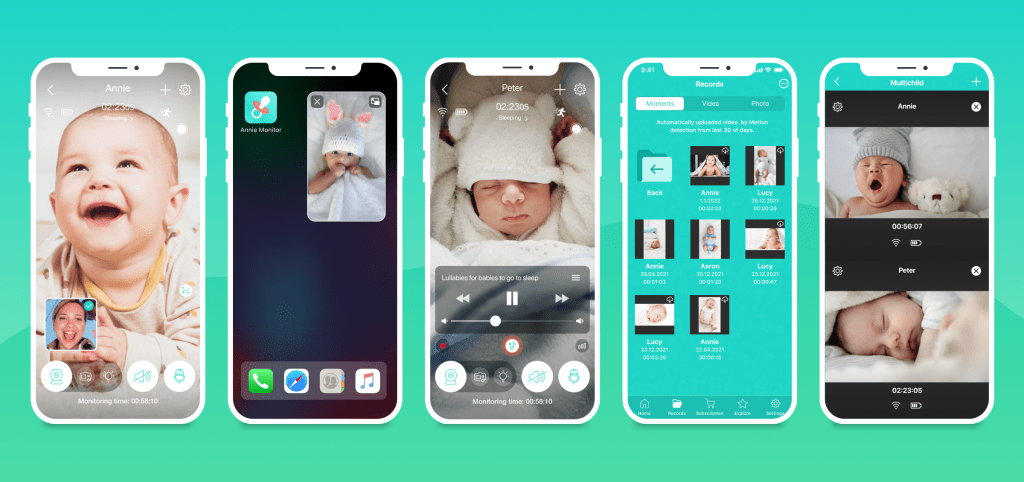 4. Baby Monitoring from Multiple Parent Stations
Unlike most hardware baby monitors, Annie gives the parents an option to use multiple devices as the parent stations for effective baby monitoring. This gives your family enough freedom to watch over your baby from multiple devices according to your family schedule.
Also, it is possible to monitor multiple babies thru multiple baby stations. This feature allows you to monitor up to four babies from your parent's devices. This is a highly requested feature by parents with two and more babies. But you can also use it for monitoring one baby up to four angles.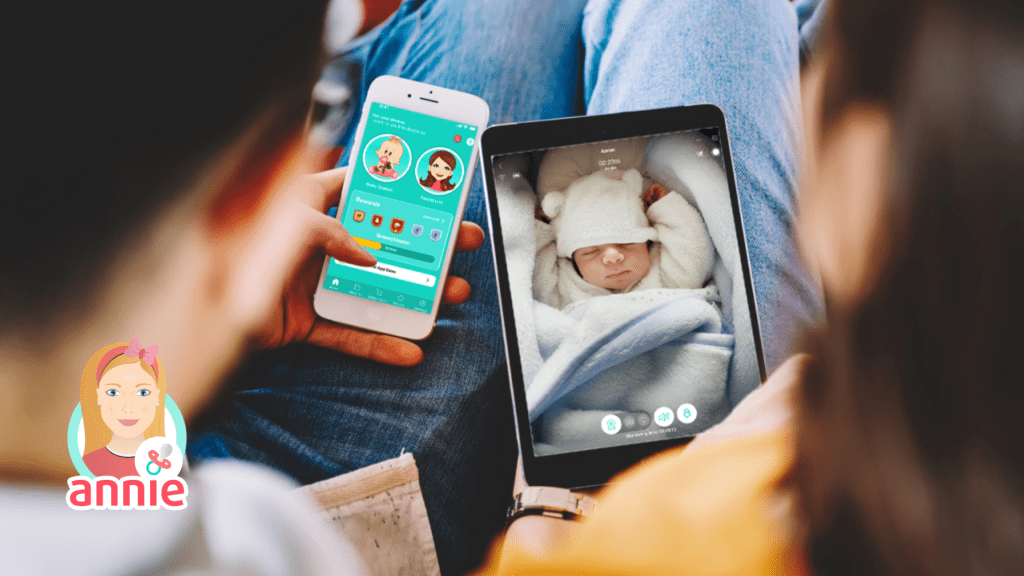 5. Baby Monitor App Suitable for Phones, Tablets and Computers
One of the biggest advantages of our baby monitor app is that you do not need to purchase any hardware cameras. But if you have any, you can use it with our baby monitor app too.
Most hardware baby monitors are usually never used again once the baby is older and doesn't need to be monitored. As Annie turns any two phones, tablets, or computers into a reliable video baby monitor, you can re-use any older device that you have lying around and give it a new purpose.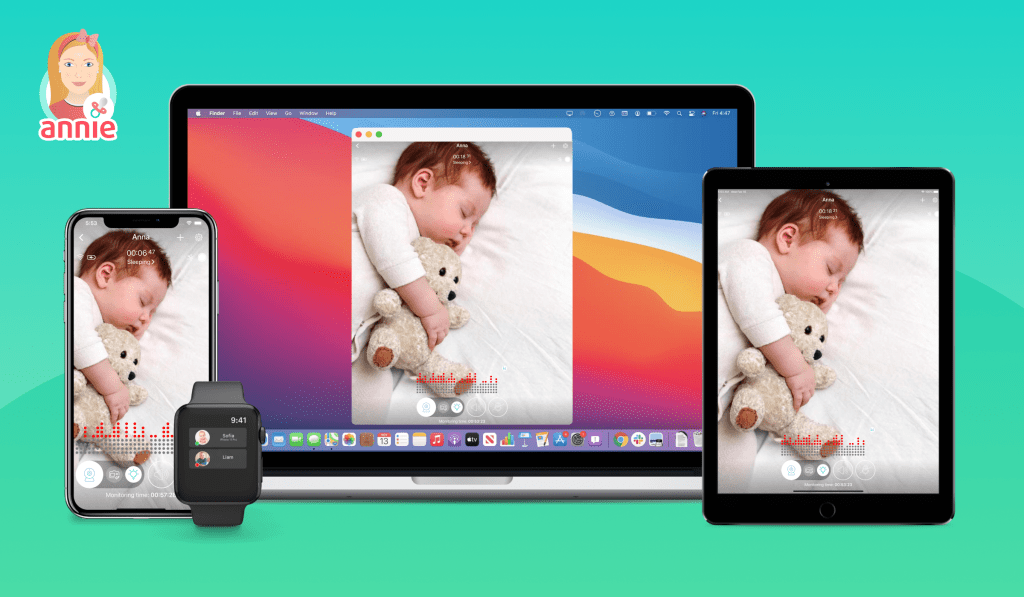 Annie baby monitor app is available on iOS, Android, iPad, Apple Watch and macOS, making it one of the most accessible and reliable baby monitor apps on the market.
Annie provides the parents with a simple yet reliable baby monitor that's perfect for both day-to-day monitoring, as well as traveling.
Annie offers a weekly, monthly, yearly, or lifetime subscription with a free trial period. With a Premium account, you get full access to audio and video monitoring on all networks.
Try the app Annie Baby Monitor for free and see for yourself that you just have to have it.
Baby monitor app is a great gadget for parents who want to keep their baby safe. It can also help you make time for yourself, and have an overview of baby at the same time.
Find a balance when being a parent.
You can work while your baby is asleep. The only thing you need to do is to pair your devices and start monitoring. Easy as it is.
With Annie baby monitor app, you can have it all without any regrets. Millions of parents around the world trust the app. Become one of them.
More about Annie Baby Monitor: