How the App Annie Baby Monitor Works
Published by

Dominika

Created:
15. 2. 2022
Updated:
29. 3. 2023
Annie Baby Monitor is a mobile app for baby monitoring. This baby monitor was created for parents by parents who were struggling to stay close to their baby wherever they were and whatever they did.
The app is quite easy to use. Before you definitely decide to use the baby app monitor, learn how it works and what special features this baby monitor brings.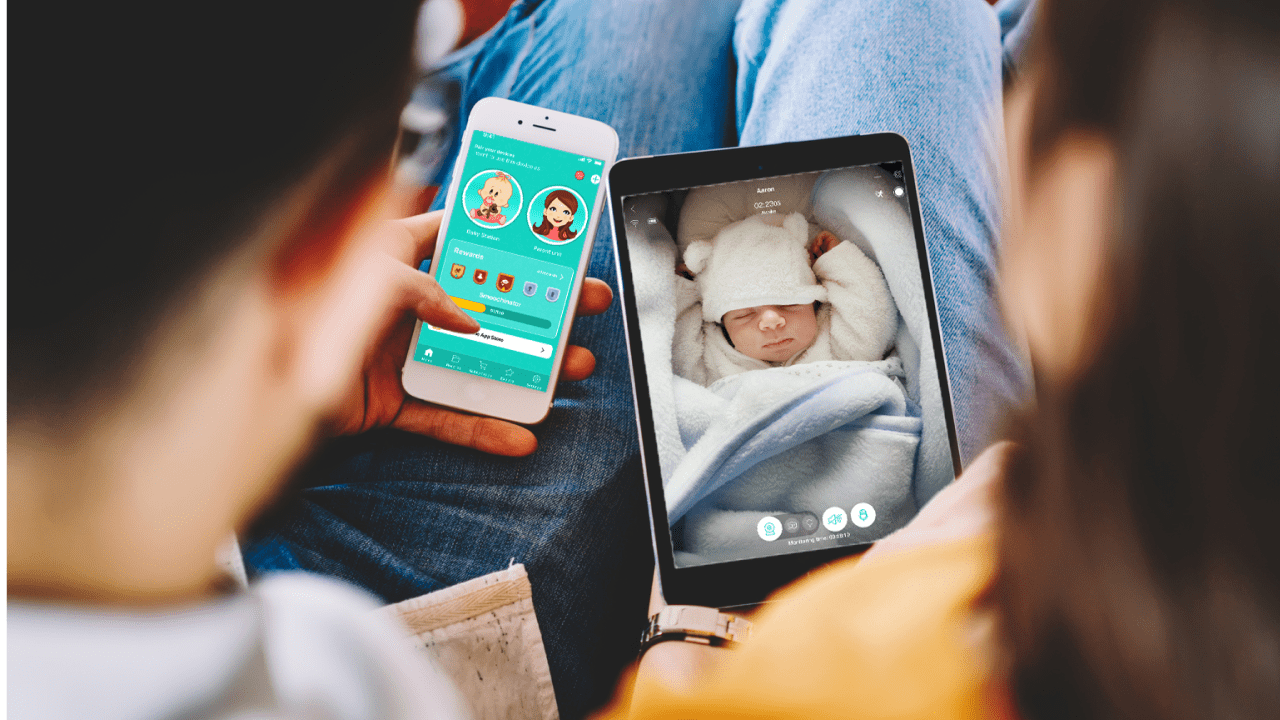 How to Set up Annie Baby Monitor
All you need is an internet connection and two devices – smartphone, tablet, laptop, Apple watch, Onvif/HomeKit camera. No need to buy any other special equipment, use the devices you have at home.
Go to App Store or Google Play and download the app on both devices. One device is a parent unit and the other is a child unit.
Once you have the Annie Baby Monitor app downloaded, the configuration takes less than 30 seconds. Pairing your devices is very simple.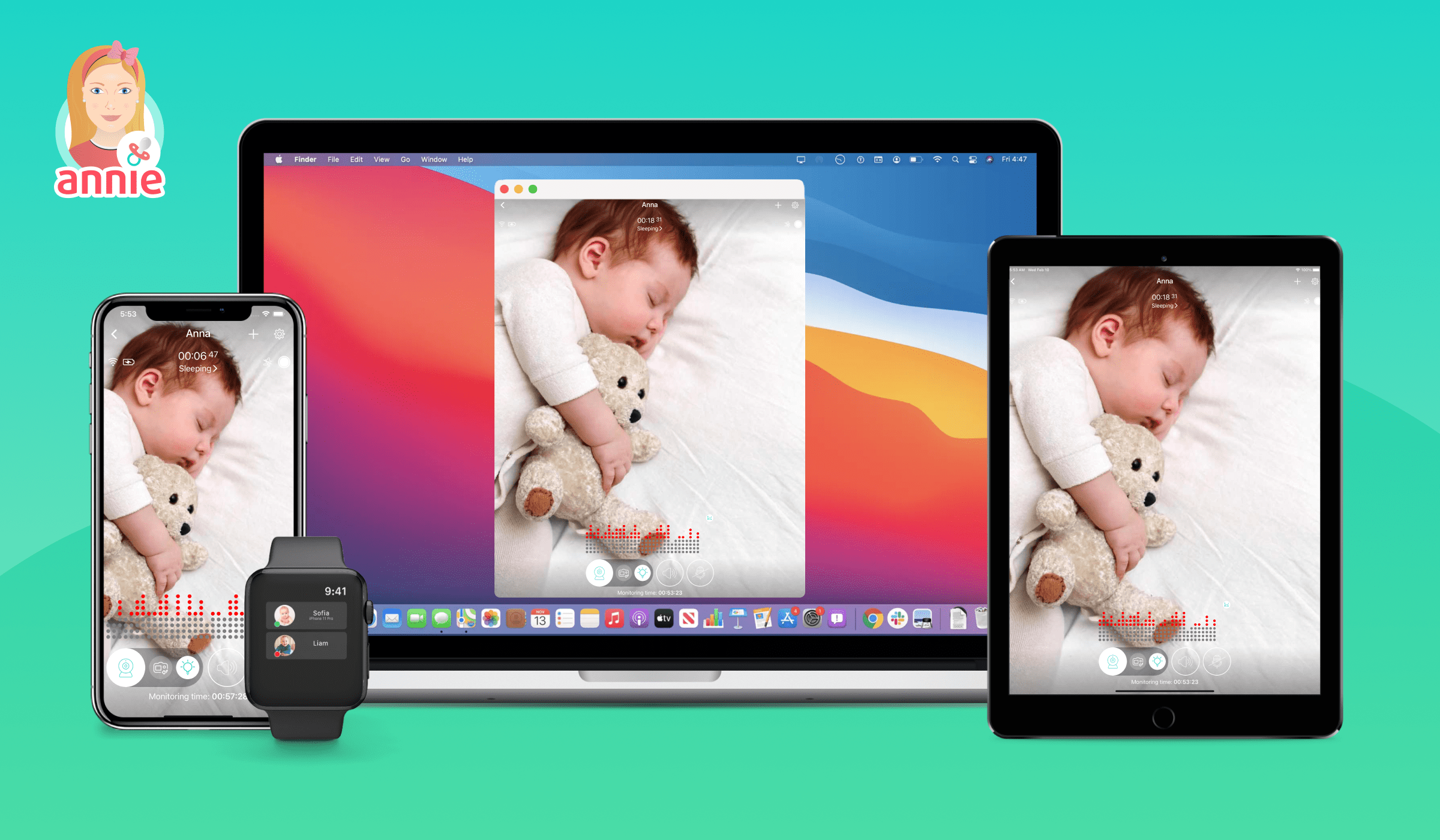 How to Pair Your Devices
Prepare your devices. You need to download and install the baby monitor app on both of them. Open the app on both devices.
Now you can read the important information. You'll learn how to set up the app and get to know the best Annie's features.
If you are ready to proceed, click on "done".
Pair your device by creating code on the main device – the device you'll have nearby yourself. Enter this code on the second device – the device you'll put near to the child. You need to accept and allow all the notifications.
Devices have been paired.
How to Activate the Child Unit
Tap on the child icon and activate the child unit on one of the devices.
How to Activate the Parent Unit
Choose the parent icon on the second device and now wait a few seconds for the devices to connect.
The monitoring can begin!
How to Start Monitoring With Annie Baby Monitor
After you'll activate your child and parent units, tap on the child unit and on the parent unit. The monitoring session has begun.
If your child makes any sound, you will, you'll be immediately notified that your child is awake. You can tap on the camera icon and see what's happening in the nursery.
You can end the monitoring session by tapping on the arrow in the top left corner.
Annie's Features
1. Unlimited reach on WiFi, E, 3G, 4G, LTE and 5G
Parents can check in on their kids from anywhere, only an internet connection is needed. The app makes the process as smooth as possible.
2. Up to 4k video and crystal-clear audio
If you're looking for high-quality audio and video, Annie Baby Monitor is a good place to start. You will see and hear your little angel perfectly.
3. Simple display
This baby monitor app brings settings that everyone can handle. The monitoring screen is intuitive and easy to use.
4. Night vision
The night vision feature is a game-changer. You can see what your baby is up to at night by turning on the light on the baby's device and see for yourself. Nothing will pass unnoticed!
5. Baby soothing
Thanks to two-way video feature you are able to soothe your baby. You can easily talk to your baby by pressing the mike button. Hearing your voice and seeing your face will immediately calm your baby down. The Annie Baby Monitor never lets your baby feel alone. Just press the microphone button and you can immediately talk, sing, or whatever to your baby.
6. Lullabies and white noise
Play various lullabies to your baby and sing along. There is a lot of noises to choose from.
7. Audio and video recording
Capturing the precious moments was never easier! Audio and video recordings will be saved to your smartphone.
8. Motion detection
Annie Baby Monitor detects movement. Therefore, this app informs you immediately after any motion is detected. Also, the automatic video recording function allows you to look back at, e.g. at what woke up your baby. This function starts recording as soon as motion is detected.
9. Audio activity chart
Keep a track of the child's sleep. Gives you extra information about your baby's activity.
10. Picture in picture
If you need to respond to a few emails on your phone or just scroll through a TikTok, then you will use the picture in picture feature. This feature allows monitoring your sleeping baby while using the phone for normal use.
11. Zoom
If you need to watch your baby up close, you can use the feature zoom in. Tap on the middle of the screen and pinch your fingers outward. Check your baby whenever you need.
12. Multitasking
If the parent unit is located in the Apple Watch or in the Mac, you can easily get used to it, you always have the baby at sight. You can move around or work at your stuff on the computer without losing track of what's going on in the children's room.
13. Multi-child & multi-parent
Both parents can watch their baby simultaneously on a limitless number of devices. And what is more, they can monitor up to four children at the same time! It doesn't matter how big your family is. Our app can handle it.
14. Not Only Budget Pick
Save your money and at the same time have a baby monitor you can rely on. Pricing of this baby monitor depends on how long you plan to use it– subscription is weekly, monthly, yearly, or lifetime. The price starts at $4.99.
15. 24/7 live support
The support team is available nonstop. Any issues, report to them and they will handle it with grace.
Do you really have any doubts after the previous text about whether to get this baby monitor? Let's take a look at other reasons to get the baby monitor app!
More about: