Summer Activities for Kids and Parents
Published by

Dominika

Created:
27. 7. 2021
Updated:
27. 7. 2021



School is almost here! You need to enjoy the last moments of the summer holidays!
It is very difficult these days to find an alternative to mobile phones, computers and media in general, including television. Without them, children cannot do much or even live without them. What to do with kids when they have time off or summer vacations? How and with what to entertain children?
Playing is not easy and we adults often have trouble getting into the children's world of fantasy, infinity and dreaming. But something certainly could be found. It is definitely important how old your kids are and what spaces, conditions, aids and possibilities you have for playing. But you will definitely choose a few of our tips – try them and you will see that children will be very happy to get involved.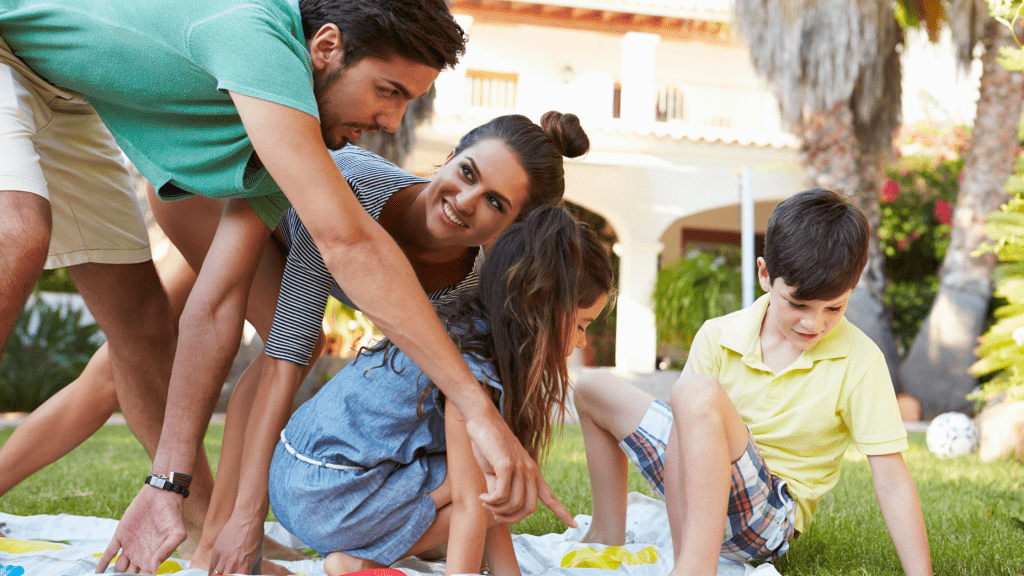 Here comes the list of summer activities for kids.
Backyard Ninja Warrior
Construct a backyard obstacle course with hula hoops, jump ropes, sticks, stones, hoses, and other materials from around the house. Your kids can take turns completing it-and the person with the fastest time wins a prize!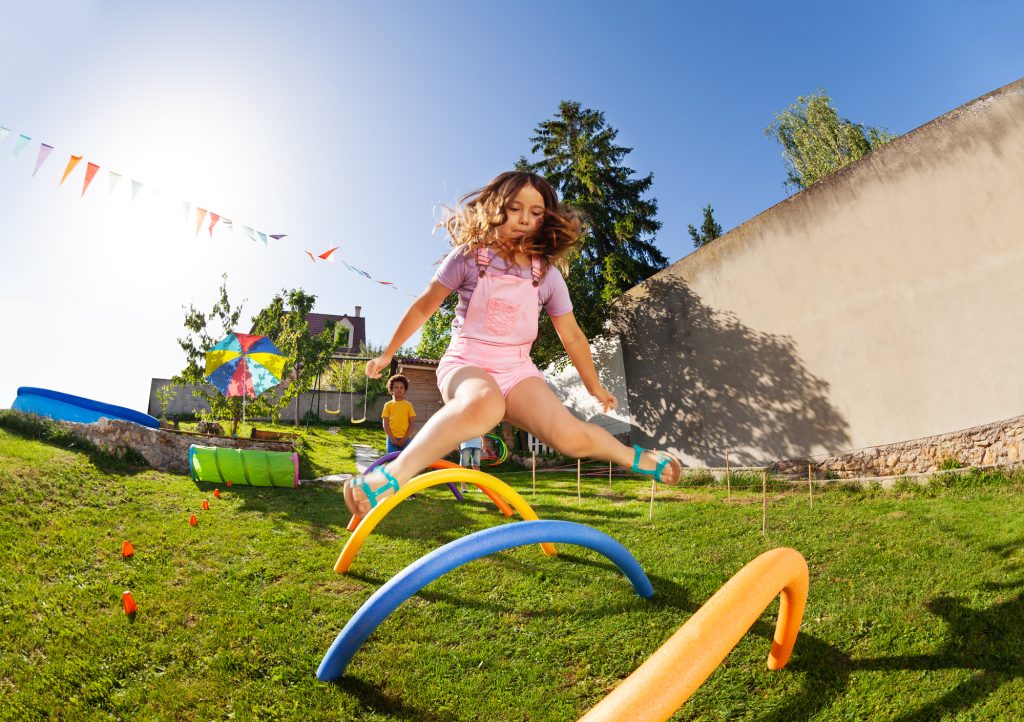 Bikes Parade
Encourage your kids to decorate their bikes with streamers, stickers, flags, and more-then let them cruise around the neighborhood to show off their creation.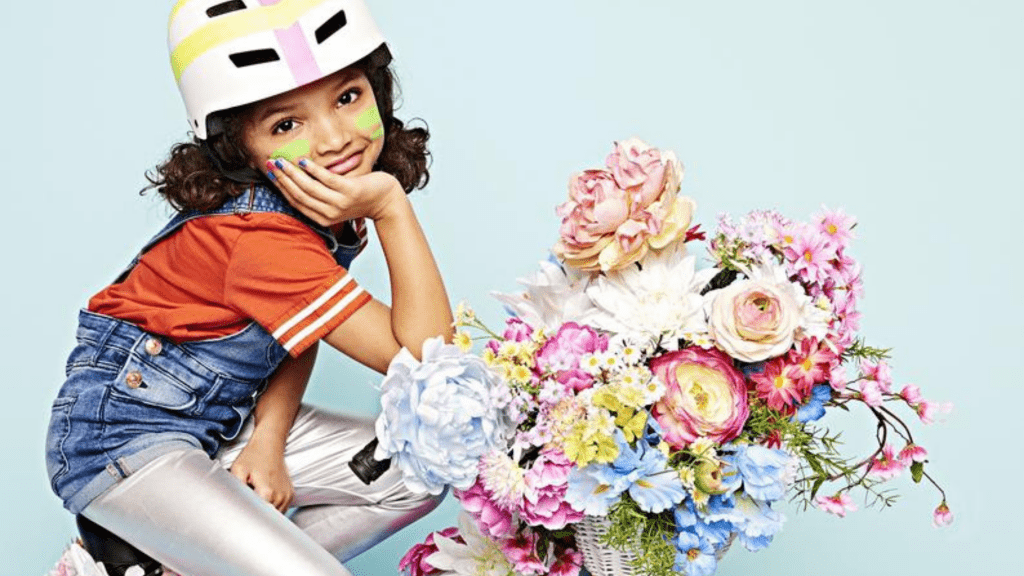 Chalk Bombs
Kids will have a blast with this idea from mom Lorie King Kaehler, author of Chalk on the Wild Side. Use a clean soap-dispenser pump to fill water balloons with a washable chalk-paint mixture (1 cup of water, 2 tablespoons of cornstarch, and a few drops of food coloring). Have your child draw targets on the ground with chalk or just let him go wild. Fire away!
💡 TIP N.1: 14 Easy Ways to Make Your Backyard More Fun
Cooking Skills
This fun summer activity for kids also has a practical purpose: teaching little ones to cook. Choose a favorite food – such as grilled cheese or cookies- and make it with your child. You'll feel proud while eating the finished product.
💡 TIP N.2: Recipes you can make together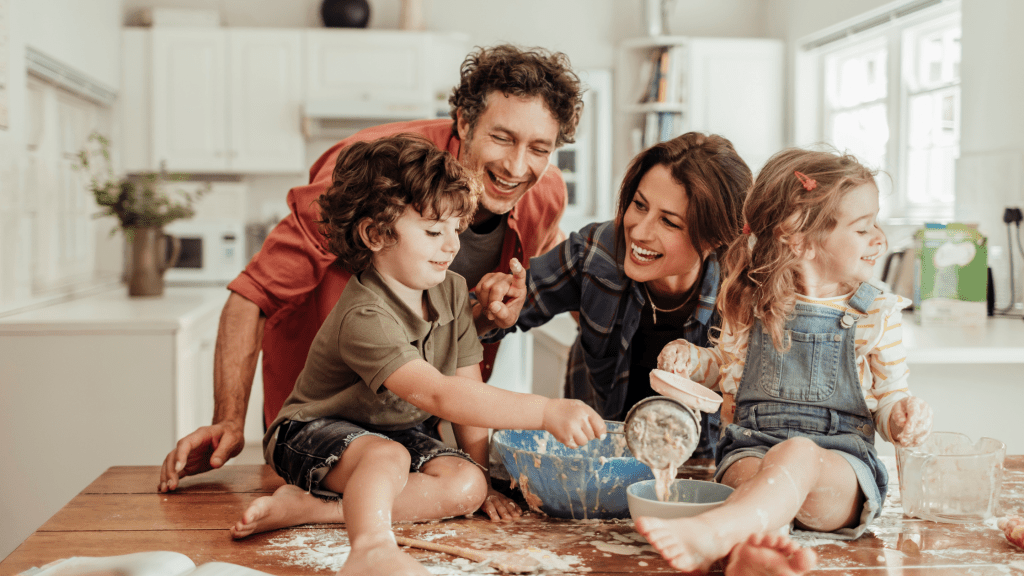 Picnic Time
What is summer without at least one picnic?! Choose the perfect destination, whether it's a table or blanket in the backyard. Prepare picnic staples like sandwiches, load them into a basket, and enjoy dining!
💡 TIP N.3: Here you find 18 kid-approved picnic ideas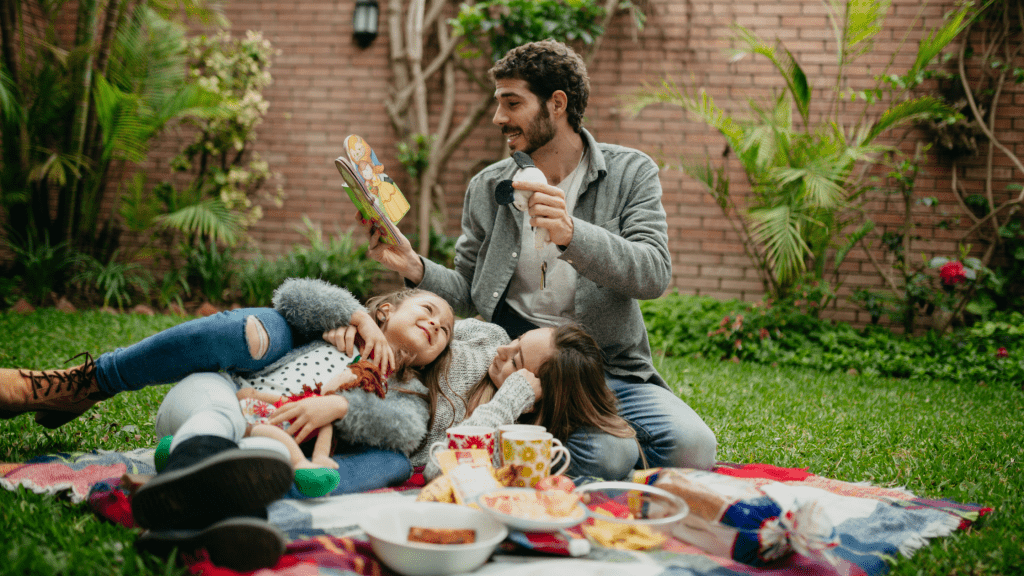 Paint Outside
When painting outside, there's no need to worry about making a mess. Just use washable paint and the medium of your choice, whether it's construction paper, cardboard, or blocks. You can also create outdoor artwork with sidewalk chalk.
💡 TIP N.4: Have you heard of the new TikTok flow painting trend? Every few minutes you change the picture and the next one completes it. Isn't that great fun for kids? You have to try it!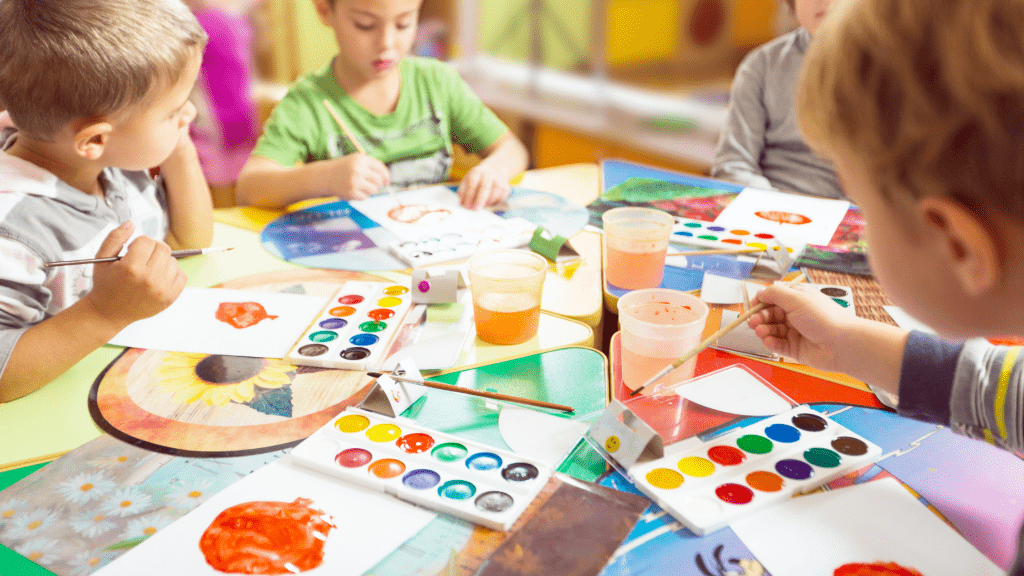 Family Match
Make it a little bit competitive! Designate one evening per week to some friendly family competition (think kickball, softball, and capture the flag). Keep everything fair by dividing into new teams for each round.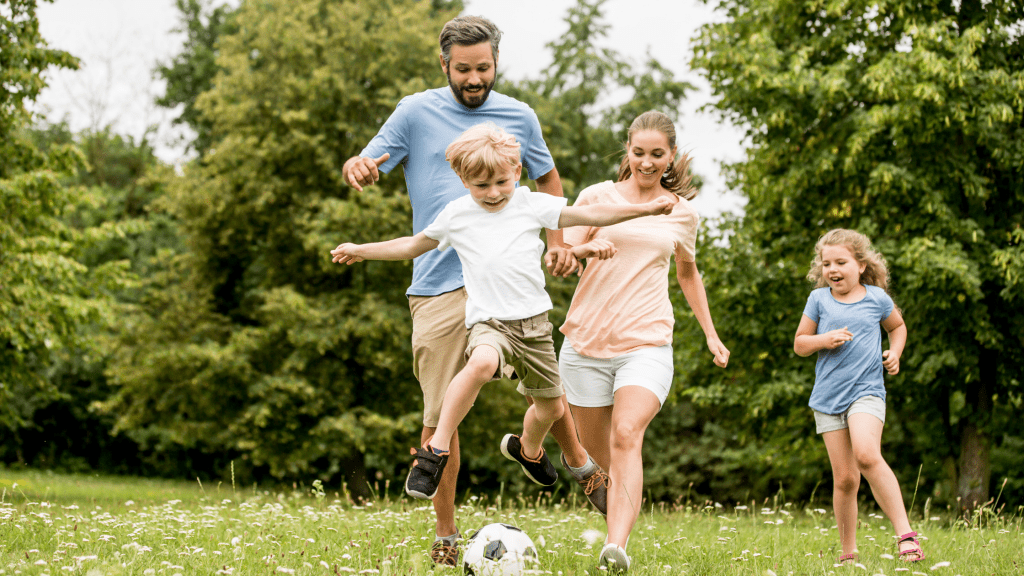 Decorate Rocks
The next time you embark on a hike, have your children collect rocks. At home, they can decorate the rocks with paint, stickers, markers, glitter, and other art supplies. Display the finished products around the house, use them as paperweights, or give them to relatives!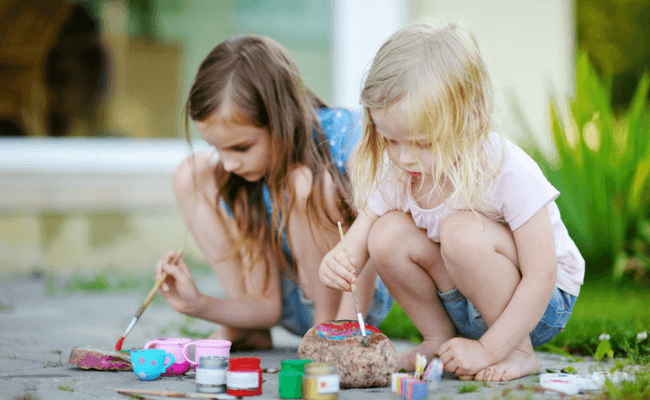 Backyard Bonfire
Bring out the supplies and gather around the bonfire! Kids can recreate the feeling of summer camp by telling stories, roasting hot dogs, and singing campfire songs. Don't forget S'Mores!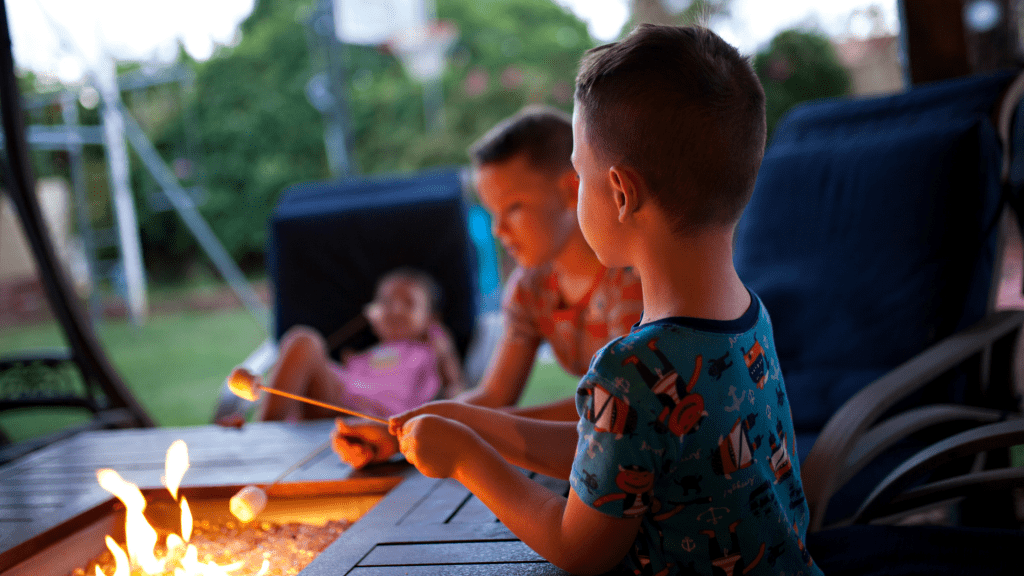 Garden Cinema
There's something about watching a movie outdoors, isn't there? You can go to big screenings on country estates, in castle grounds and even just the local parks. But sometimes you want to be just with the closest. Setting up an outdoor cinema in your back garden is simple – and once you have the basic kit, it's a cheap way to enjoy outdoor movie nights for years.
💡 TIP N.5: If you looking for "secret recipe" on How to create an outdoor cinema in your back garden – just click on the "How to".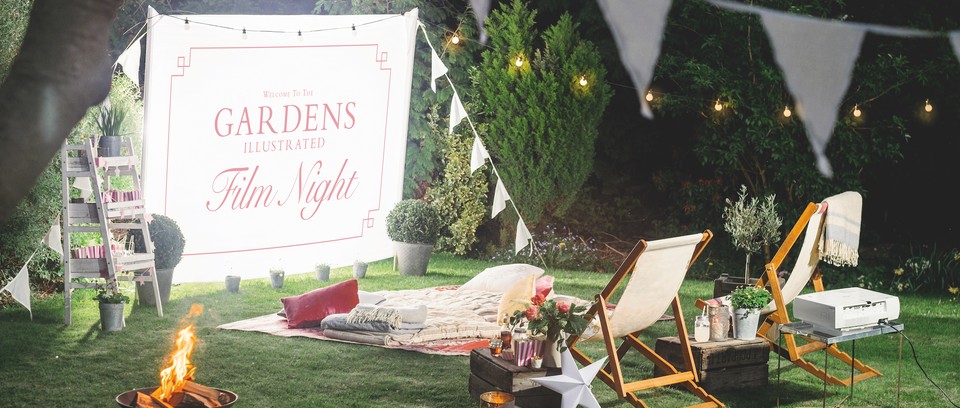 Camp Under the Stars
Of course, camping is another great summertime activity to do especially spend the night underneath the stars.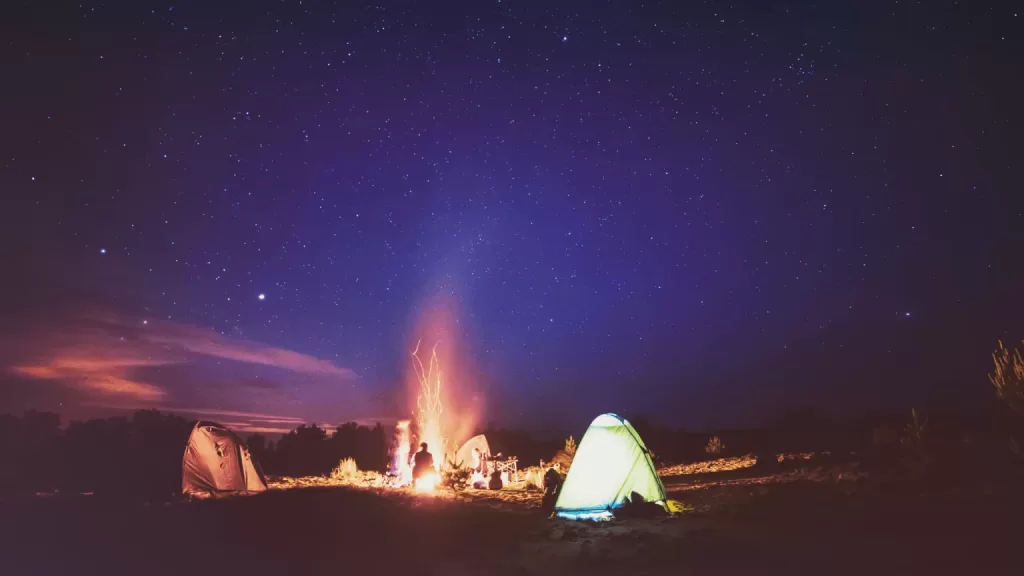 Another fun activity that brings the whole family closer can be creating a bucket list of activities for the summer – trips, games, a list of movies, etc. Thanks to other blogs we were able to make this bucket list of 50 summer activities for kids & parents.
50 Fun Summer Activities for Kids Bucket List
Bike rides.
Backyard camping.
Backyard stargazing.
Balloon tennis.
Bean bag toss.
Berry picking.
Blow bubbles.
Build a fort or tent.
Color changing flowers.
Craft with pipe cleaners.
Dig for fossils.
DIY bird feeder.
DIY sponge balls.
Do a puzzle together.
Egg drop.
Feed the ducks.
Fly a kite.
Glow in the dark bowling.
Glow in the dark mason jar.
Go hiking.
Go to the farmer's market.
Go to the movies.
Have a picnic at a local or state park.
Homemade Playdough.
Homemade water blob.
Check out the local county fair.
Kids science experiments.
Local tennis camp.
Make a kaleidoscope.
Make a video.
Make ice cream.
Make milk carton boats.
Meet friends at the local playground.
Paint rocks.
Paper plate horseshoes.
Plant a butterfly garden.
Plant flowers or vegetables.
Play hide and seek in the dark.
Run in the sprinkler.
Sidewalk foam paint.
Sidewalk chalk murals.
Squirt gun water painting.
Take an early morning/late night walk.
Visit a splash park.
Visit a swimming pool.
Visit your local lake/beach trip.
Visit your local library.
Water bag piñata.
Water balloon baseball.
Write in shaving cream.
💡 TIP N.6: Print out the bucket list!
Last but not least, don't forget to ask your kids what summer activities they would like to try, where they would like to go on a trip, and especially what they enjoy and are interested in!
Get inspiration also here: