HALLOWEEN 🎃 Original Family Costumes 2020
Published by

Dominika

Created:
13. 10. 2020
Updated:
7. 10. 2022

Halloween is just around the corner and it is the perfect time to starting thinking about your costume.
Halloween costumes don't have to be just for kids. It also suits parents! Yes, it takes courage, but when you form a thematic group with the children, the result can be even better.
Some costumes can be expensive as hell but you can create a costume from things you have at home.
You just have to have an idea. The Addams Family is a classic, but what about the Avengers, Ghost Busters, or Money Heist?
Inspire by our choice!
Movie Halloween Costumes
Star Wars Halloween Costumes
Ready for a trip to a galaxy far, far away?  Become your favorite character, whether that's a Rey Star Wars costume, a furry Chewbacca suit, or even a Darth Vader!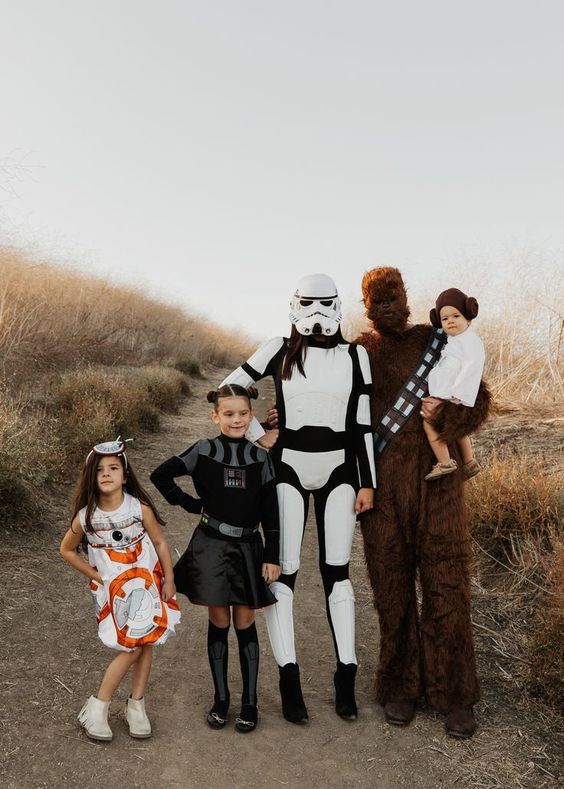 source: pinterest.com
The Incredibles Family Halloween Costume
Bob Parr is a clerk and father, caring for his wife and three children – until the super-villain enters his life. Every man wants to feel like a family hero! So why not base a Halloween costume on it!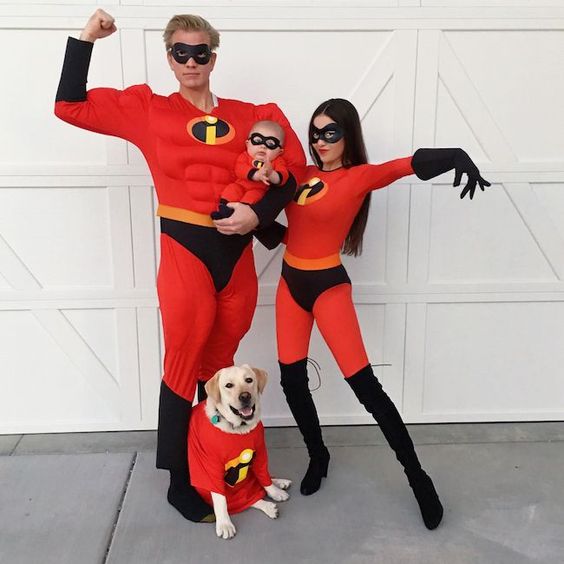 source: pinterest.com
The Adams Family Halloween Costume
A classy family Halloween costume, we can't forget it even this year!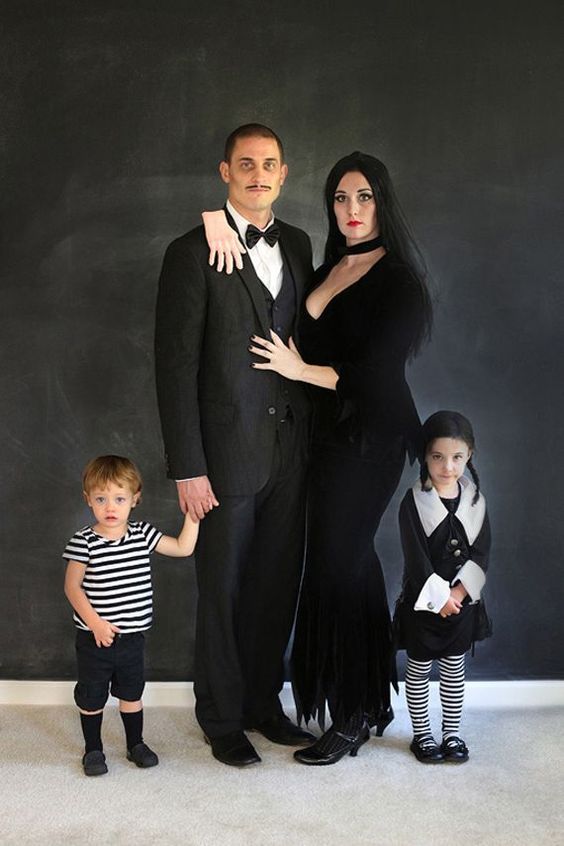 source: pinterest.com
Scooby-Doo Halloween Costumes
Scooby-Doo gang id the perfect opportunity for a family of five to shine. There are even kid-sized costumes for the littles ones too.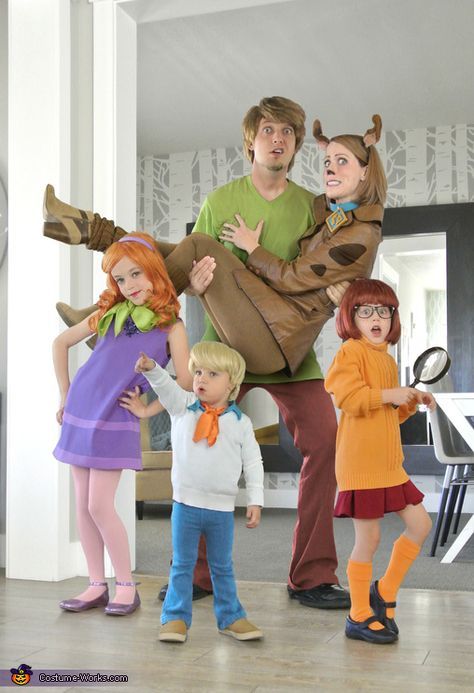 source: pinterest.com
Ghost Busters Halloween Costumes
Ghostbusters! If there's something strange In your neighborhood Who you gonna call? Ghostbusters! Who you gonna call? Ghostbusters! WHO YOU GONNA BE? GHOSTBUSTERS!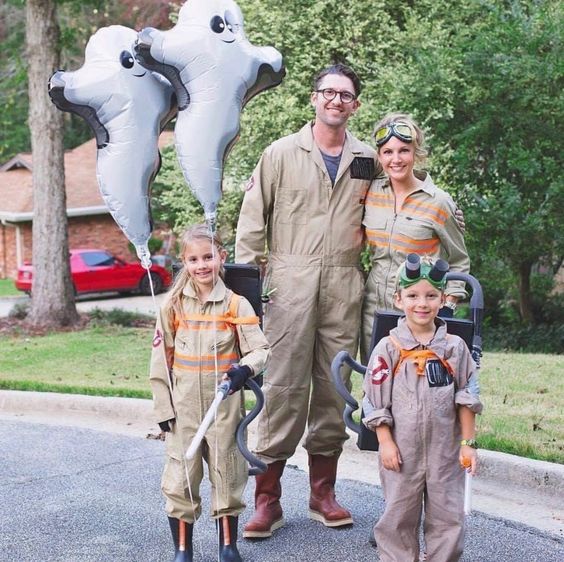 source: pinterest.com
Grinch's Family Halloween Costume
We all have some Grich in the family! The one who is always Grinchy. Haha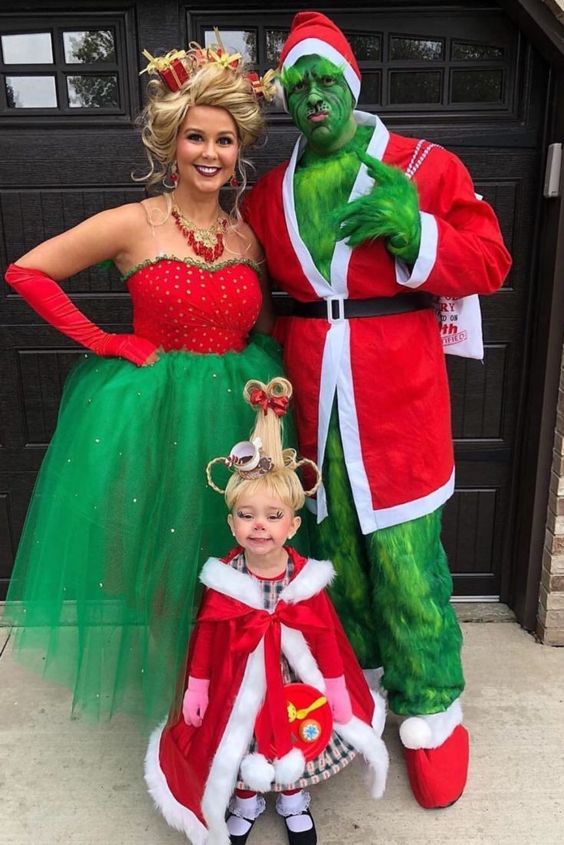 source: pinterest.com
Potter's family Halloween Costume
Who wouldn't love Harry Potter! We all know that Harry ended with Ginny and had three children: Albus Severus, James Sirius,  Lily Luna. Get inspired by this awesome movie! If you have friends, they can be Ron, Hermione, and their children!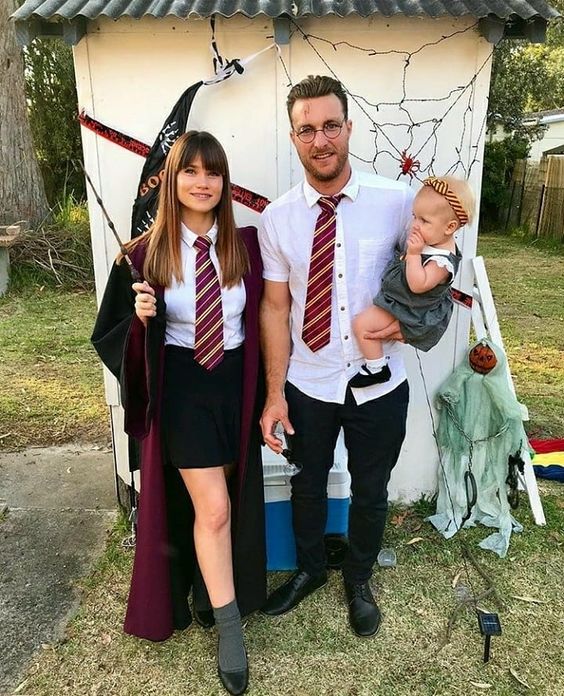 source: pinterest.com
The Flintstones Halloween Costume
Yabba Dabba Doo! Just a modern stone-age family.  I love how simple this costume is you can DIY from stuff you have at home.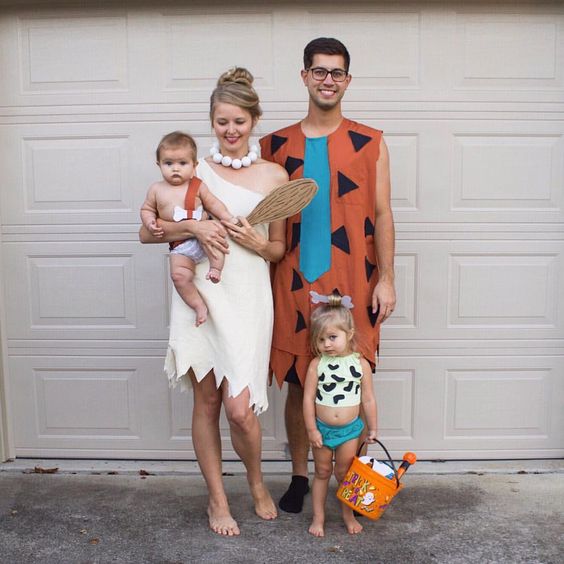 source: pinterest.com
Pokemon Family Halloween Costume
Last year Pokemon has been a huge thing.  So it's easy to make your kids cooperate when they've gotta be dressed up as something they really love. Pika-one and Pikachu!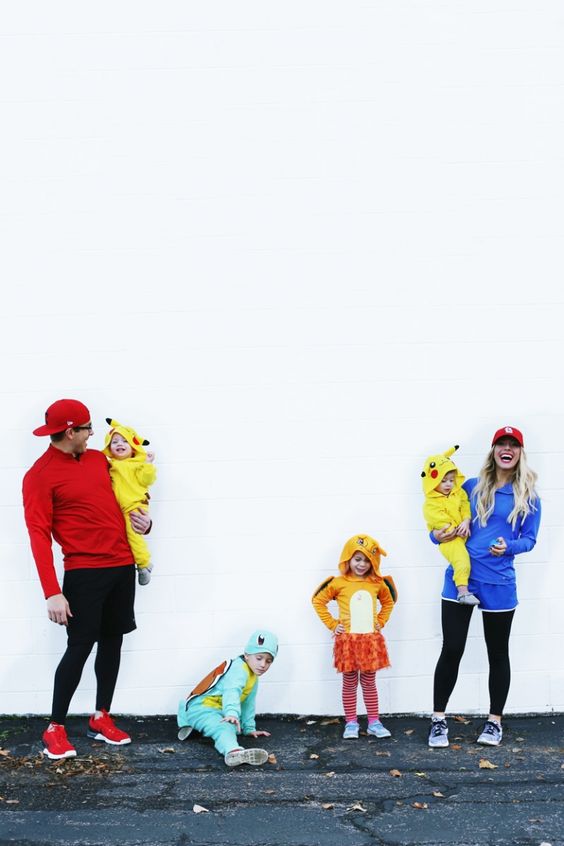 source: pinterest.com
Guardians of The Galaxy Halloween Costume
Groot groot groot groot groot groot groot. Groot groot groot , groot groot groot groot! Groot!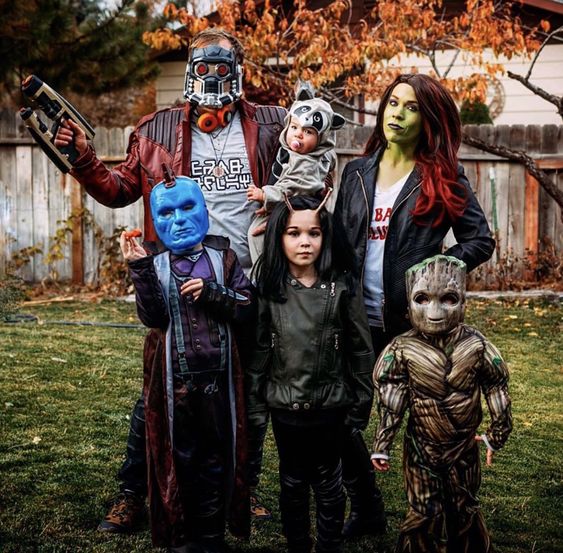 source: pinterest.com
Avengers Family Halloween Costume
Who doesn't love marvel!? Even though your kids haven't seen any of the Avengers movies (or any live-action Marvel films) yet, they will still love to be superheroes! Like all children do!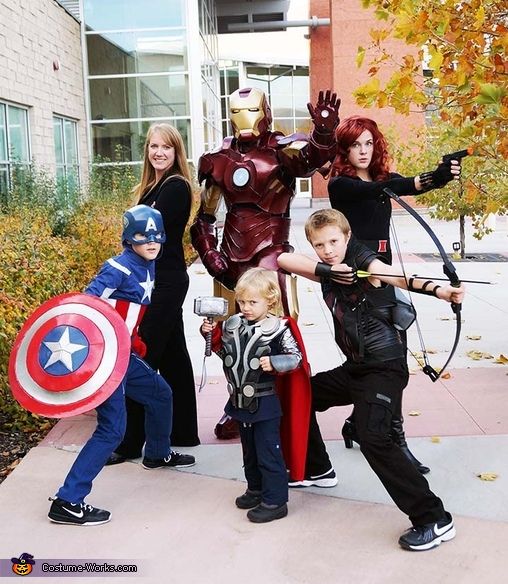 source: pinterest.com
Game Of Thrones Halloween Costumes
If you are a single mom Daenerys Targaryen the Queen of Meereen Khaleesi of the Great Grass Sea Mother of Dragons The Unburnt Breaker of Chains Queen of the Andals and the First Men Protector of the Seven Kingdoms Lady of Dragonstone is a good idea (even if you have man, cause Khal Drogo, is Khal Drogo, if you know what I mean, haha).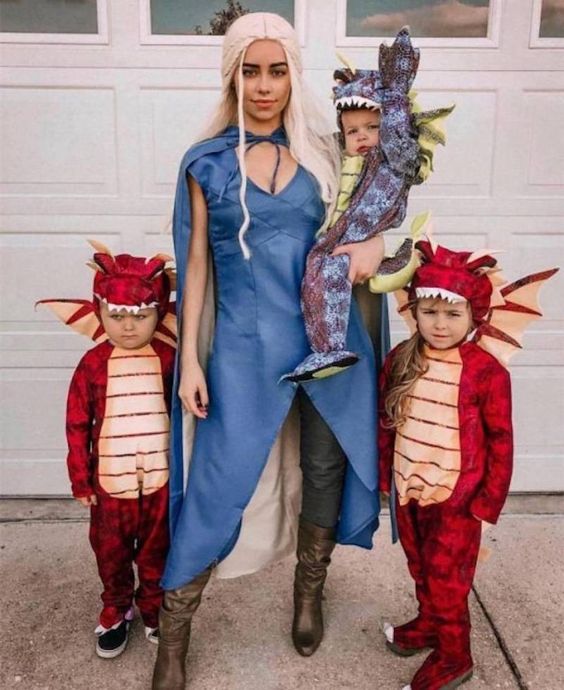 source: pinterest.com
Cute & Funny Halloween Costumes
Safari Halloween Costume
Sometimes family can feel like living with wild animals. Why not poke fun at it and have everyone dress as their favorite animal? These costumes are perfect for last-minute dress-up.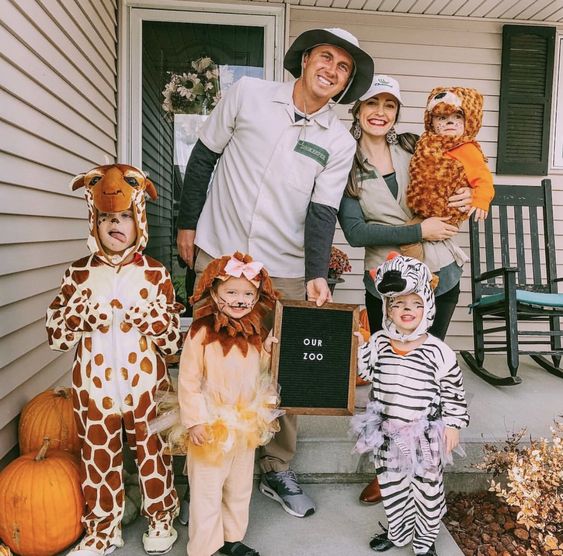 source: pinterest.com
Circus Halloween Costumes
Ladies and gentlemen, step right up…to the most spectacular show (of costumes) on Earth! A family meeting! Halloween as well as the family meetings can feel like the circus act. So why not bring that feeling full-circle with a DIY circus costume idea this year?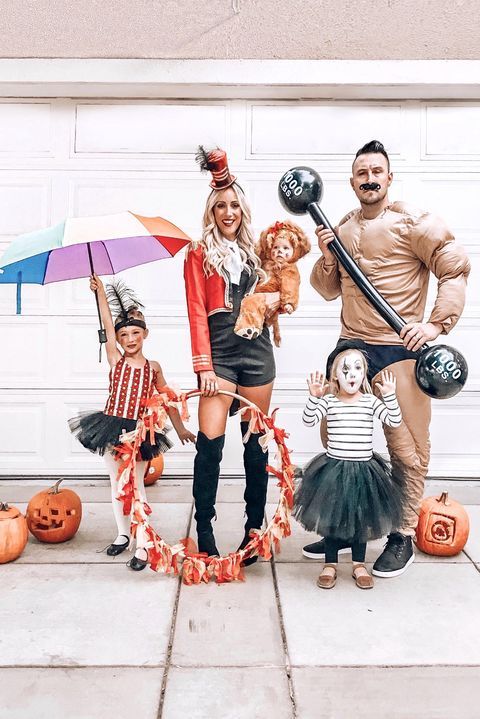 source: pinterest.com
Money Heist – Robbers Halloween Costumes
Let's get steal some hearts! La casa de Papel (Money Heist) going to be the TOP Halloween costume of the year 2020.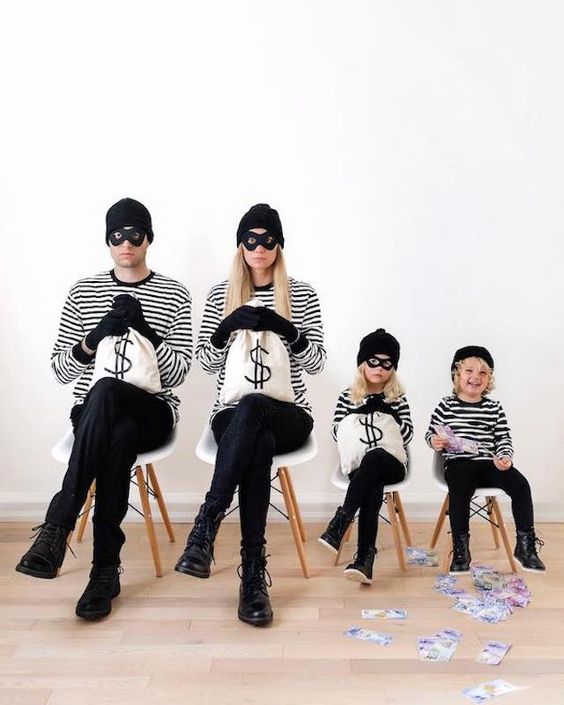 source: pinterest.com
Beekeeper and Bees Halloween Costumes
While it probably won't stop real bees from buzzing all over you, it will add some sweetness to your party. You can find the DIY on these costumes here!
source: pinterest.com
Baby Shark Halloween Costume
All you need for these costumes is cute shark baby pajamas and ketchup! Voalá, the Halloween costume is ready to go!
source: pinterest.com
Su-shi Baby Halloween Costume
Isn't it a cute costume?! DIY your sushi family Halloween costumes at the last minute!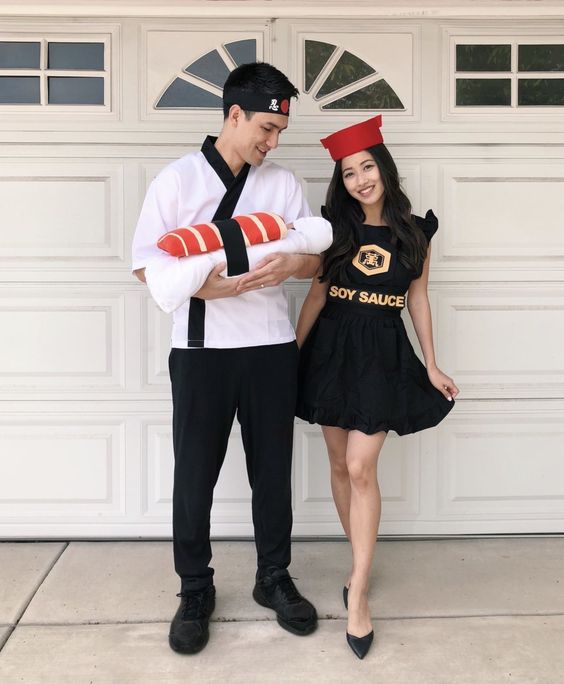 source: pinterest.com
Champions Halloween Costumes
Don't wait until you the best at something. Be champion this year! Every mother is a champion for handling her family, and every family member is champion because of handling the task given by moms!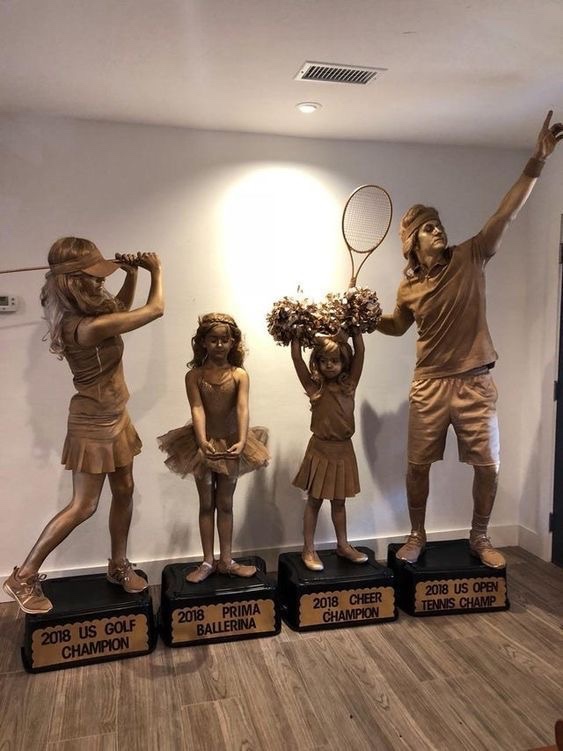 source: pinterest.com
Super Mario Halloween Costume
Let's play the game!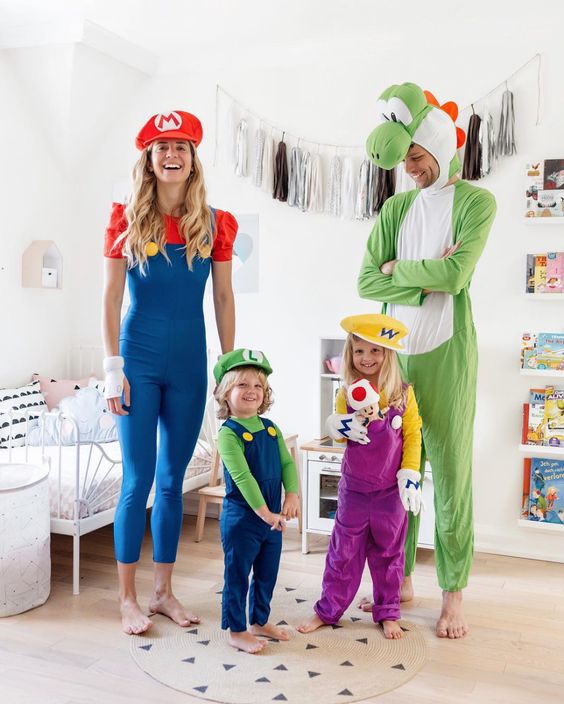 source: pinterest.com
Deers and Hunters Halloween Costumes
All you need for this family Halloween costume are outfits and accessories from your closets! Without any problem, meet the cutest hunters on the planet and the most adorable bohemian deer and fawns you've ever seen!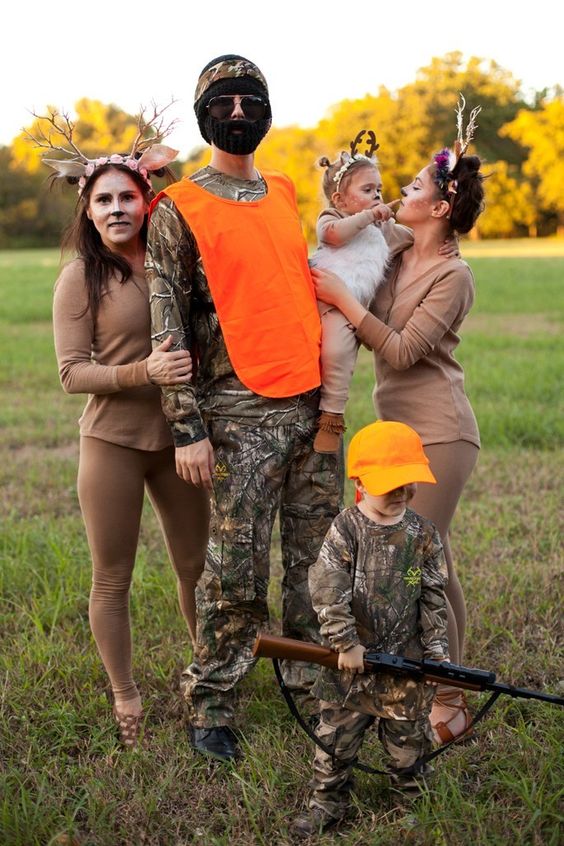 source: pinterest.com
Skeletons Halloween Costumes
These onesie costumes are warm and comfortable. They require low effort and make it easy to identify each other on Halloween night. This costume is even easy to DIY! All you need is a black T-shirt, black trousers, and bones made from paper!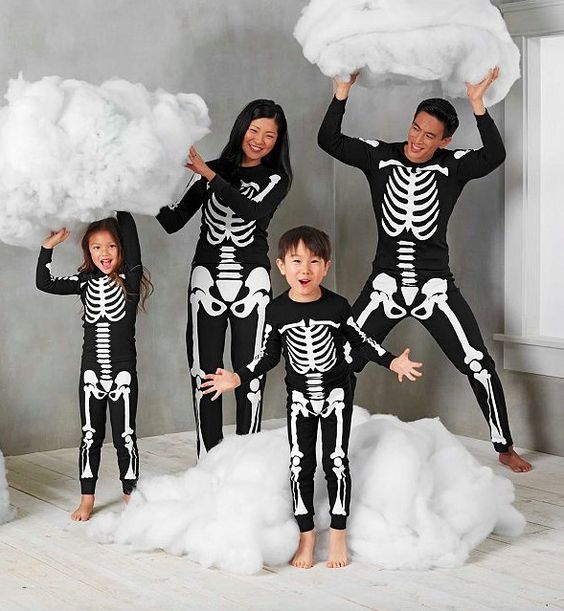 source: pinterest.com
Mime Halloween Costume
Mime costume couldn't be easier! Just wear your favorite pair of black jeans with a black and white striped top and add a few accessories, like suspenders, a necktie, and a hat, for an effortless mime getup.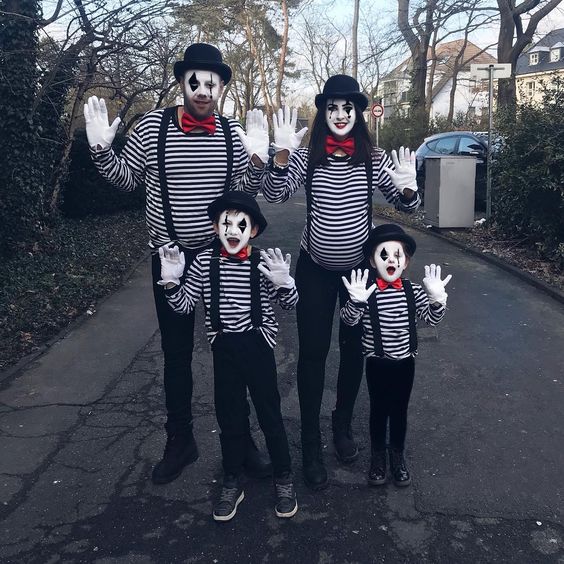 source: pinterest.com
Space Family Halloween Costume
There will be a lot of spray paint involved, but it's going to worth it!  These costumes take a little time to make but if your kids are into space it's a real winner.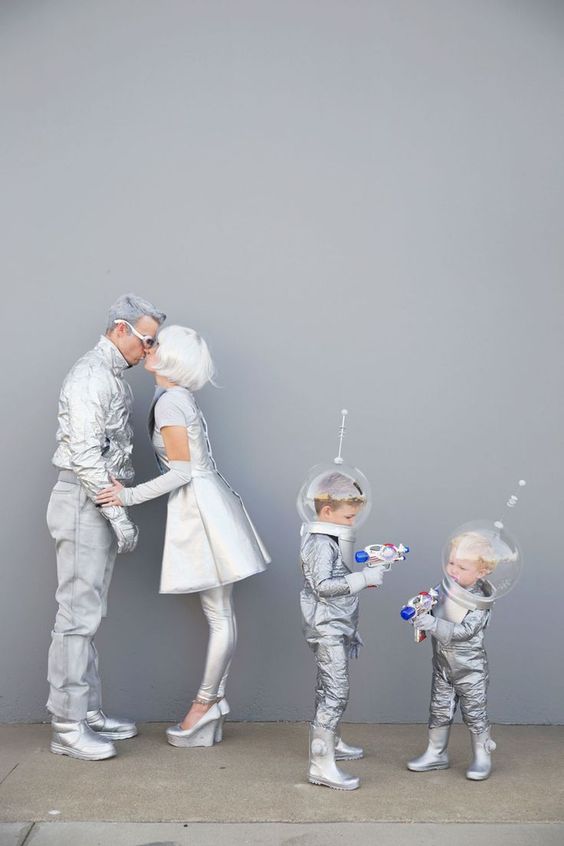 source: pinterest.com
So, there is my absolute favorite family Halloween costumes. I hope you were able to find some inspiration from this post to get starting compiling your family costumes this year. To make it more interesting you can have a virtual Halloween costume contest with the rest of your family. Just remember to have fun!
Check out also: