Guide for Peaceful Holiday Season: From Thanksgiving Until the New Year
No stress, let's keep a peaceful holiday season! 7-holiday stress tips to avoid holiday stress.
The closer the holiday season gets the more we and children look forward to and expect big things. It's no wonder that the holiday season, especially Christmas, can be stressful for many adults.
A lot of parents, mainly mothers, worry about everything going smoothly. Hope for a peaceful holiday season. Hope the food will be perfect, the presents will be ready, and the kids will be happy.
After Christmas Eve, many adults pass out from holiday stress and exhaustion. And the festive mood simply fades away. 
So, you may ask yourself: "How do I deal with stress at Christmas?" We have 7-holiday stress tips for Christmas to avoid holiday stress.

1. Plan an off-day at work on Christmas Eve
Visit the children's grandparents, aunts and uncles. In short, the whole family that doesn't live under the same roof as you. 
Decorate the house with lights, buy small gifts and hang stockings on the fireplace with the children in the evening. You'll have time to watch a few Christmas movies if you're a fan. 
The children will experience everything that goes with Christmas Eve and can even go to bed early.  And you and your partner can enjoy a little bit of Christmas Eve without the kids.
2. Limit the amount of Christmas gifts
Agree on the number of gifts and their price range within the family. If you are gathering in a wider family circle, you don't have to give a gift to everyone. 
Under the tree, everyone will have something to enjoy and instead of running around the shops, you'll have more time for a simple stroll through the Christmas town or countryside.
3. Tiny gift under the pillow
The kids will have a lovely Christmas wake-up call and know that D-Day has begun.
4. Involve children in the preparations
Have you had enough of the "When is Santa Claus coming?" questions all month? Help the children to shorten their wait. Keep them busy.  
The children will surely enjoy it and they will help you a lot. Adapt the tasks to their age. And don't worry, even five-year-olds can help you make cranberry sauce. And your new family tradition – making dinner together – is born.
Preparing the Christmas Eve table, sticking Christmas-themed pictures on the windows, decorating the gingers, or making name tags for the table are simply tasks that your child will do with love and eagerness.
5. Forgotten gift
Keep one gift hidden somewhere in the house (for each child one gift). Let your children unwrap their presents under the tree on Christmas Day. Once they've used up their energy and have played with the already unwrapped presents. Tell them they still have one present hidden in the house and they have to find it. It's a magical time.
We recommend that this last gift be one that the children can play with for a long time. Puzzles, castles to build, etc. At least you and your partner can relax for a while.
6. Not everything has to be perfect
Go for a walk, check out the Christmas tree in the nearest town, jump in the park or go cross-country skiing, bring food to the animals at the feeder, grab your skates and go ice skating, pull out all the puzzles and board games, play all kinds of games. Be together! The children will enjoy the moments of laughter, playing, cooking, and preparing for Christmas together the most. Children don't care if the house is tidy, the floor is shiny or dinner is five courses, they just want to be with their parents.
7. Get Annie the baby monitor app
Children often get exhausted from unwrapping presents. It's possible that once they've unwrapped the last present and played with it for a while. They fall back into a sleep coma. Let the child sleep in a quiet environment. Keep your child in sight while you enjoy some calm alone time with your partner.
Try our Annie baby monitor app for free for three days – that's free for the whole holiday season.
Why is our Annie baby monitor app so special? Why is it better than an ordinary hardware baby monitor?
01 | First of all, it is important to mention the happiness of parents who already use it – trusted and used by millions of parents around the world.
02 | Monitor your child day and night. Always have the little miracle in sight. You can keep track of what's happening in the nursery while doing your thing. 
03 | No hardware cameras are needed. All you need is 2 mobile devices and an internet connection. 
04 | Annie is also perfect for traveling. You don't need to carry any extra devices, you just need two phones. 
05 | You also don't have to worry about signal loss or dropouts, Annie is a nanny cam app with an unlimited range. As long as you have a stable data or wifi connection, everything will work.
07 |  If your baby wakes up unexpectedly, the motion sensor will be activated. The baby monitor app will alert you with a loud tone and red bells.
08 |  The security of little ones is priority number one. All communication between the child and the parent device is securely encrypted.
💡TIP: What features should a baby monitor have? READ NOW!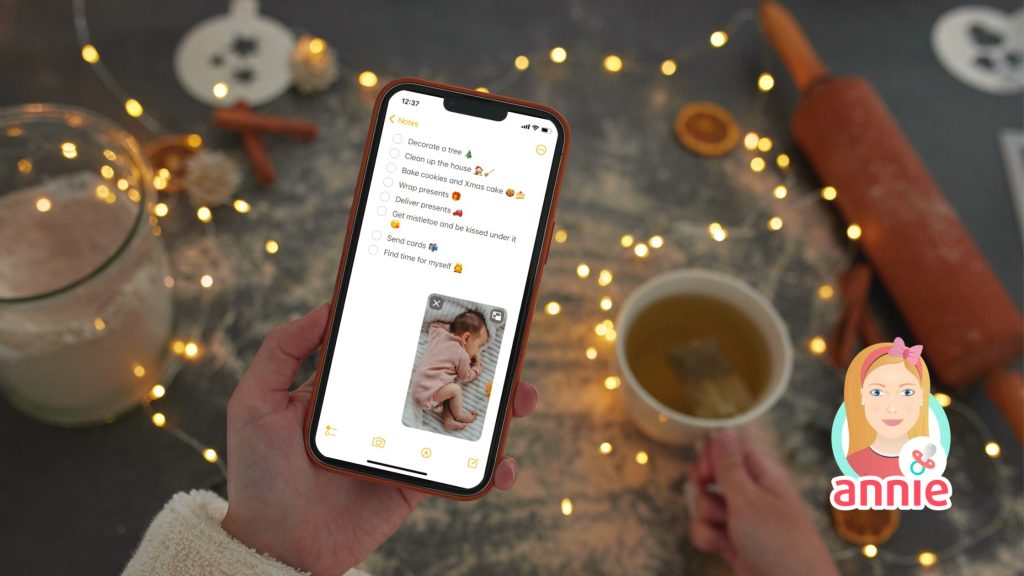 The Holiday Stress in the Pre-Christmas Season
Do you have young children and want to prepare a truly unique and peaceful holiday season for them? Don't overdo it with your goals. Children need less than it might seem. What they want is your time and to be noticed.
How do you do a peaceful holiday?
Learn our CRPF for a peaceful holiday season!
Clearly define your season's intentions
Imagine your ideal holiday season. You see yourself relaxing and gathering with friends and family. Or are you madly scurrying through the aisles of the grocery store with a last-minute Thanksgiving food list? Are you enjoying the peaceful holiday season or stressing about missing ham?
Reduce your perfectionist ideas
Perfectionist tendencies can be unmanageable in a holiday season with so many obligations, events, meals, family, and hosting duties. Reduce perfectionism by focusing on the purpose of the holiday season. "Progress over perfection" should be your mantra for the peaceful holiday season.
Plan early and efficiently
Planning ahead is an incredibly useful way to avoid holiday stress. Plan your budget, gift ideas, food and cooking, host duties, and family activities. So you enter the holidays with peace of mind.
Find time for yourself
During the holidays, a lot is going on in a woman's life. You have to keep up with the normal activities of a mother, cook, gather gifts, clean up, wrap presents, cook more meals, play with the kids… So it's very easy to put taking care of yourself on hold. 
However, the habits that bring us to inner peace serve the whole family and the people around us. For a peaceful holiday season, prioritize taking care of yourself, and your peace and enjoy a peaceful holiday season.
What is the most stressful thing about the holidays?
The holiday season is filled with many traps. According to the APA study, lack of time, money worries, over-commercialization, pressure to give gifts, and family gatherings are the major stressors.
What is the purpose of the holiday season?
Don't forget why the holiday season is actually so important. The holiday season is an important part of building a strong bond between the whole family.  A peaceful holiday season gives us a sense of belonging and a way to express what is important to us. The holiday season brings the whole family together.
More Holiday Season Tips: