HALLOWEEN 🎃 8 Easy Recipes & Treats for Little Kids

Who doesn't love Halloween?
Pumpkin carving, apple picking, and crispy leaves.
Your little kids will soon learn to love it too.
Especially when there is always something good to eat.
There are little things we can do to make this holiday even more special for our little kids.
One of them is special Halloween Recipes and Halloween Treats you can do at home!
But don't worry! We know you are busy.
We know you don't have the time to spend countless hours in the kitchen preparing some Halloween treats.

That's why we looked through the internet to find the easiest Halloween recipes for kids that will still have that fall and pumpkin magic.
Look for yourself, here are:
8 Easy Halloween Recipes and Treats for Kids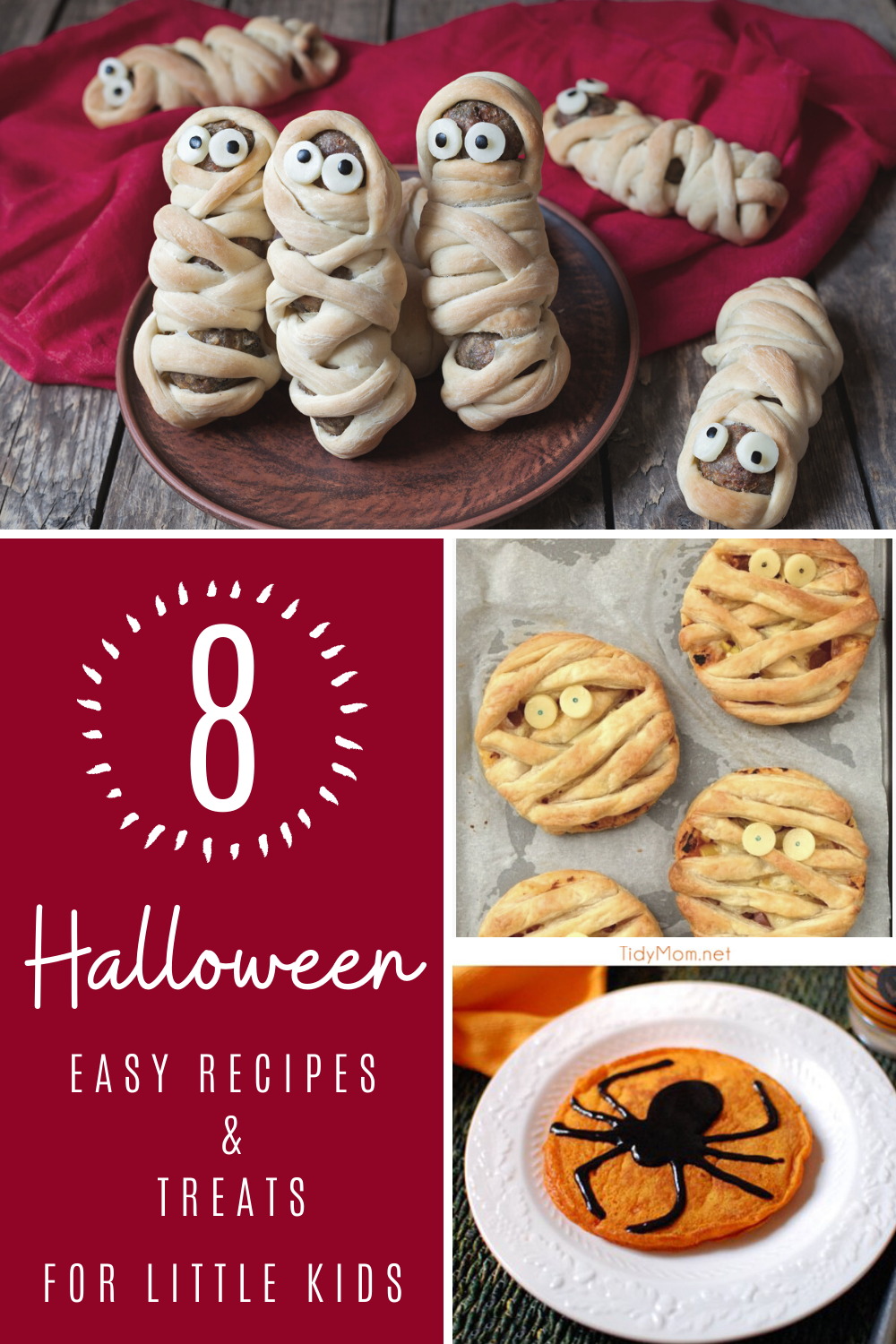 Halloween Breakfast Ideas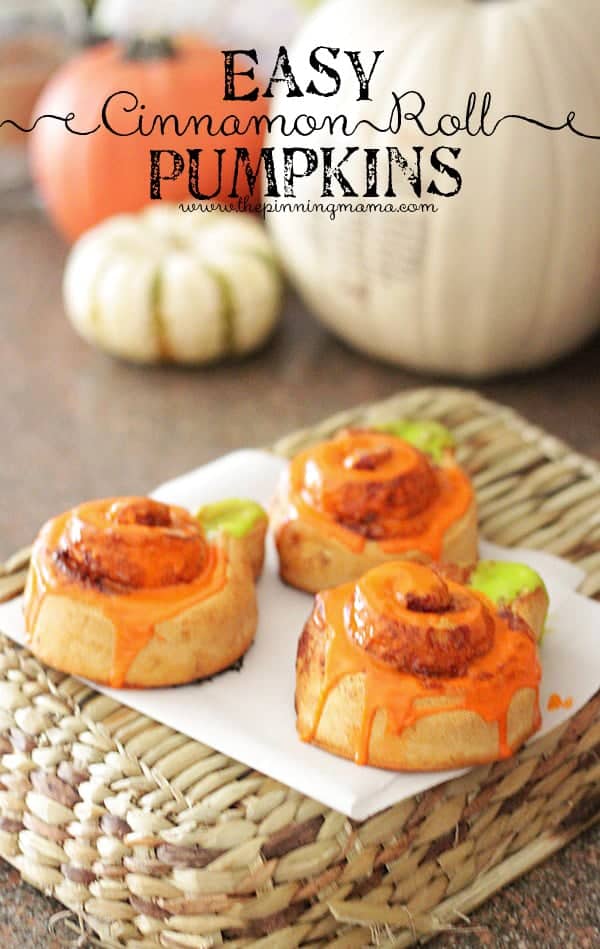 1. Pumpkin Cinnamon Rolls from The Pinning Mama
These little cute pumpkins are the perfect Halloween breakfast for your little kids. And it really takes no time to make them if you buy a pre-prepared package with the frosting.
Get a can or two of Pillsbury Grands Cinnamon Rolls.
Unroll the end of the cinnamon rolls to create the pumpkin stem.
Bake the rolls.
Use food colorant (green and orange) to color the frosting included in the package.
Use the frosting to color the pumpkins once they've cooled down.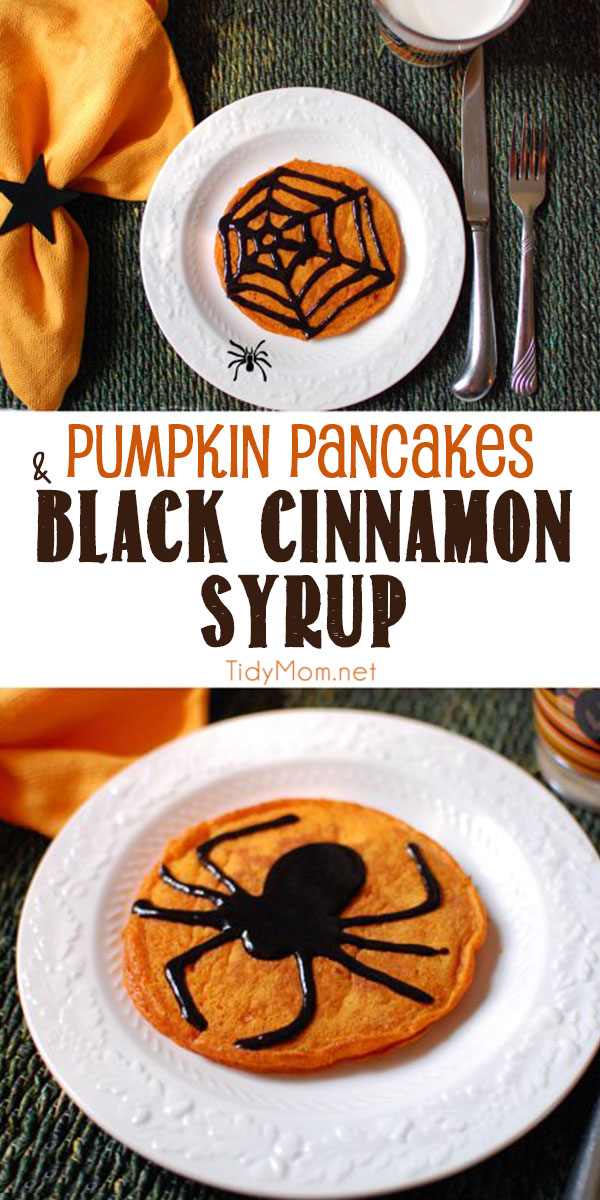 2. Halloween Pumpkin Pancakes from Tidy Mom
Nothing says Halloween like the color combination of orange and black. This simple breakfast recipe gives you both. Orange pumpkin pancakes and a black syrup to draw a spooky picture.
Prepare the pancakes batter with canned pumpkin.
Add orange food coloring.
Mix flour, sugar, cinnamon, vanilla, and water to make the syrup (details in the full article).
Add black food coloring gel.
Put syrup into a squeeze bottle and decorate your pancakes.
Halloween Lunch and Dinner for Kids
3. Meatball Mummies from Spend with Pennies
These meatball mummies are so adorable. And with the right ingredients, you can have them ready in no time. You will need some homemade or even frozen meatballs and pizza dough.
Preheat your oven to 350 degrees.
Wrap your meatballs in pizza dough ( you can use a raw spaghetti straw to keep the meatballs in place).
Bake for 20 minutes.
You can add edible eyeballs made out of cheese and olives.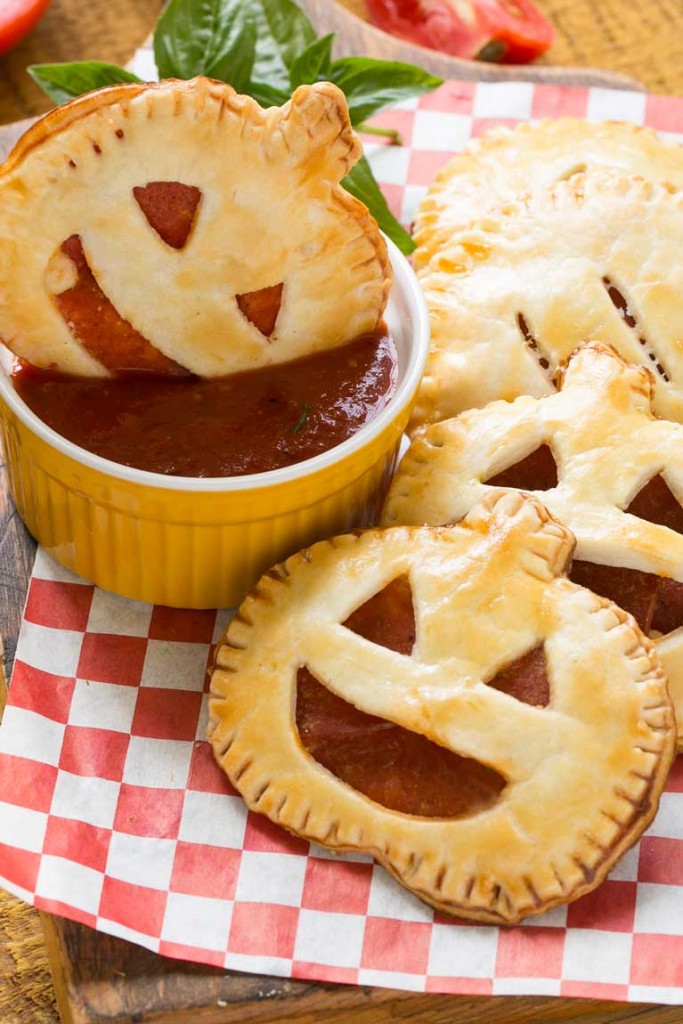 4. Pepperoni Pizza Pockets from Dinner at the Zoo
These cute pumpkin-shaped mini pizzas are made from a pie crust. They are filled with mozzarella and pepperoni. Male them for lunch, breakfast, or as a yummy savory snack.
Preheat your oven to 350 degrees.
Cut out your pumpkin shapes from the pie crust.
Top them with mozzarella and pepperoni.
Lay the 2nd layer on top and crimp the edges.
Bake for 15 to 20 minutes and serve with a pizza sauce.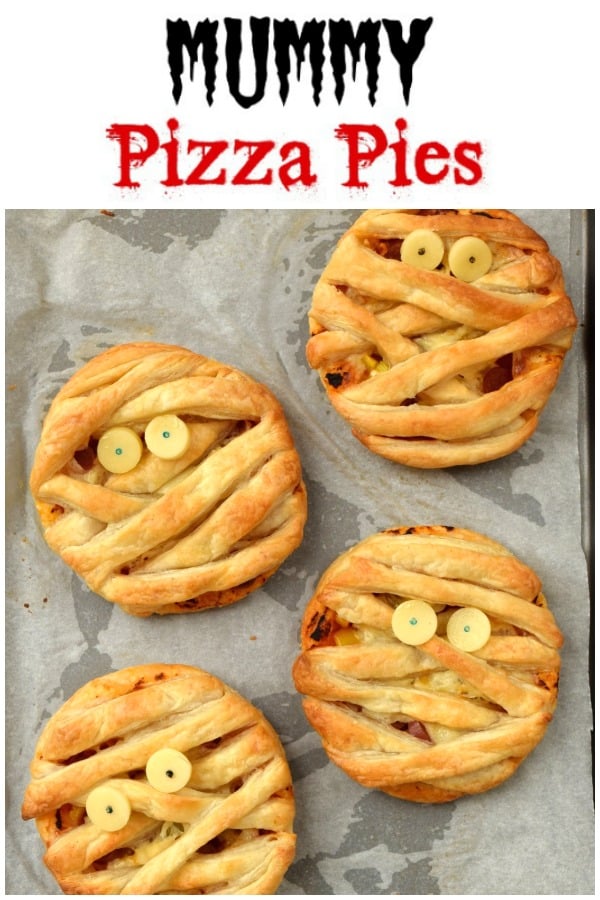 5. Mummy Puff Pastry Pizza Pies from Eats Amazing
Another version of Halloween-themed mini pizzas. This time we are making mummies! These pizza mummies are made from puff pastry and filled with tomato puree, pepperoni, bell pepper, spring onion, and cheese.
Preheat your oven to 390 degrees.
Cut out the circles from the puff pastry.
Spread a thin layer of tomato puree over the circles.
Pile the toppings in the center of each circle.
Cover it in strips of leftover puff pastry.
Bake in the oven for 15 minutes.
Halloween Snacks for Kids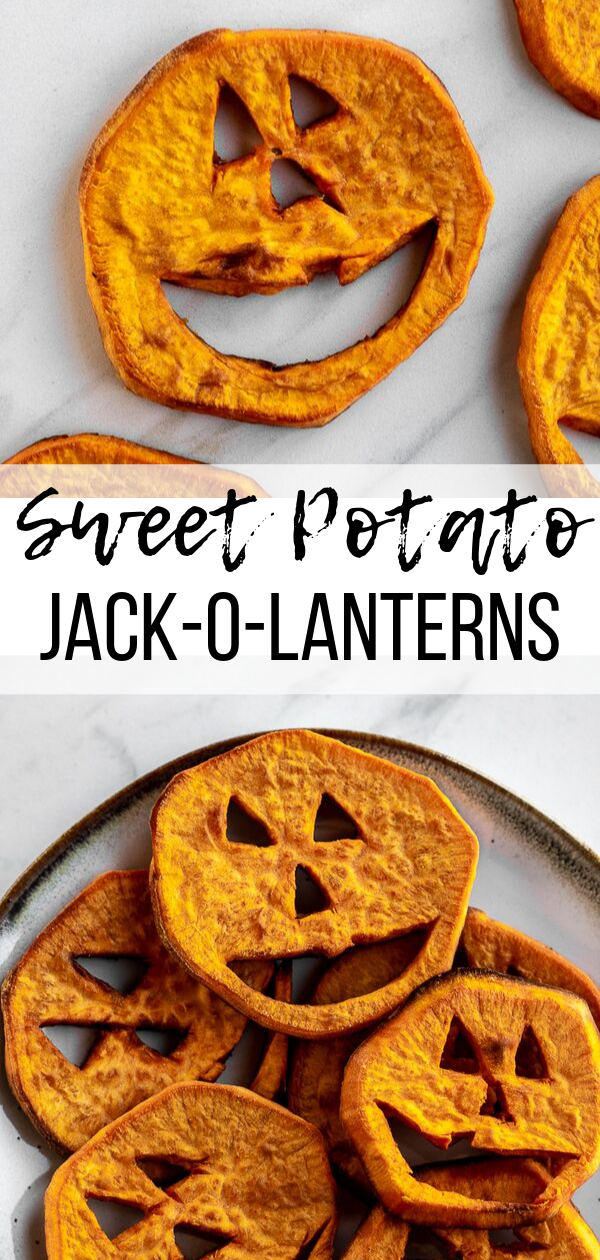 6. Sweet Potato Jack-o-Lanterns from Simply Jillicious
Are you a fan of healthy snacking? These sweet potato Jack-o-Lanterns are exactly hat you need! Your kids will love the Halloween-themed face a will happily binge-eat on a non-sugary snack.
Preheat the oven to 425 degrees.
Slice your sweet potatoes.
Cut out Jack-o-Lantern faces on each sweet potato round.
Drizzle the sweet potatoes with oil, add a sprinkle of salt.
Bake for 25 – 30 minutes.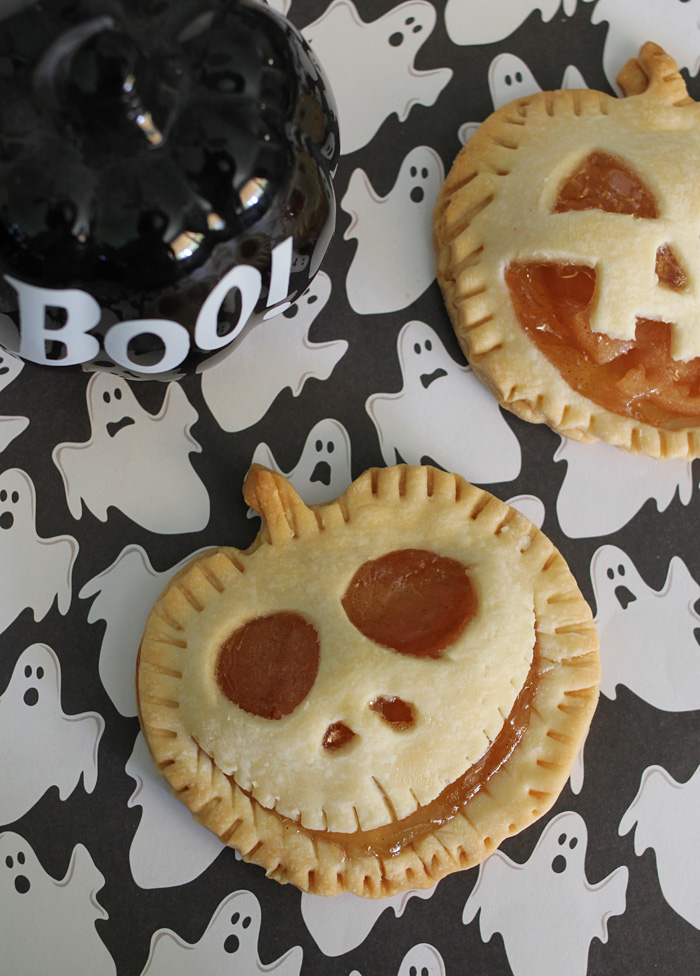 7. Mini Halloween Apple Pies from Love and Marriage
This sweet treat is also super easy to make as you need only two ingredients! A can of apple filling and pie crust. You can cut out a Jack-o-Lantern face or Jack Skellington.
Preheat your oven to 350 degrees.
Cut out your shapes from the pre-made pie crust.
Scoop a tablespoon of pie filling onto the bottom part.
Cover it with the top part and crimp the edges.
Bake for 15 minutes.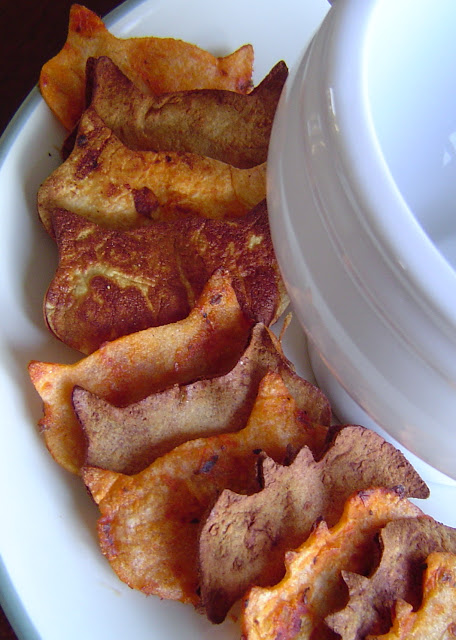 8. Halloween Tortilla Chips from Simply Designing
Do you have some leftover flour and corn tortillas? You can cut cute Halloween-themed shapes out of them and transform them into cute crackers.
Preheat your oven to 350 degrees.
Cut out the shapes from tortillas.
Dip them into soy sauce or tomato sauce.
Bake them for 12 – 14 minutes.
There you have it! 8 Super easy Halloween recipes and treats for kids. All these are busy-mom friendly as they are quick to make and you don't need many ingredients.
More ideas: