How to Choose The Best Baby Monitor
Published by

Dominika

Created:
8. 6. 2021
Updated:
26. 7. 2023
Baby Monitors Are Not the Same
A smart monitor with Wi-Fi connectivity and a dedicated app is a much different product than a non-Wi-Fi video monitor with a separate parent unit. And there are also audio-only monitors and, on the other end of the spectrum, wearable devices for monitoring baby vitals, like your baby's breathing. Your first decision is going to be which kind of baby monitor you want.
What Type of Baby Monitor is Best?
It really depends on what makes you feel the calmest. But the best baby monitor should have at least:
Audio that allow you to listen in on baby
Video that keep an eye on baby's every move
Wearable that track vitals like sleep and breathing
How to Choose a The Best Baby Monitor?
Determining what monitor to purchase depends on which factors are most important to you, such as:
Display quality/screen size: Some video monitors have larger screens with higher resolutions that offer a clearer image. Others come with smaller screens, and still others rely on an app you view on your cell phone—so it depand on the size of your phone.
Range: How far away you can be from the nursery and still get uninterrupted monitoring varies. This is an especially important factor to consider if you live in an older home with thick, plaster walls or a home with multiple floors.
Portability: Some cameras must be wall mounted while others can stand alone and travel away from home.
Communication: This popular feature lets you speak to your baby over the monitor.
Battery life: This determines how long you can carry the monitor screen around before having to plug it in to charge. Plus can be the battery alert.
Specialized features: Besides watching your little one, some cameras also monitor the room's temperature and your baby's vitals, also, motion detection can be handy as night vision.
Design: Last but not least, you should consider the design of the device itself. Many baby monitors have a strict design, which, however, does not interfere with their flawless operation. On the other hand, we have models that bring not only top reliability but also an attractive design. An example is one of the Annie Baby Monitor which baby's unit is designable and also bring festive features for Halloween and Christmas. The appearance may be completed by various elements by stands or wall mounts. So before buying, don't forget to make sure that your pick is suitable for the places you want to place it.
Do You Need a Baby Monitor?
If you sleep in the same room as your baby or live in a small space where you can always hear or see what your baby is up to, you probably don't need a monitor. Otherwise, most parents enjoy the convenience a baby monitor provides—instead of needing to stay close to the nursery or constantly checking on your child, you're free to rest, catch up on Netflix, get some romantic dinner, or get things done around the house anytime baby is resting. Monitors can also double as a nanny cam to keep an eye on your child and their caretaker when you're not at home.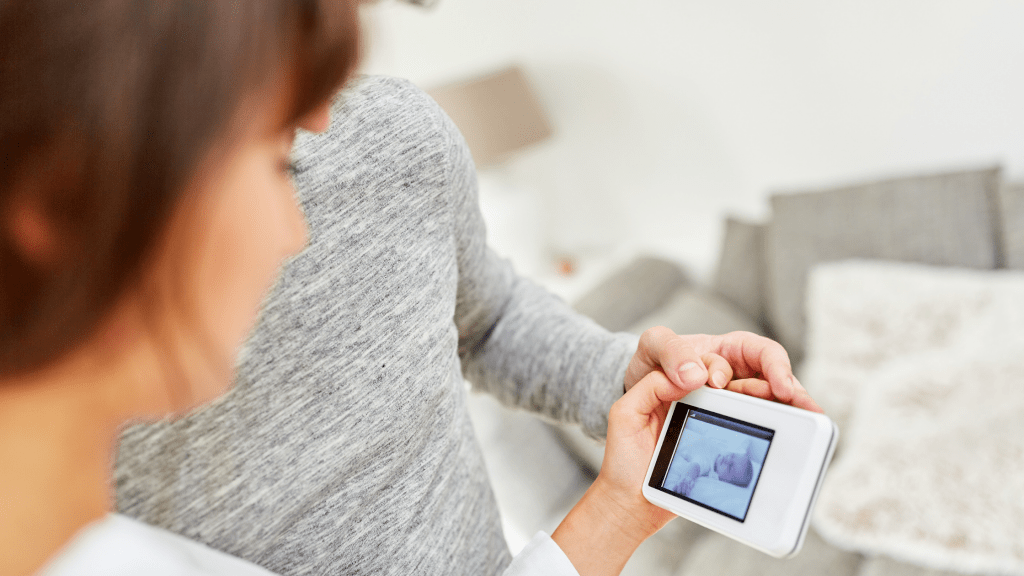 Types of Baby Monitor
WI-FI Baby Monitors
Wi-Fi monitors are great if you want to be able to check in on your baby from anywhere. The range is not a problem with Wi-Fi monitors, because you can tap into the feed from your phone wherever you get an internet connection. With Wi-Fi monitors, you'll be able to spy on your kiddo from anywhere, like anywhere anywhere, for example from the airport. Wi-Fi monitors also tend to have more alerts, with smartphone apps and sleep-tracking capabilities.
The disadvantage of using a Wi-Fi monitor, besides the potential for a security breach, is connectivity issues. You can experience a lot of trouble setting up the Wi-Fi monitors also the lost connectivity in the middle of the night. However, you have a strong signal, there are no issues. Individual monitors also perform better or worse depending on the quality of your Wi-Fi.
Read more: How to turn an old tablet or phone into a baby monitor
Non-WI-FI Video Baby Monitors
Non-Wi-Fi baby monitors transmit via radiofrequency. Another benefit of this type of monitor is the easy setup, many are plug-and-play, with no need to download an app or pair anything. A dedicated parent unit frees your phone for whatever else you want to use your phone for and your risk of hacking goes way down. Non-Wi-Fi models also tend to include remote pan, tilt and zoom capabilities, which allow you to adjust the positioning of the camera and get a view of different parts of your child's room without actually entering it. But this feature has the new Wi-Fi app baby monitors too.
The audio and video output of the non-Wi-Fi monitors tend to be slightly lower quality than the ones that feed to your smartphone and several of them were just too quiet, even at the loudest volume. And of course, the range is a concern with a non-Wi-Fi baby monitor. Some non-Wi-Fi monitors promise up to 1,000 feet, but if your house is large or the signal has several walls to traverse, you may still experience a spotty connection.
Audio-Only Baby Monitors
If your budget is tight, an audio-only monitor offers peace of mind without the price tag. Most parents today, however, will opt for a video monitor, especially if you'll be moving your baby to their own room. But these days is better to invest in the baby monitor app which does more for you, that baby monitor app is also budget pick.
Wearable Baby Monitors
Wearable devices that monitor heart rate, blood oxygen, breathing, sleep patterns and other metrics bring an added layer of peace in mind, but experts warn that they should be taken with caution and shouldn't replace safe sleep habits. The wearables may be bundled with their own video monitor. Smart monitors tend to be expensive and sometimes unnecessarily complicated, but they just might help you get a little extra sleep yourself.
Now that you have an idea of ​​what to expect from the baby monitor, you can choose the best one! Here are the best baby monitor 2021 picks to get through a full night with less stress and more rest.
Might be interesting for you: