HALLOWEEN 🎃 Party for Kids – Full Day of Halloween Games
Published by

Dominika

Created:
22. 10. 2020
Updated:
11. 10. 2022

Whether you're throwing a virtual Halloween party or having one at home with your own little monsters, it's important to keep them entertained!
We already gave you some ideas: Halloween recipes and treats, Halloween movies, Halloween costumes (for girl, boy, and for the whole family), and now is time for games!
Even if your celebrations will be a bit scaled-down this year, because of the coronavirus, there's still time for you and your family to have fun!
Here are 10 Halloween games which going to kill the whole October 31st!

1. The Invitation
Let's start with some invitation! A Hogwarts letter! there is nothing else that comes to my mind!
At the picture is another good idea. Hedvig with the invitation letter! What a perfect idea of invitations.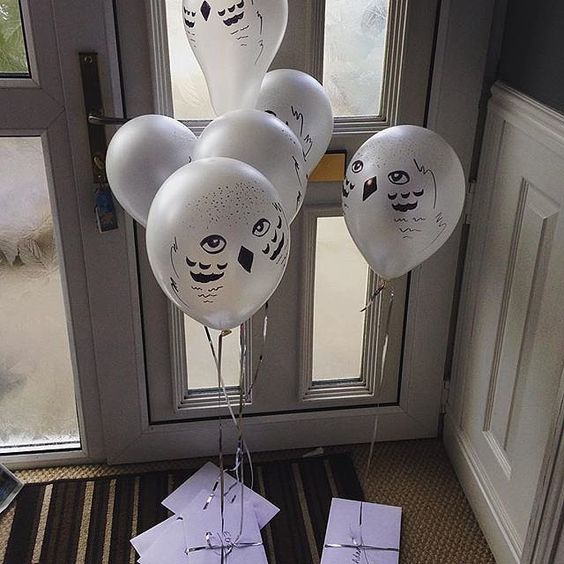 source: pinterest.com
2. Where is the party?
Entertain the kids even before the Halloween party. Let them find the place where the party is! All you need is a copy machine and some yellow paper. Then just use our template and copy it at your paper! And here you have it – The Marauder's Map! Don't forget to draw footprints to find the place where the party is!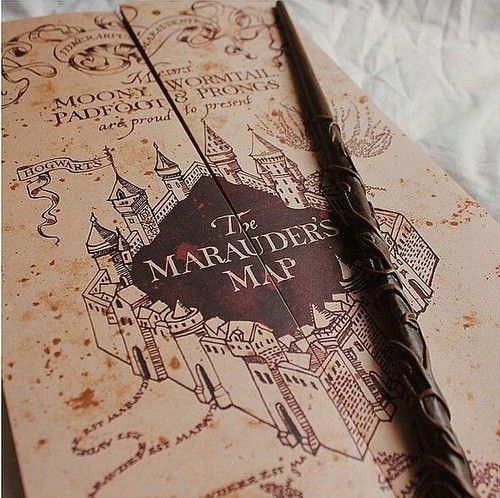 source: pinterest.com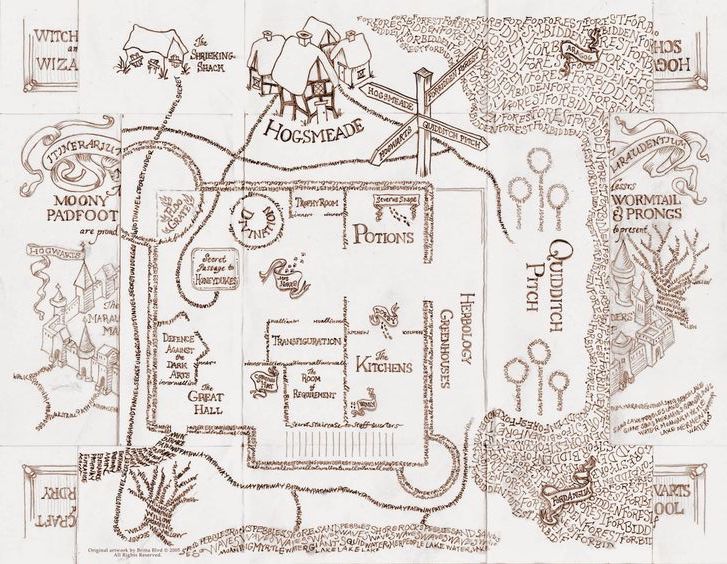 source: pinterest.com
And now the games! Let's start outside because the dark comes early in this time of year.
3. Painting Pumpkins
It's a tradition to paint a pumpkin at Halloween! Make it fun and memorable! All you need is a pumpkin, some colors, and brushes. Cover the table with disposable tablecloths and give your kid an old T-shirt! And the fun may start!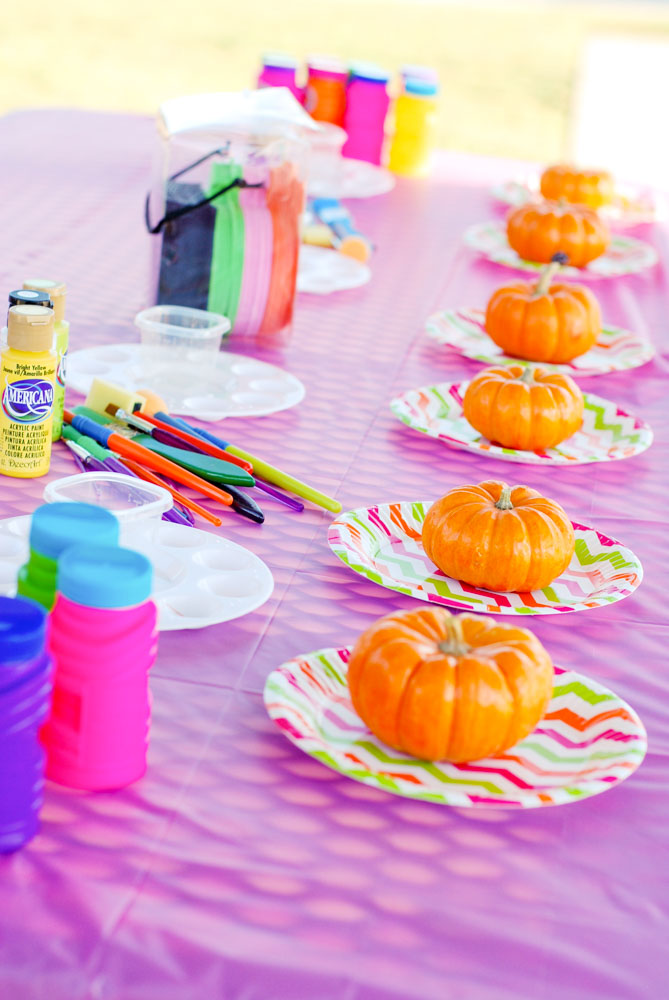 source: pinterest.com
4. Monster Bowling
Kick your upcycling skills into gear and create your own DIY Halloween bowling sets. This is a fun and budget game idea for kid's Halloween parties, for them to battle it out in the bowling lane. And if you want more fun – let the kids paint the cans!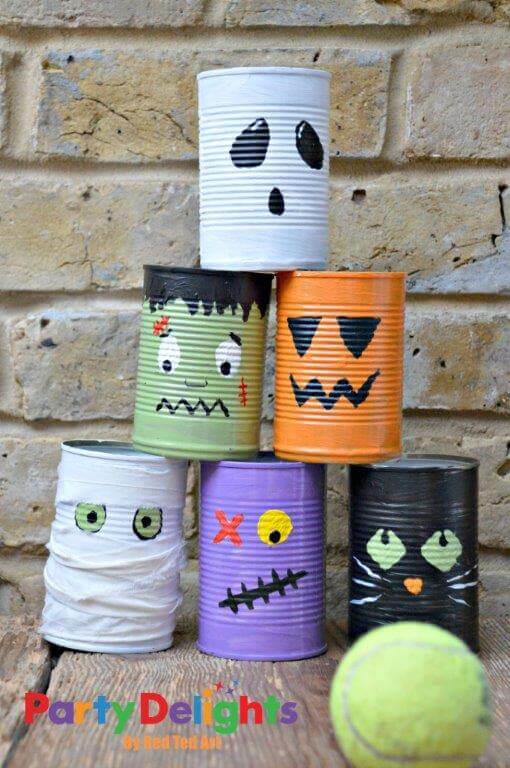 source: pinterest.com
5. Apple Bobbing
Another traditional game! Place apples in a body of water, a tub, or another similar shaped vessel. And then just watch children dunk their heads into the water with full abandon in order to retrieve a prized apple!
If you want to change it up, buy some Halloween donuts and hang them on the tree – like in the second picture.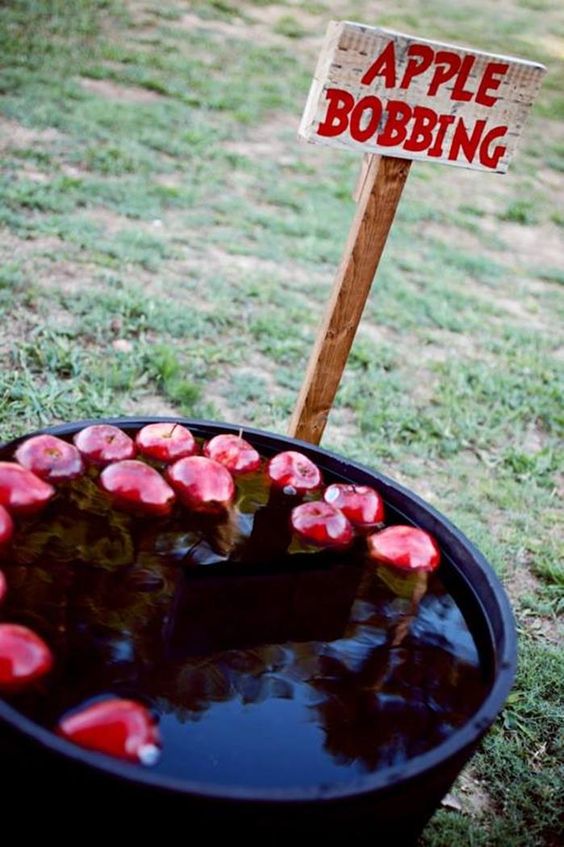 source: pinterest.com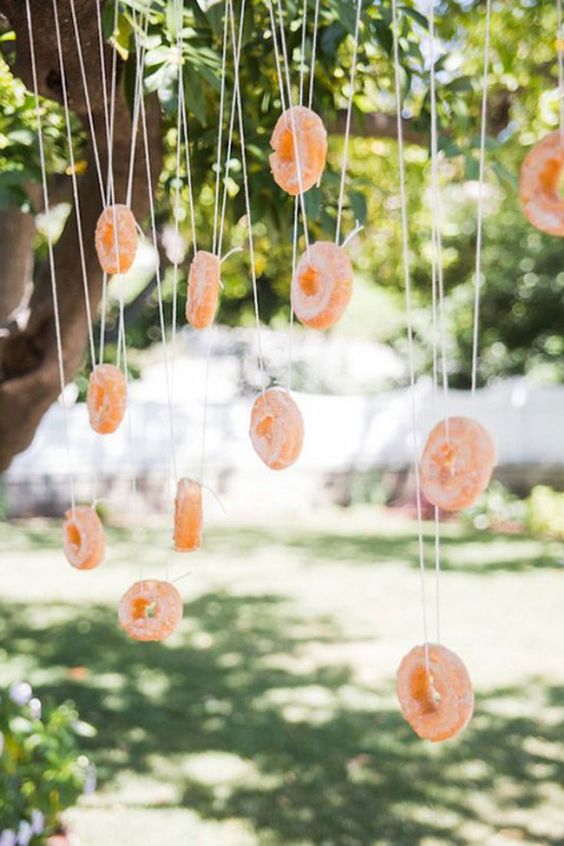 source: pinterest.com
6. Pop Some Pumpkins
This is a favorite with kids, and adults too! Every Halloween Party can be made so much better by popping a few balloons for prizes tucked inside the balloon.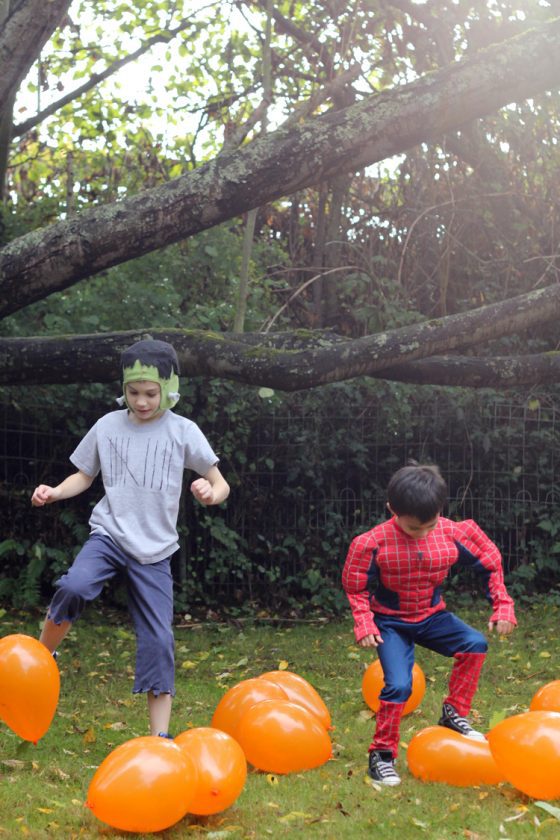 source: pinterest.com
7. The Mummy
This toilet paper mummies game is a classic Halloween activity. Get rolls of toilet paper and let the kids wrap themselves in toilet paper from head to toe, just like a mummy. If you want to make this game more competitive, count it and who will be the last mummy loses!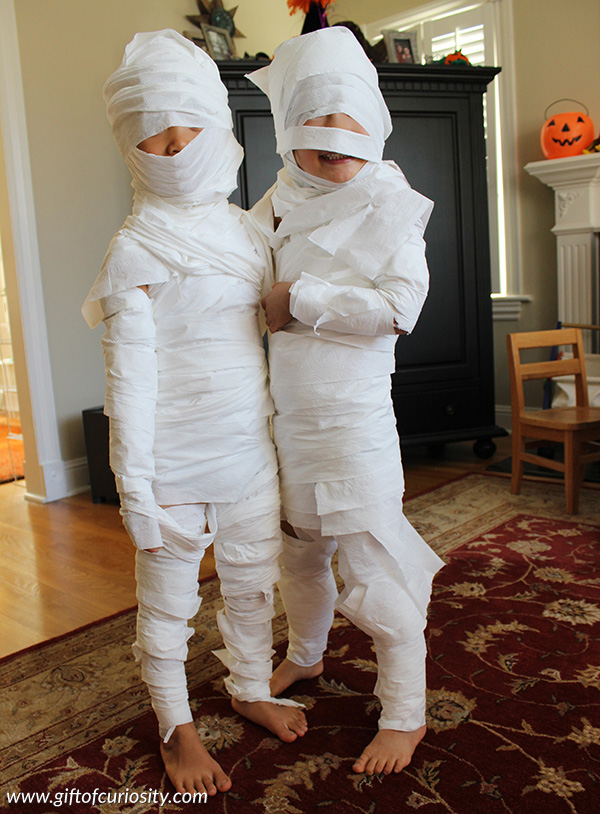 source: pinterest.com
Oh my God! It's dark outside! Let's move inside!
8. Attack by Spiders
Kids had to use some super adventurer skills to get through safely! Similar to the laser beam challenge. Taped white streamers around the hallway and poked spider rings through the streamers, making a fun obstacle course for the kids. If the kid touches the streamer he has to start again!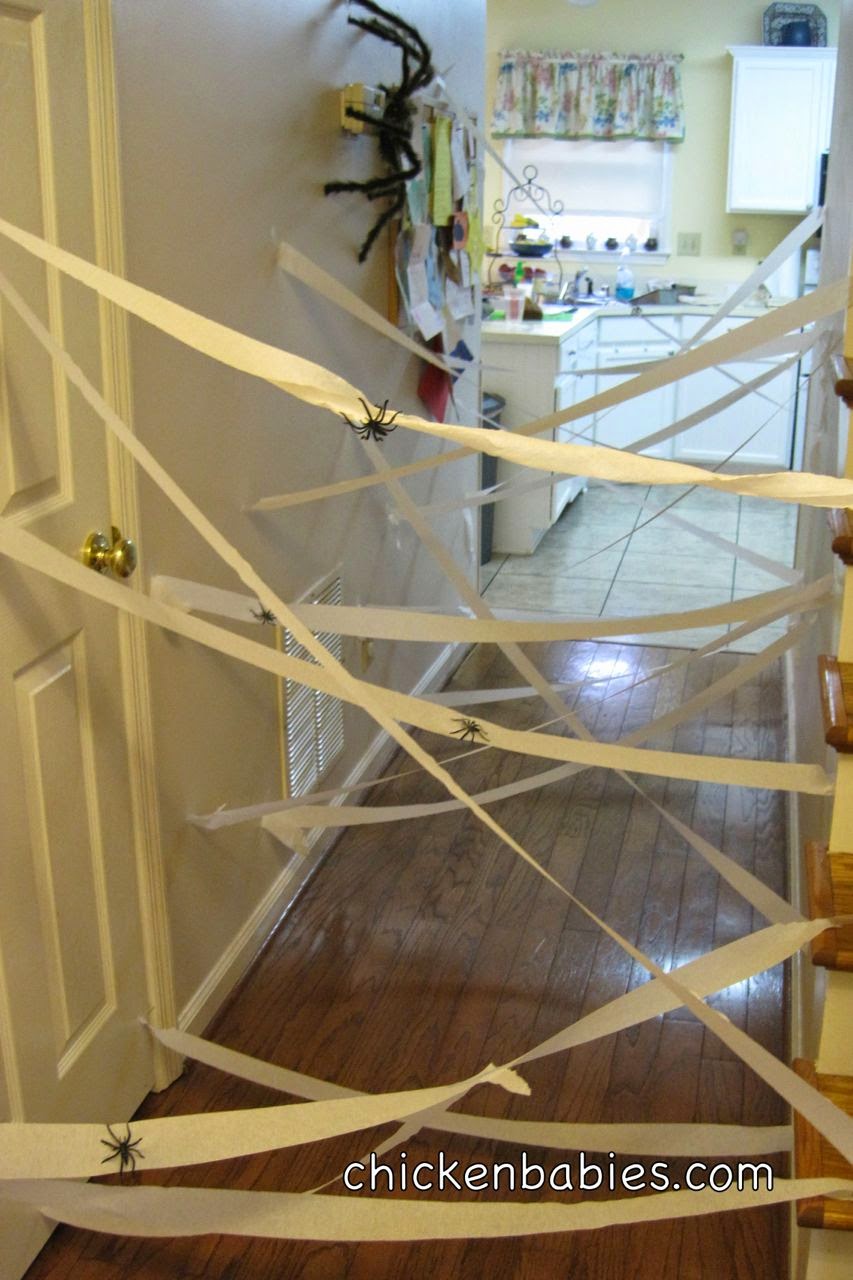 source: pinterest.com
9. Spells!
Let's calm the party down!
Match the spells or charms to their effects in this Harry Potter Spells & Charms matching game. And if you don't like this game pick another one, on the page is more!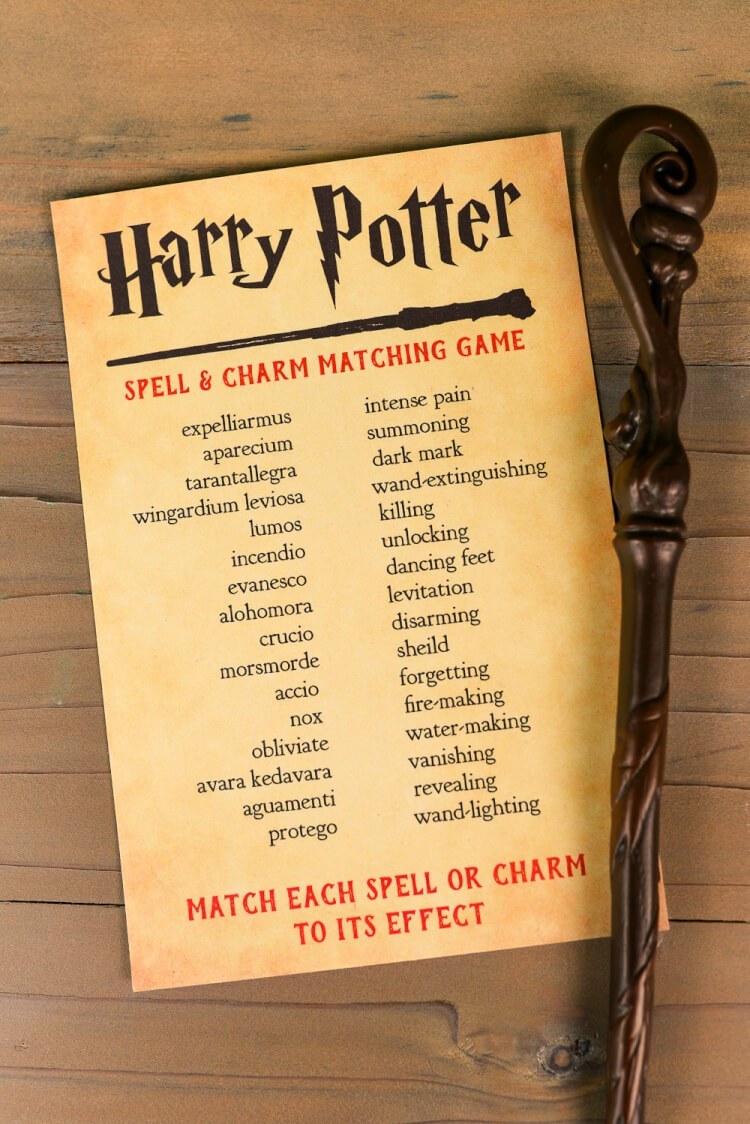 source: pinterest.com
10. Halloween Movie Marathon
Before going to bed and after having dinner. Make some popcorn and play your kids some Scary-Not-Scary Halloween Movie!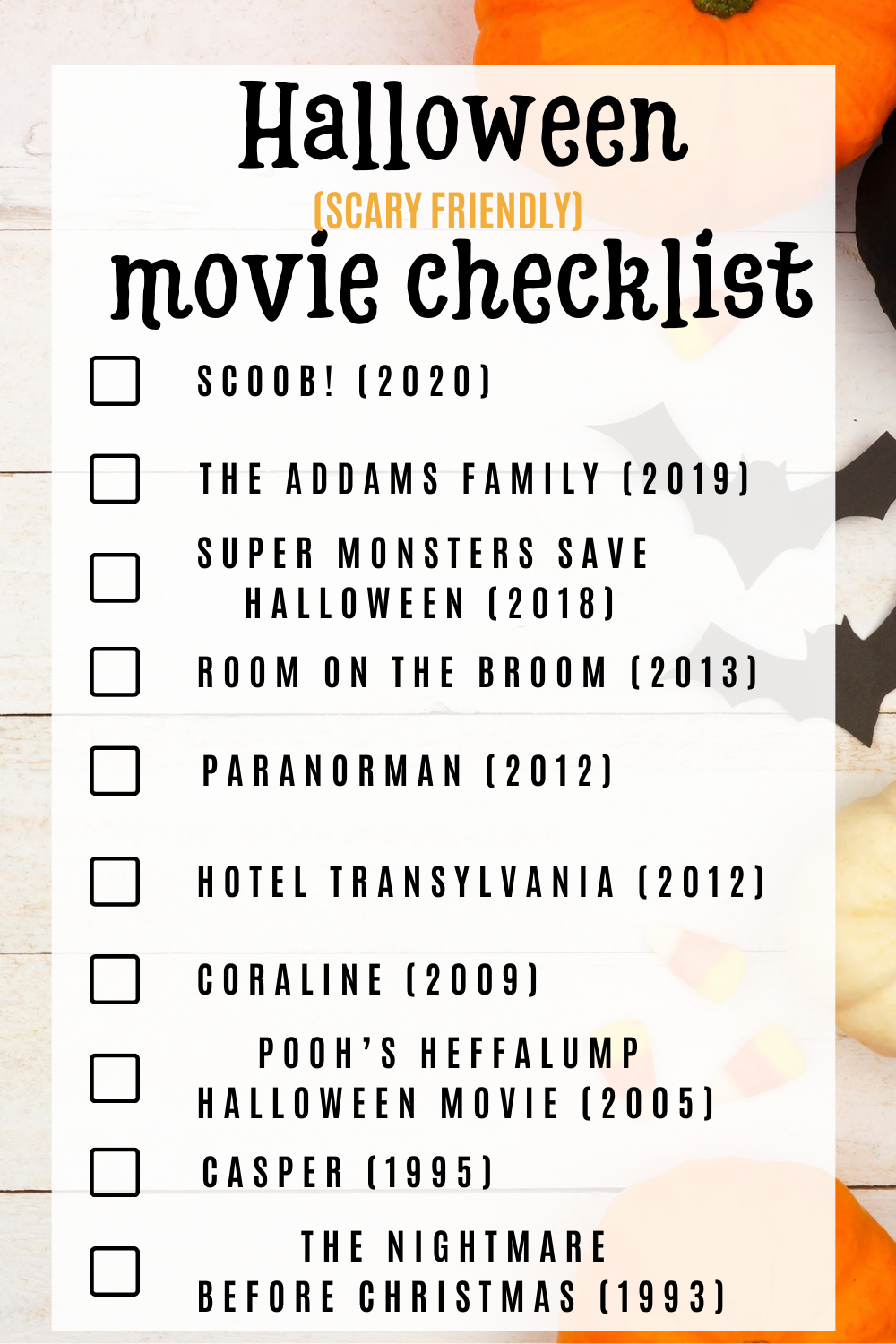 While you play these games, don't forget to blast some of the best Halloween songs and eat your favorite festive candies. All that's sure – the party can start!
Check out also: