Baby Closet Organization
Published by

Dominika

Created:
20. 5. 2021
Updated:
20. 5. 2021



Every woman gets into a shopping spree, especially for her future baby. Of course, when you announce a pregnancy, a close family and friends go crazy over those little things and they just have to buy them! And so the unborn baby already has a huge supply of things.
"Is it really necessary to buy this"? "Should I hide this piece for a possible next child"? "Where do I store it?" "How do I sort them?" "Should I put it here or there?" "What do I need the first year for a baby?!" I'm sure these and a lot of other questions come to your mind! Don't worry! I have for you a list of things you will need for your baby and also tips on how to organize them.
TIP N.1: You don't have any idea what you will need for your baby, do you? But don't worry I have a list of all the equipment for you, both clothes and other things such as room equipment.
How to organize
With all these cute pieces is also associated, above all, an endless carousel of washing, drying, ironing, and last but not least, sorting, discarding and buying new sizes. Baby clothes are nice joy, but above all one big and practically endless maternal concern.
TIP N.2: First, read an article about the organization of the room, what furniture to buy and how to arrange it
Now that you know what kind of furniture you'll need in the baby's room, you can plunge yourself into the organization of individual pieces of clothing as well as cosmetics for the baby.
Changing Tables
You will use this piece of furniture for about a few months. The changing table should be stable, with guardrails on the top, and should be higher than a regular table. Try to choose the one where you'll able to organize all cosmetics and baby diapers under (to) it.
TIP N.3: Changing Table Organization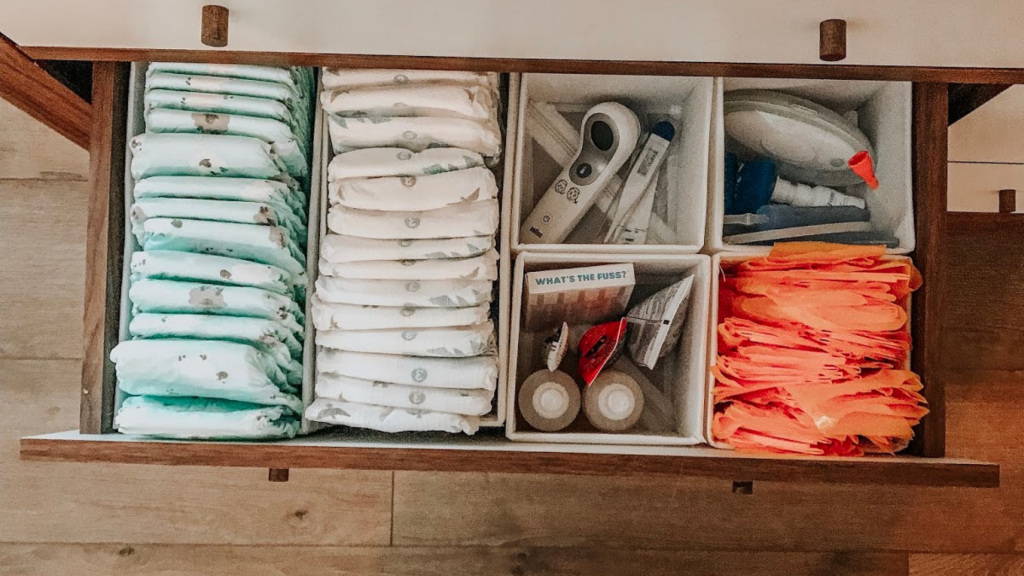 Nursery Dresser
Don't forget to buy this one. Chest drawers is the best for the baby clothes organization. Arrange your baby's clothes according to size so that you don't have to look for something all the time. Once the baby grew from that size, you can put away the entire range and put the larger size forward.
TIP N.4: How to organize baby clothes
TIP N.5: As I wrote, the baby will not need so many clothes for now, so you don't have to buy a wardrobe at all. You will have even more space in the baby's room. You can use this place, for example, for an armchair, where you can sit in peace and put your baby to sleep.
Closet Dividers
Are you looking for a smart and cute way to organize your baby's closet? These baby closet dividers will help you do just that.
Divide your baby's clothes by age, purpose, season or any other way you want.
Are you a crafty person and you feel like doing them yourselves? Or would you rather save time and buy them already pre-made and super cute?
Let's see what suits you best from the list of baby closet dividers in >> THIS << article.
Baby's Room Organization
Last but definitely not least I prepared for you a list of youtube videos where you can find lots and lots of tips from experienced mothers!
TIP N.6: Don't forget the baby monitor. I have prepared Annie Baby Monitor for you – take a look at its benefits and why it is the best baby monitor not only for the environment. Save your money and turn your phone into a baby monitor!
Check out also: