Easy Soups Recipes – Cook With Annie
Published by

Dominika

Created:
15. 12. 2020
Updated:
15. 12. 2020

In this cold season, there is nothing better than a warm soup that warms up. Even better is when this soup is ready within 30 minutes.
I prepared for you 8 homemade, healthy, and delicious soups recipes. At the end of its article, you can find other delicious recipe ideas.
Pea Soup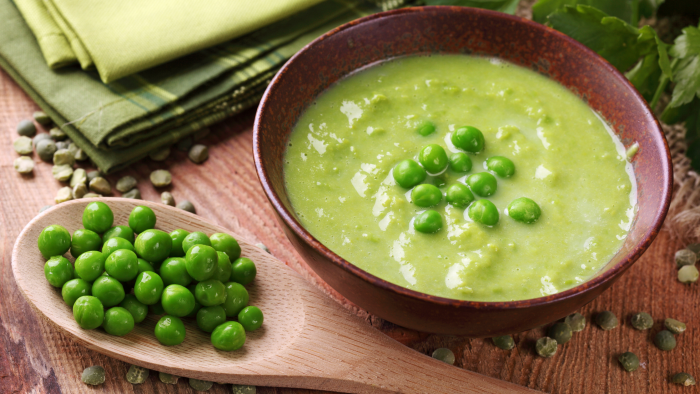 Ingredients
3 medium leeks,
cleaned and sliced thin
1 large potato, peeled
and cut into thin slices
1 10-ounce box frozen
baby peas
1 quart chicken broth
1/2 cup heavy cream
salt
ground black pepper
How To
Put leeks and potatoes in a pot with the liquid and bring to a gentle simmer. Simmer until the potatoes and leeks are completely soft, about 25 minutes. Add the peas and simmer for about 3 minutes.
Purée in a blender or with a hand-held immersion blender and strain into a clean pot. Add the heavy cream and bring to a simmer. Season to taste with salt and pepper before serving.
Pumpkin Soup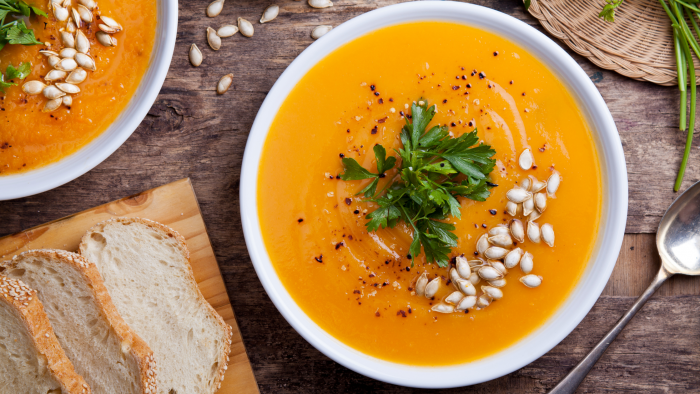 Ingredients
1.2 kg / 2.4 lb pumpkin
1 onion
2 garlic cloves
3 cups vegetable or
chicken broth
1 cup water
salt and pepper
1/2 cup heavy cream
How To
Cut the pumpkin into 3cm / 2.25″ slices. Cut the skin off and scrape seeds out. Cut into 4cm / 1.5″ chunks. Place the pumpkin, onion, garlic, broth and water in a pot – liquid won't quite over all the pumpkin. Bring to a boil, uncovered, then reduce heat and let simmer rapidly until pumpkin is tender (check with butter knife) – about 10 minutes.
Remove from heat and use a stick blender to blend until smooth. Season to taste with salt and pepper, stir through cream (never boil soup after adding soup, cream will split). Ladle soup into bowls, drizzle over a bit of cream, sprinkle with pepper and parsley if desired. Serve with crusty bread!
Carrot Soup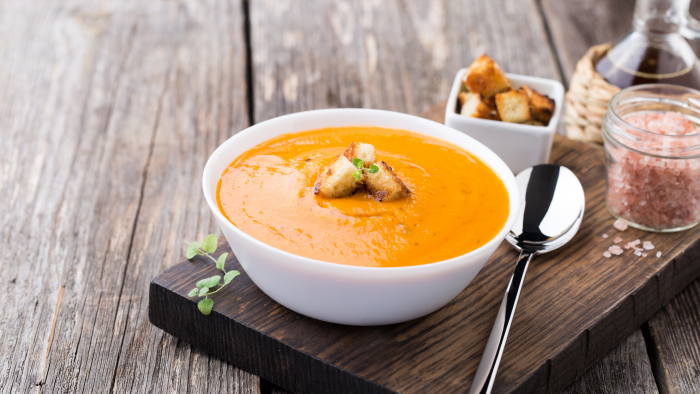 Ingredients
¼ cup butter, cubed
2 ½ cups sliced carrots
1 large potato, peeled
and cubed1 cup
chopped onion
1 stalk celery, chopped
3 cups chicken broth
1 teaspoon ground
ginger
½ cup heavy whipping
cream1 teaspoon curry
powder
½ teaspoon salt
⅛ teaspoon ground
black pepper
How To
Heat butter in a Dutch oven over medium heat; add carrots, potato, onion, celery, chicken broth, and ginger. Cover and cook, stirring occasionally, until vegetables are tender, about 30 minutes. Uncover and cool for 15 minutes.
Transfer soup in batches to a food processor; blend until smooth. Return soup to the Dutch oven; stir in cream. Add curry powder, salt, and black pepper; cook over low heat until heated through, about 10 minutes.
Tomato Soup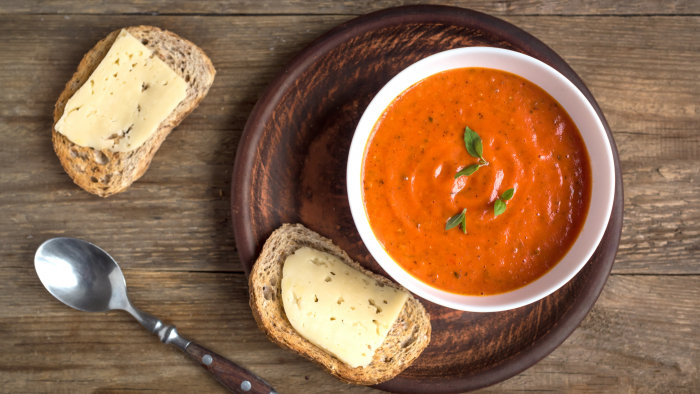 Ingredients
2 tbsp extra virgin olive
oil
3 cups chopped yellow
onion (1 jumbo onion)
1 tbsp minced fresh
garlic
3 cups chicken broth
1 can crushed
tomatoes, undrained
1 tsp dried oregano
1 tsp kosher salt
1/2 tsp freshly cracked
black pepper
1 bay leaf
How To
In a dutch oven or soup pot, heat olive oil over medium high heat. Add onions and sauté for 4 minutes, stirring constantly. Add garlic and cook until fragrant (about 30 seconds), continuing to stir.
Add chicken broth, tomatoes with juice, oregano, salt, pepper and bay leaf. Stir well to combine. Bring to a gentle boil and reduce heat to maintain a simmer.
Cover and simmer for 15 minutes. Purée to desired consistency with an immersion blender.
Top with desired toppings, e.g. grated parmesan cheese.
Chickpea Soup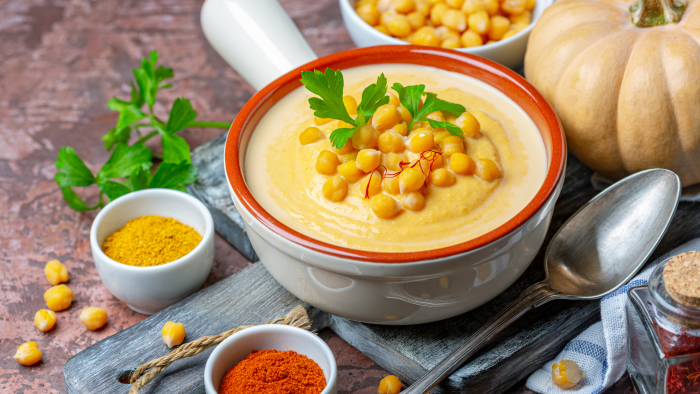 Ingredients
1 tbsp canola oil
1 clove garlic, minced
1/2 onions, finely
chopped
1 tsp ground cumin
1 tsp turmeric
1 2/3 cup chickpeas
1 cup canned tomatoes
1 cup chicken broth
1 cup water
1 pinch salt
How To
Heat the oil in a saucepan over medium low heat. Add the finely chopped garlic and onion then sauté 2-3 min until translucent, taking care not to let them burn.
Drain and rinse the chickpeas, then add them to the saucepan. Stir in the spices, tomatoes, broth and water. Bring to a boil, then lower the heat and cook 7-8 min. Add salt and pepper to taste.
Purée the soup in a blender, then ladle it into bowls and serve.
Sweet Potato Soup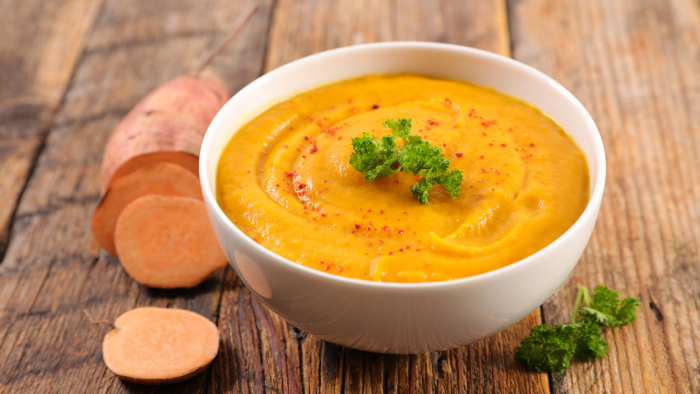 Ingredients
6 medium sweet
potatoes
1 tablespoon minced
fresh ginger
2 cups chicken or
vegetable stock
1 cup water, or as
needed
1 lime, juiced
1/2 cup heavy cream
How To
Place potatoes and ginger in large saucepan. Pour in chicken stock and water, and bring to a boil over high heat. Reduce heat to medium low, cover, and simmer until the potatoes have softened, about 30 minutes.
Puree potatoes and lime juice in a food processor, or with a hand blender until smooth. Return soup to saucepan and stir in milk or cream as desired; heat until warmed through.
Cauliflower Soup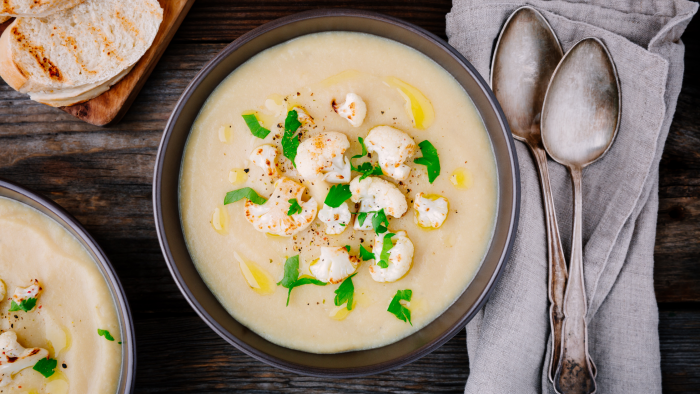 Ingredients
2 tablespoons unsalted
butter
1 onion, chopped
1 head cauliflower,
broken into small
florets
1 potato, peeled and
diced
2 cups vegetable stock
2 cups milksalt and
pepper to taste
How To
Melt the butter in a large pot over medium heat. Saute the onion in the butter for 5 minutes. Stir in the cauliflower and potato and saute for 5 more minutes.
Pour in the stock, bring to a boil, reduce heat to low and simmer for 20 minutes, or until all vegetables are tender. Add the milk, stirring well to blend. Season with salt and pepper to taste.
Broccoli Soup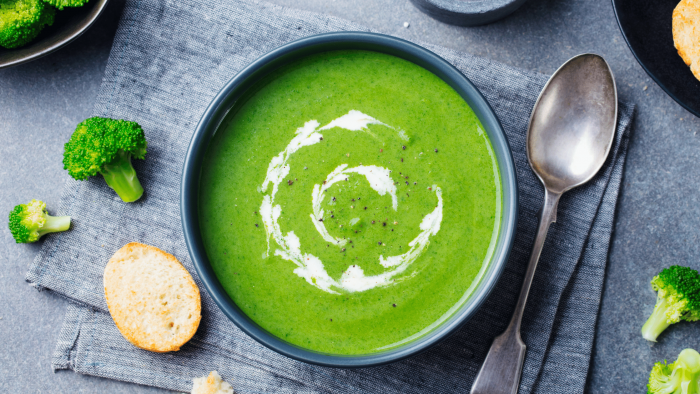 Ingredients
1 tbsp butter
2 small garlic cloves
minced1 small shallot
minced
2 small broccoli heads
though ends removed,
roughly chopped
1/2 tsp black
peppercorns
2 1/2 cups chicken stock
How To
Melt butter in a pan over medium heat. Add garlic and shallot and cook for about 30 seconds. Add broccoli and cook for another 30 seconds. Cover with chicken stock and add peppercorns.
Cook for about 15 minutes or until broccoli is tender.
Let it cool a little bit then transfer to a blender. Blend until very smooth. Adjust seasoning if needed. Serve warm or cold.
We are excited to bring you this delicious combination of our best soup recipes and hope this will become your best last-minute help for your hunger in cozy cold weather!
Other delicious recipe ideas: