Healthy smoothies ideas
Published by polakova
26. 11. 2020 03:30

Now, more than ever, we need to try our best to stay healthy. Exercise, drink a lot of water, meditate and eat well. Taking care of your body is a must. During this pandemic, a lot of people is looking for ways to boost their immune system. Covid-19 has shown us that our health is the most important thing and we should cherish it.
We want to help you stay healthy. A perfect way to achieve this goal is to make a delicious smoothie. Let's take a look at these delights!
Fruity Heaven on Earth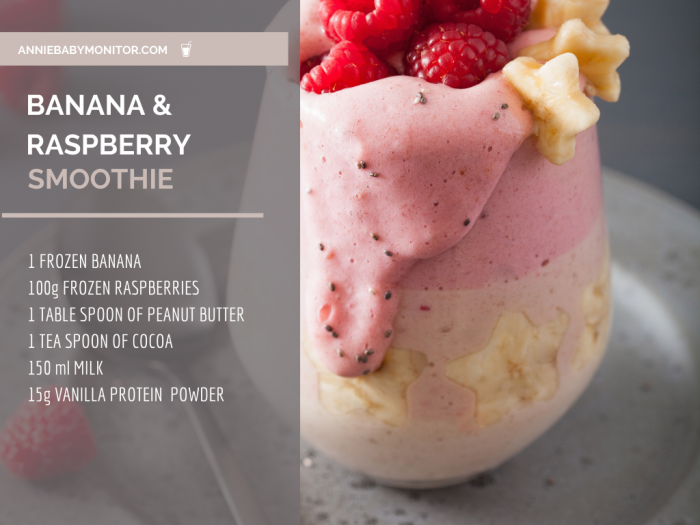 One of the all-time classic! Combination of banana and raspberries is mindblowing. Who has not tried it, do not know what life is about. So good!
Bananas are a healthy source of fiber, potassium, vitamin B6, vitamin C, and various antioxidants and phytonutrients. Raspberries are a great source of fiber, they provide more than half of the RDI for vitamin C, a water-soluble nutrient essential for immune function and iron absorption. Raspberries also contain small amounts of Vitamin A, thiamine, riboflavin, vitamin B6, calcium and zinc.
banana – 105 kcal
raspberries – 54 kcal 
peanut butter – 60 kcal 
cocoa – 15 kcal
milk – 70 kcal
vanilla powder – 50 kcal 
Ultimate Immunity Booster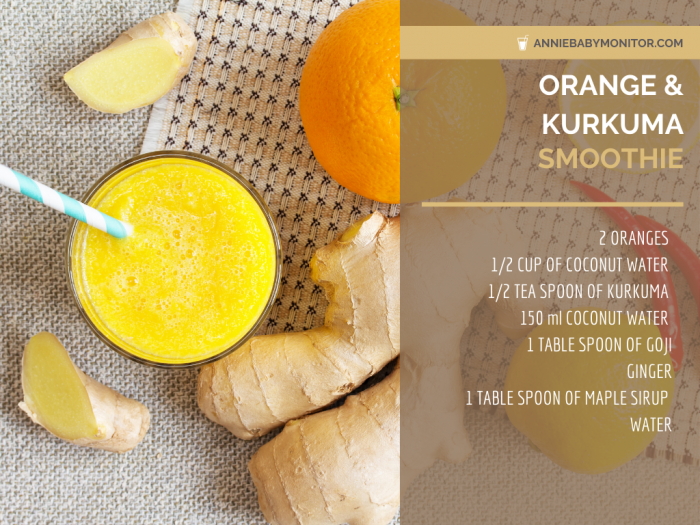 Fresh oranges are the symbol of vitamin C. This spicy smoothie will kick your butt!
Oranges are a healthy source of fiber, vitamin C, thiamine, folate, and antioxidants. They have multiple health benefits. Turmeric (kurkuma) may be the most effective nutritional supplement in existence. Many high-quality studies show that it has major benefits for your body and brain.
oranges – 140 kcal
coconut water – 20 kcal
kurkuma – 0 kcal
goji – 45 kcal
maple syrup – 26 kcal
water – 0 kcal
Green Mile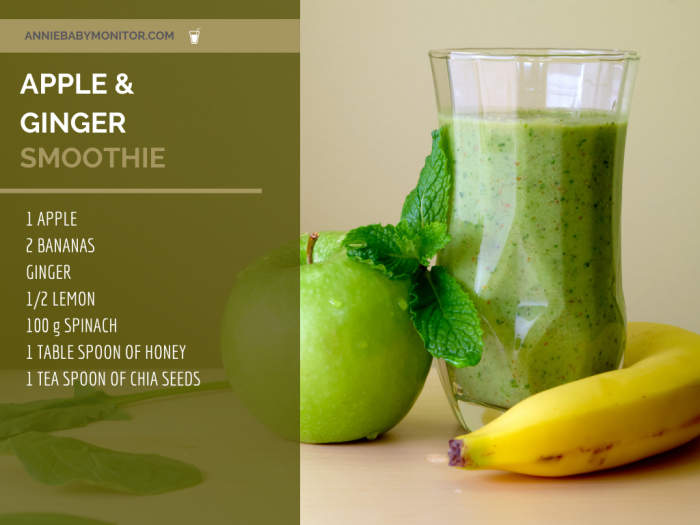 A refreshing drink to make you feel amazing! Lovely combo of fruit and veggies is mesmerizing. 
Apples are high in fiber, vitamin C, and various antioxidants. They are also very filling, considering their low-calorie count. Ginger is among the healthiest (and most delicious) spices on the planet. Spinach is considered very healthy, as it's loaded with nutrients and antioxidants. Eating spinach may benefit eye health, reduce oxidative stress, help prevent cancer, and reduce blood pressure levels.
apple – 56 kcal
bananas – 210 kcal
ginger –  0 kcal
lemon – 5 kcal
spinach – 25 kcal
honey – 16 kcal
chia seeds – 49 kcal
Bloody Symphony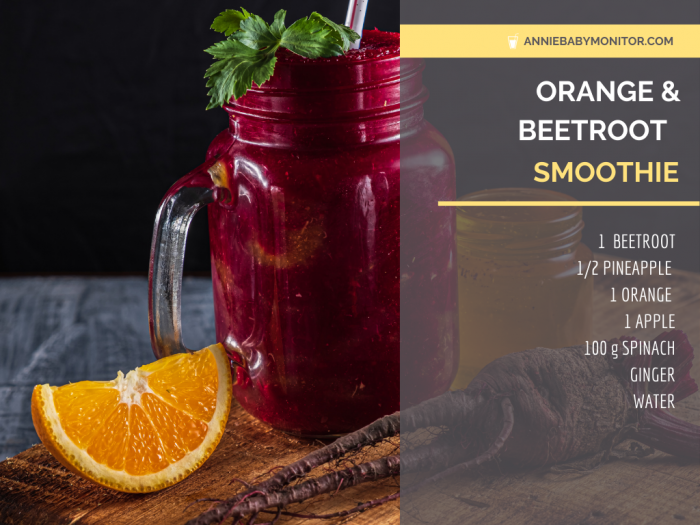 Are you ready to try this bloody drink? Symphony of taste, immaculate texture and electric colour. 
Packed with essential nutrients, beetroots are a great source of fiber, folate (vitamin B9), manganese, potassium, iron, and vitamin C. Beetroots and beetroot juice have been associated with numerous health benefits, including improved blood flow, lower blood pressure, and increased exercise performance. Pineapple is packed with nutrients, antioxidants and other helpful compounds, such as enzymes that can fight inflammation and disease. It has been linked to many health benefits, including aiding digestion, boosting immunity and speeding up recovery from surgery, among others.
beetroot – 43 kcal
pineapple – 82 kcal
orange – 70 kcal
apple – 56 kcal
spinach – 25 kcal
ginger –  0 kcal
water – 0 kcal
Tropical delight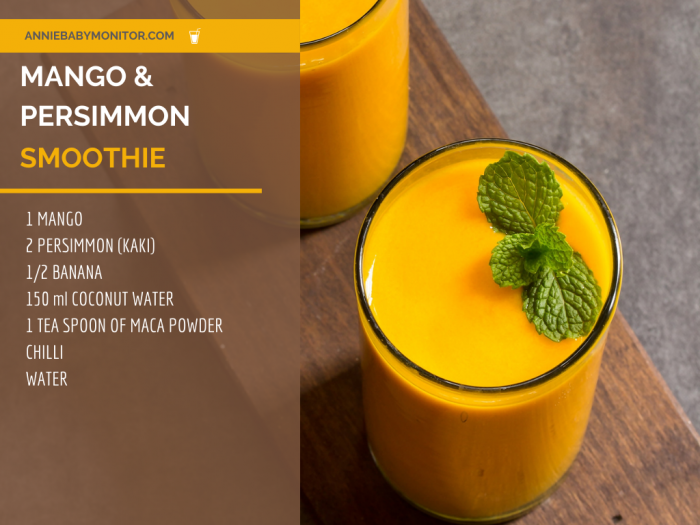 Do you fancy a summer holiday? Yes? This tropical smoothie will give you the summer vibes instantly.
Mango and its nutrients to health benefits, such as improved immunity, digestive health and eyesight, as well as a lower risk of certain cancers. Mango is a good source of folate, several B vitamins, as well as vitamins A, C, K and E — all of which help boost immunity. Persimmons are a good source of thiamin (B1), riboflavin (B2), folate, magnesium and phosphorus. These colorful fruits are low in calories and loaded with fiber, making them a weight loss-friendly food.
mango – 99 kcal
persimmon – 118 kcal
banana – 52 kcal
coconut water – 20 kcal
maca powder – 12 kcal
chilli – 1 kcal
water – 0 kcal
Energy Giver
No time for lunch or dinner? We have the answer! Avocado and sweet potato smoothie will give you much-needed energy.
Avocados are very nutritious and contain a wide variety of nutrients, including 20 different vitamins and minerals. Avocados tend to be rich in fiber — about 7% by weight, which is very high compared to most other foods. Fiber may have important benefits for weight loss and metabolic health. Sweet potatoes are an excellent source of beta carotene, vitamin C, and potassium. They are also a decent source of many other vitamins and minerals.
avocado – 130 kcal
sweet potato – 172 kcal
chia seeds – 49 kcal
almond milk – 34 kcal
cocoa – 15 kcal
water – 0 kcal
SOURCE of nutrition info: www.healthline.com
Published by polakova
26. 11. 2020 03:30