30+ Graceful CHRISTMAS Names for Girls and Boys
Published by

ruggirello

Created:
7. 1. 2020
Updated:
26. 7. 2023
Christmas is a magical time.
And having a baby born during this period of time makes it extra special.
Did you know that on average fewer babies are born on Christmas day than any other day of the year?
So if your precious little gift arrived during the Christmas holidays, give her a unique Christmas-related name to make her even more special.
All these names have a meaning related to Christmas. Being happy, receiving gifts or even Biblical meaning.
In this article you will find:
Christmas names for girls 👧🏼

Christmas names for boys 🧒🏻

Christmas names for girls
Angela 
variants: Angelica, Angie, Angelina
from the medieval Latin masculine name Angelus, meaning "messenger"

Belen 
Spanish form of Bethlehem, the name of the town in Judah where King David and Jesus were born
Carol 
variants: Caroline, Carrie, Callie
in reference to the English vocabulary word, which means "song" or "hymn"

Charity 
variants: Carita
from the English word charity, ultimately derived from Late Latin caritas meaning "generous love"
Christiana 
variants: Christina, Christine, Christa, Chrissie, Tiana
from the medieval Latin name Christianus meaning "a Christian"

Clara 
variants: Claire, Kiara
feminine form of the Late Latin name Clarus, which meant "clear, bright, famous"

Dorothea 
variants: Dorothy, Dora, Thea, Dottie
from Late Greek name meaning "gift of God"

Evangeline
means "good news" in Greek

Eve
variants: Ava, Eva, Evie
derived from the Hebrew word meaning "to breathe" or "to live"
according to the Book of Genesis, Eve and Adam were the first humans

Faith
variants: Fae, Fay
simply from the English word faith, ultimately from Latin fidere "to trust"

Felicity
from the English word felicity meaning "happiness"

Gabriella
variants: Gabrielle, Bria, Briella
from the Hebrew name meaning "God is my strong man"
the announcer of the birth of Jesus to Mary

Gloria
variants: Gloriana, Glory
means "glory"

Grace
variants: Gracelyn, Grazia, Gracie
from the English word grace

Holly
variants: Hollie 
from the English word for the holly tree

Joy 
simply from the English word joy

Lucy 
variants: Lucia, Lucinda
derived from Latin lux "light"

Mary 
variants: Maria, Marie, Marilyn, Miriam, Marika
most importantly Mary the mother of Jesus

Natalie 
variants: Natalia, Nat, Natasha
from the Late Latin name Natalia, which meant "Christmas Day"

Nicole 
variants: Coline, Nikol
from the Greek name meaning "victory of the people"
Saint Nicholas was a 4th-century bishop, he formed the basis for the figure known as Santa Claus

Noelle 
variants: Noela
means "Christmas" in French, in the Middle Ages it was used for children born on the holiday

Shay 
variants: Shai
from Hebrew meaning "gift"

Stella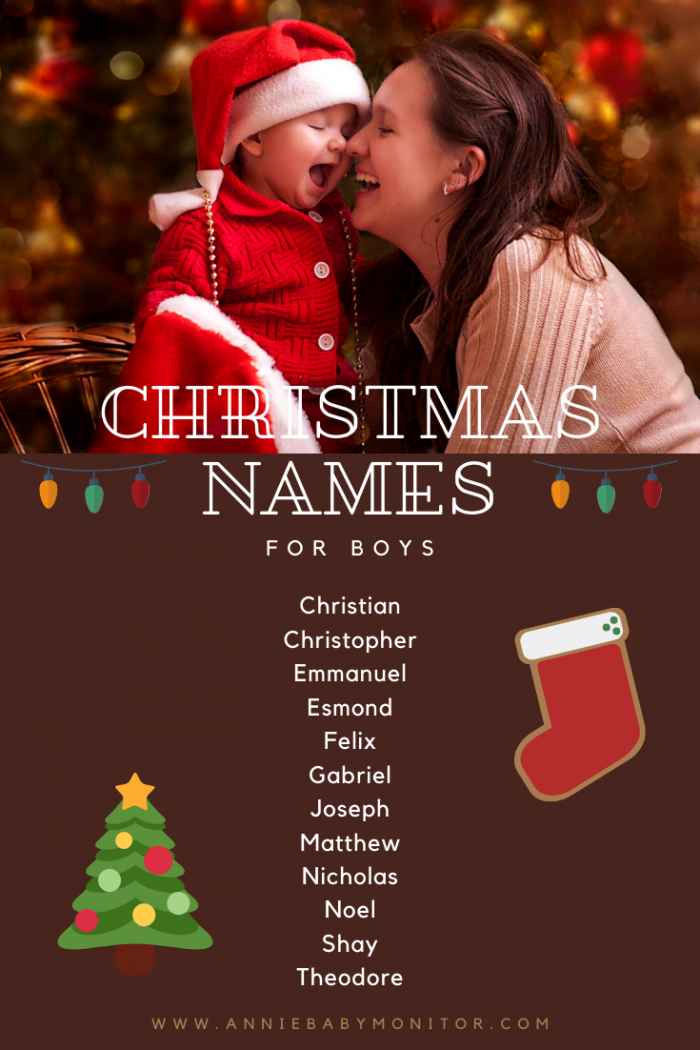 Christmas names for boys
Christian
variants: Kristian, Karsten, Christen, Chris
from the medieval Latin name Christianus meaning "a Christian"

Christopher
variants: Chip, Chris, Kit, Kristoffer
from the Late Greek name meaning "bearing Christ"

Emmanuel
variants: Manuel
from Hebrew meaning "God is with us"

Esmond
derived from Old English "grace" and mund "protection"

Felix
variants: Feliks
from a Roman cognomen meaning "lucky, successful" in Latin

Gabriel
variants: Gabe, Gavriel
from the Hebrew name meaning "God is my strong man"
the announcer of the birth of Jesus to Mary

Joseph
variants: Joe, Joey
husband of Mary, mother of Jesus

Matthew
variants: Matt, Matthias, Matteo, Matia, Matei
from the Hebrew name meaning "gift of  God"

Nicholas
variants: Nick, Colin, Nikolai, Niklas, Nico, Kai
from the Greek name meaning "victory of the people"
Saint Nicholas was a 4th-century bishop, he formed the basis for the figure known as Santa Claus

Noel
variants: Nowell
means "Christmas" in French, in the Middle Ages it was used for children born on the holiday

Shay
variants: Shai
from Hebrew meaning "gift"

Theodore
variants: Ted, Theo
from the Greek name meaning "gift of God"