Top Benefits of Baby Monitor for You and Your Baby
Published by

Dominika

Created:
13. 9. 2022
Updated:
16. 10. 2023
Technology is a gift that keeps on giving; it has made so many things easier for us. Most mothers do not consider baby monitors as compulsory baby essentials because they sound like expensive gadgets.
However:
When you take your time to review them, you will find that they are not that expensive. When you do buy it, it offers numerous benefits for both you and your baby in many ways.
You can purchase a good, efficient baby monitor for a few tens to hundreds of dollars.
But:
If you are wondering how baby monitors can benefit you or your baby, here is how.
1. Do Multiple Checks on Your Baby without Moving
With a baby monitor, you can check on your baby sleeping as many times as possible without moving an inch. The monitor is especially helpful to mothers who have just given birth because it helps them get the much-needed post-delivery rest.
Video baby monitors come in very handy when your child or you are taking naps. It will alert and wake you up at the slightest unfamiliar noise coming from your baby's crib.
2. Focus On Other Tasks
Having a baby monitor helps you focus on doing other things around the house and watching your baby simultaneously. Whether you are a stay-at-home mom or you work from home, multitasking becomes very possible and easier with a baby monitor.
You only need to pause what you are doing when you hear any strange noise from your baby. Then, you can investigate the noise and decide if your attention is needed or if you can continue with your work.
3. Keep Track of Baby's Activities
A baby monitor helps you keep track of your baby's activities, especially when you are not in the same place. Simply leave the video on and around you in your office, bedroom, or wherever you are in the house.
You can monitor every turn, twist, sneeze, and change in your baby's actions and take action when needed. This can help you prevent hazards like your baby swallowing a bead – or manage the hazards before they get out of hand.
💡TIP: More That 4 Benefits of Baby Sleep Tracker
4. Great for Monitoring Your Child's Health
Having a baby monitor becomes essential if you have a child with health issues. It helps you keep your eye on your child all day long without having to stay with them around the clock.
For example, if your child has physical difficulties, allergies, or some congenital illnesses, having a baby monitor can help relieve some of your worries. With the best baby monitor, you can closely watch your child and detect dangerous situations before something bad happens.
5. Sleep-Train Your Baby
A good video baby monitor is especially profitable in helping moms and dads train their baby to sleep. Sleep training can be hard for parents because you will continually find yourself wondering if your child is doing well. Every now and then, you must peek into their room to ensure they are sound asleep, which can be distracting.
With a baby monitor, you can watch your baby without entering his room and waking him up from sleep. This gadget is especially important if your baby is very sensitive to noise and wakes up at the slightest sound.
6. Record Precious Moments
Baby monitors also present a great opportunity to record precious moments with your baby that you will find useful later. You can watch those videos when your children are all grown to reminisce about the good old days.
Furthermore, you can stream them on their birthdays, share with working parents and grandparents, and more. The baby monitor can serve as a reservoir for precious moments with your child, which will become precious memories later.
7. Great during Travels
When you are not at home, perhaps you are at a friend's or relative's house, a baby monitor can be very profitable. Chances are that you will not sleep in the same place as your child.
You don't want to miss out on precious family get-togethers, but you also don't want to leave your child unattended. Investing in a baby monitor with a mobile-compatible application and great network coverage then comes in handy.
💡TIP: Best 4 Travel-Friendly Baby Monitor Apps
8. Prevent Sudden Infant Death Syndrome
You want to protect your child from all kinds of dangers, but that will mean you never leaving their side. However, leaving their side is inevitable – after all, you still need to make your baby's food. Investing in a good baby monitor can help ensure baby safety while you are away.
Baby monitors come with specialized sensors that alert parents when their baby's breathing or heart stops. These alerts are very loud such that you can hear them even if you are a deep sleeper, so don't worry. Thus, you can watch out for and immediately manage precarious situations that can lead to a compromise in your baby's health.
9. Overall, Peace of Mind
Having a baby monitor helps you get things done around the house and keep watch over your baby at the same time. This means more rest time for the new mother, better focus for the work-at-home mom, and more me-time for mommy and daddy!
You will feel the importance of the baby monitor especially at night when you are too tired to move. Simply open your eyes to inspect the noise coming from your baby's room and only get up when you need to.
Final Tip: Peace of Mind with Annie Baby Monitor
If you're looking for a baby monitor that goes beyond the basics, Annie Baby Monitor is what you need.
Annie offers many features, such as motion and sound detection, two-way communication, and even lullabies to help your little one sleep.
With Annie, you can keep an eye on your baby anytime and make sure the baby is comfortable and safe.
Try baby monitoring with Annie for THREE DAYS FOR FREE.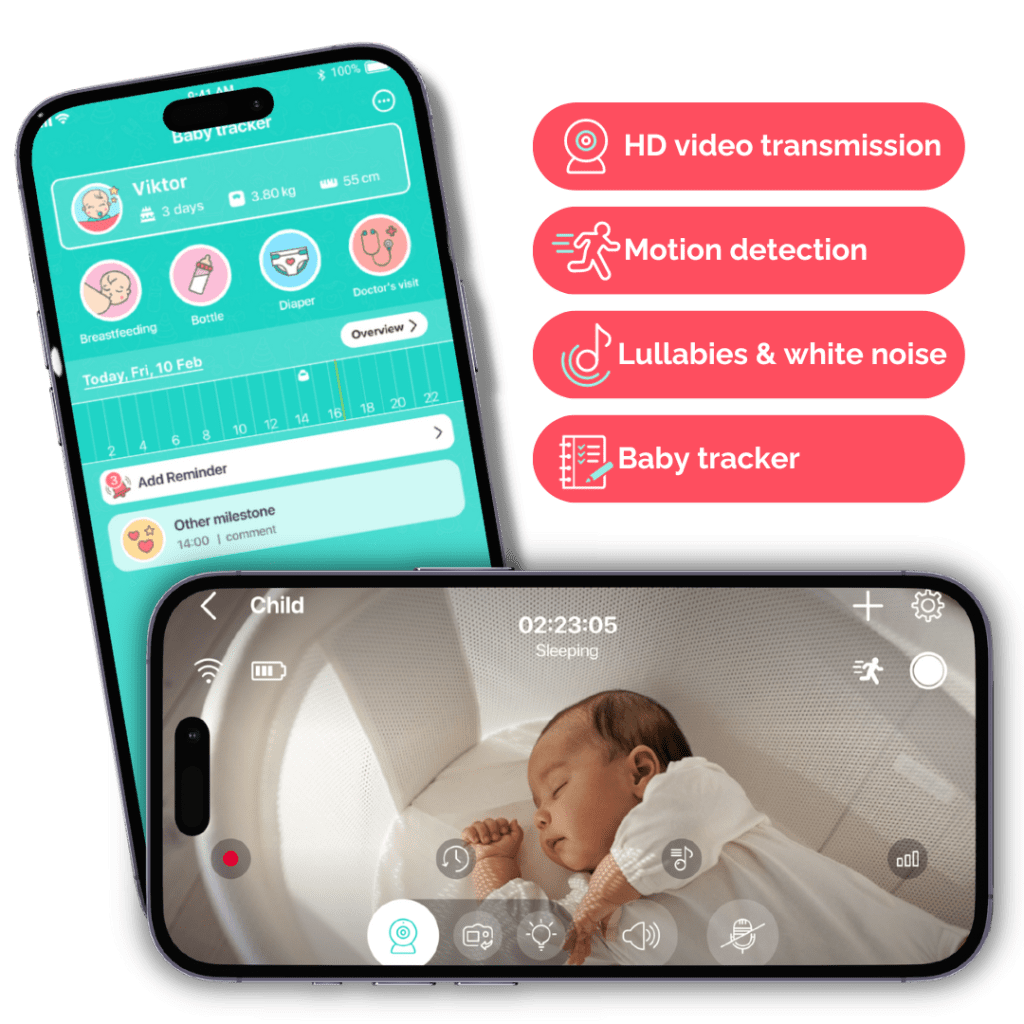 Conclusion
With these benefits of baby monitors, we hope we have convinced you to buy one – or at least consider buying one. Baby monitors are essential gadgets that can make your work as a parent easier than you can imagine.