Quick Shopping Guide on the Best Baby Monitor for Deaf Parents
Published by

Dominika

Created:
17. 12. 2022
Updated:
26. 7. 2023
It's a fact:
Any parent will find it difficult to watch over their children while they are asleep.
Even worse, there are extra challenges for parents who are partly or completely deaf.
Now:
For deaf parents, dealing with a newborn is never easy. Without proper assistance, hearing a child's call or cry for help becomes almost – if not – impossible.
That is where baby monitors come in.
But:
Not just any monitor – it should be one designed for deaf parents.
These monitors are a little more advanced than typical ones. They rely on special technologies and features to notify the parent when the baby has woken up, is playing, or even crying.
Best examples?
Well, that's why you are here. In this post, we will go over five good options and the specifics of what makes an excellent baby monitor for a deaf parent.
But first:
A quick look at how they rate against each other out of 10…
Rating Summary
| Product | User Friendly | Features | Value for money |
| --- | --- | --- | --- |
| 1. VTech DM221 Baby Monitor | 8 | 9 | 10 |
| 2. Philips Avent DECT Baby Monitor | 9 | 10 | 6 |
| 3. Serene Life Baby Monitor With Smart Watch | 9 | 8 | 8 |
| 4. Sonic Bomb Baby Cry Signaler | 8 | 8 | 10 |
| 5. Summer Infant Babble Band Wearable Audio Monitor | 8 | 8 | 9 |
Today's Top 5 Best Baby Monitors for Deaf Parents
1. VTech DM221 Audio Baby Monitor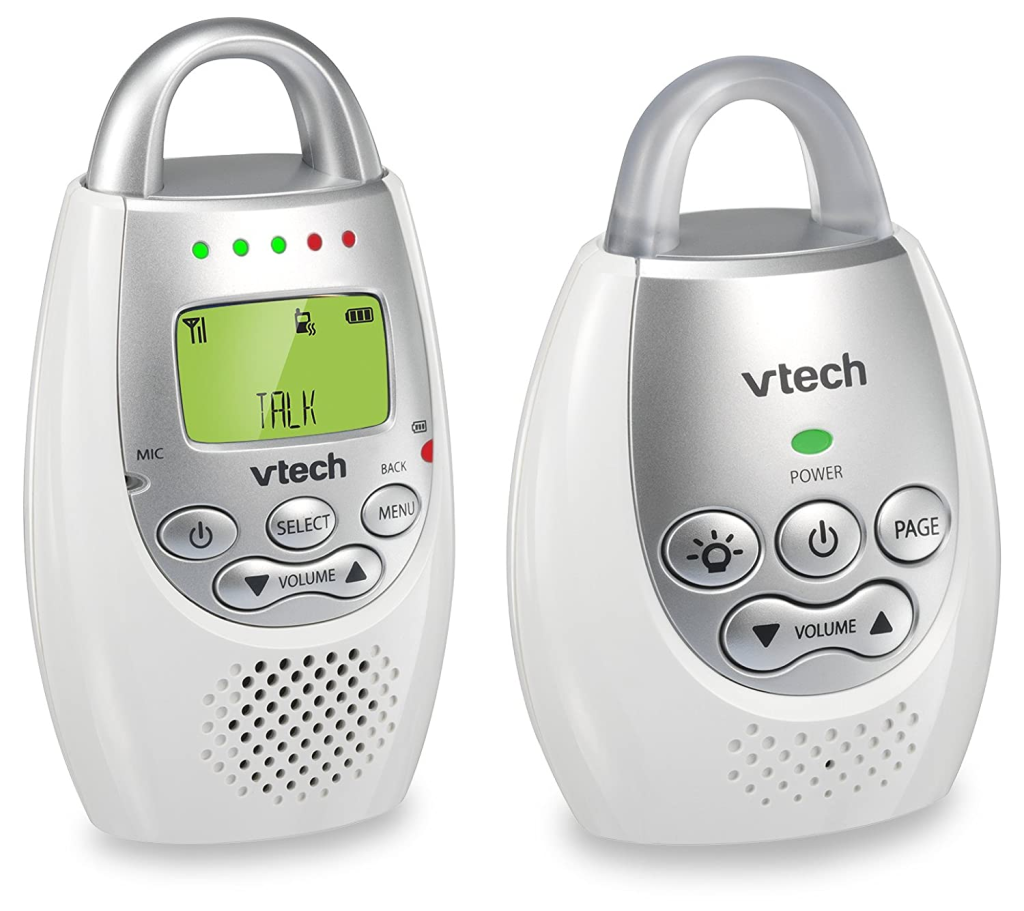 The VTech DM221 Audio Baby Monitor is one of the best assistants for deaf parents raising a newborn. It comes with awesome features including sound-activated vibration alerts and up to 1000 ft of range.
Get this:
For a deaf parent, the biggest setback to having a newborn is being able to detect when they are awake or crying.
However:
That's something the VTech DM221 Audio Baby Monitor easily fixes.
This monitor comes packed with numerous features; some of which come handy for deaf parents, thus, making life a tad bit easier.
For example:
The VTech DM221 Audio Baby Monitor features voice-activated alerts in the form of both sound and vibrations.
For a deaf parent, gentle vibrations are easier to detect. And that allows them to act accordingly and promptly.
Other cool features include…
A 1000 ft range, calming night light loop for the baby's unit, and a portable (rechargeable) unit for the parent; with 9 to 16-hours of runtime.
The night light loop is a calming feature for the child that automatically turns off after 15 minutes of silence.
Even better:
You can adjust the baby's unit sensitivity to either alert you at all times (including when (s)he is playing) or specifically when they cry, scream, or call out (loudly).
| Pros | Cons |
| --- | --- |
| Vibration alert for deaf parents | Loose belt clip |
| 1000 ft of range | Can be affected by mobile phones and other electronic devices |
| Calming night light feature on the baby's unit | |
| Portable and rechargeable parent's unit | |
| Up to 16 hours of runtime | |
| Two-way intercom talk back | |
| Adjustable sound sensitivity | |
| Fairly affordable | |
Final Verdict
Should you buy this? Well, the VTech DM221 Audio Baby Monitor isn't as advanced as some of the products you'll find online. However, it does get the job done. Plus, some of its features offer great assistance to deaf parents. Overall, it is a good buy.
This Baby Detector is a 2-piece baby monitoring system with around 1,000 ft of Range, Talk Back Intercom, Night Light Loop, as well as Vibrating Sound-Alert. Available in both white and silver color. It works great for deaf parents.
2. Philips Avent DECT Baby Monitor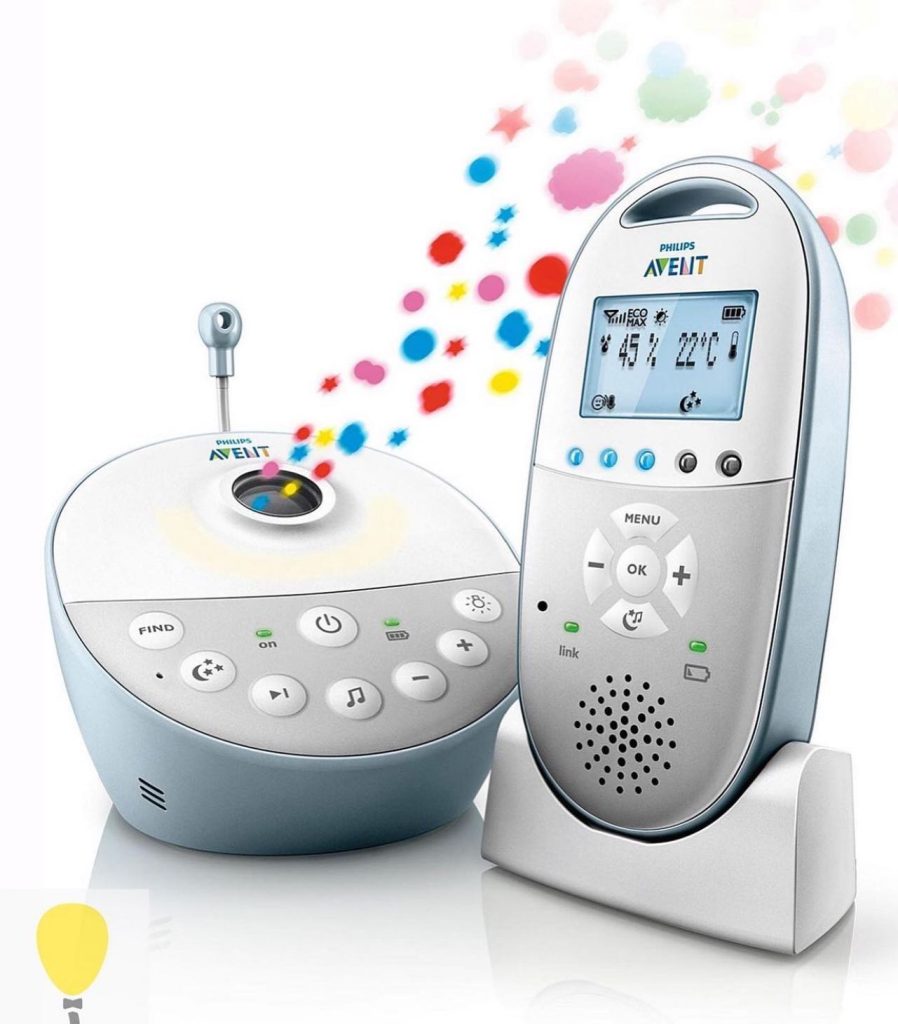 Philips Avent Dect Audio Baby Monitor along with Starry Night Projector SCD730/86 is a safe and private connection to your baby by DECT Technology.
Get this:
A baby monitor is a highly essential piece of baby gear. However, hearing-impaired parents need to ensure, the functions of baby monitors are also appropriate to their requirements.
Therefore:
Philips Avent Dect Audio Baby Monitor is highly recommended for deaf or hearing-impaired parents. As its diversity of functions provides total reassurance.
For example:
The capability of vibrating to notify deaf parents. Moreover, it also indicates five-level graphic sounds, so that parents can visually monitor the level of noise in the baby's room.
This device is designed to give total peace of mind to deaf parents. Use the starry night light projector, calming night light, and lullabies to calm your baby.
Other cool features include:
The talk-back feature allows you to talk to your baby from a distance. On the parent unit display, keep an eye on the room temperature of your infant.
Display and sound are dimmed in night mode. Conserve energy Intelligent ECO mode for light transmission.
Even better:
Outside, the range is up to 1000 feet; within, it is up to 160 feet. Excellent 18-hour operation period for monitoring at night. Docking station with ease for charging.
| Pros | Cons |
| --- | --- |
| Ceiling light projector | Very expensive |
| Up to 12 hours of battery life | |
| Adjustable belt hook | |
| Multiple baby soothing options | |
Final Verdict:
Should you buy this? If you want a full-featured audio monitor, this is your best choice. It has every feature a deaf parent could ask for in a baby monitor.
With an astounding 12-hour battery life, this device is incredibly useful. However, compared to other possibilities, it does have a much higher price tag.
3. Serene Life Baby Monitor With Smart Watch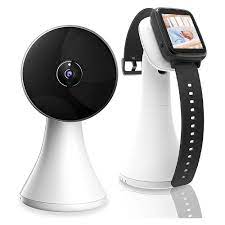 Serene Life Baby Monitor with Smart Watch keeps the child via the tiny wrist-mounted screen. Deaf patients use the 1.54-inch screen for numerous purposes throughout the day because it displays the camera, voice messaging, time, date, and alarm clock.
Get this:
A hearing-impaired parent cannot ignore the vibrating warnings from the parent unit because it is a smartwatch after it is fastened to their wrist.
Carrying your baby monitor around the house is much easier with this wristwatch monitor. No more bulky monitors to carry around in your back pocket.
Many functions of more expensive baby monitors are performed by the SereneLife Smartwatch, although they differ, notably for deaf parents.
For example:
It also offers a vibration option for deaf parents. Turn on the vibration setting and VOX mode. You'll receive a vibration alarm when the monitor picks up noise, and you can watch your child at the same time.
Even in the dark of the nursery, you can see what your baby is doing because of its night vision capabilities. Additionally, the camera's viewing angle is adjustable.
Other cool features include:
A wide-angle camera for your baby's nursery is included with the SereneLife Smartwatch. Infrared night vision is also used to give you a clear image of the smartwatch at night.
It plays soothing music and keeps an eye on the temperature. It also offers a two-way communication option and an alarm clock in addition to everything else.
Even better:
For two reasons, this is advantageous for deaf parents. It features a video screen to start. Despite being smaller than conventional displays, it is a very useful feature.
| Pros | Cons |
| --- | --- |
| Vibration Alerts | Short battery life |
| Video Screen | Lower vibration for deep sleepers |
| Talk-back | |
| Communication | |
| Room Temperature Monitoring | |
Final Verdict
Should you buy this? Needless to say, many functions of more expensive baby monitors are performed by this Smartwatch. Moreover, hearing-impaired parents cannot ignore the vibrating warnings as it is fastened to their wrists.
This little baby cry transmitter covers all the advanced features that a hearing-impaired parent might be looking for.
4. Sonic Bomb Baby Cry Signaler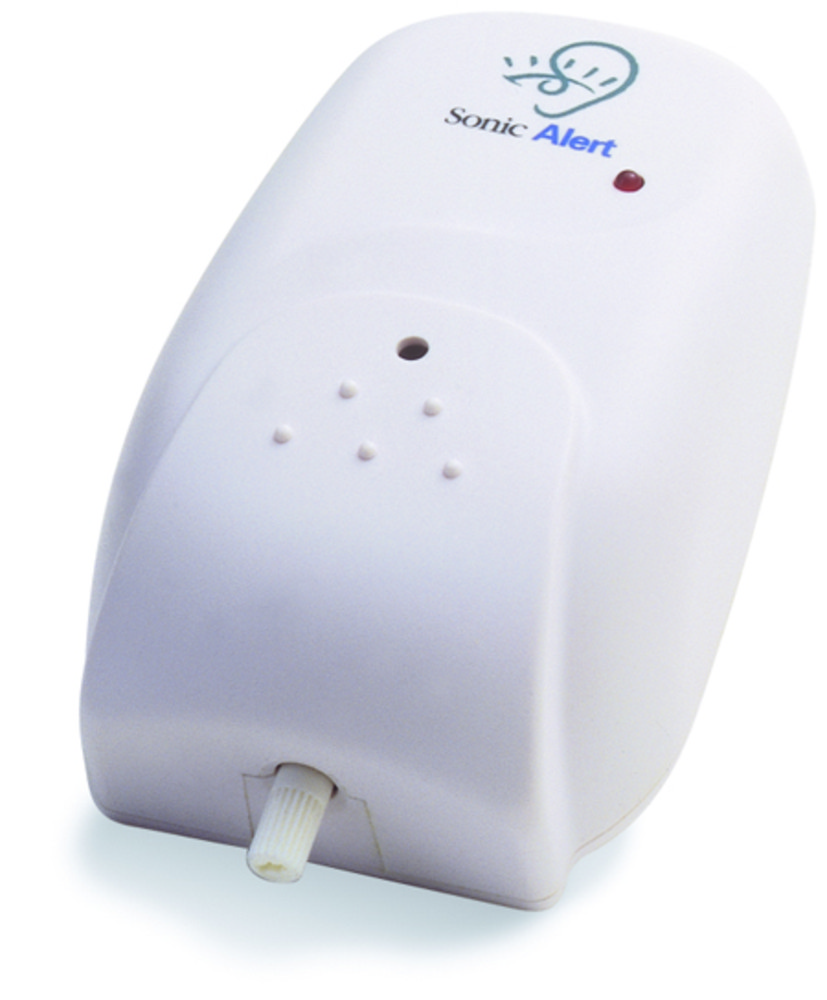 Even the tiniest coo will be picked up by The Sonic Alert Baby Cry Signaler, Model BC400. So you don't have to worry about any kind of hearing impairment.
Get this:
People who have hearing issues will probably look for baby monitors that don't solely rely on audio alarms. That's something Sonic Alert Baby Cry Signaler stands for.
Model BC400 is intended for hearing-impaired parents and visually alerts you when a baby is crying.
In other rooms with remote receivers, a lamp flashes on and off. Good for newborn parents with mild to severe hearing loss.
For examples:
This baby cry transmitter works quickly compared to other items in its class, which makes it stand out. When your baby cries for the first time, it is activated and quickly sends signals to the receiver.
Other cool features:
This device is a good option for parents of light-sleeper children because of its straightforward design and lack of built-in flashlights.
It lights when activated and receives wireless alerts from the signaler when any weeping is detected, informing deaf parents of the situation.
Even better:
As the signaler doesn't make a noise or light, so, your infant won't be bothered or disturbed.
Moreover, you can choose whether the transmitter detects all different types of baby sounds. Like, silent and loud or simply louder sounds by adjusting the sensitivity (low sensitivity).
By simply rotating a knob, you can set the adjustments.
| Pros | Cons |
| --- | --- |
| Works well with multi receivers | Need to buy receiver separately |
| More affordable | Bad choice for noisy sleeper babies |
| 100% wireless | |
| Good battery life | |
Final Verdict:
Should you buy this? The Sonic Alert BC400 Cry Transmitter is all you need to check on your baby. However, you need to buy the receiver separately.
This small baby monitor is very well for deaf parents. It is enabled to receive signals of other Sonic Transmitters, like doorbell signallers.
5. Summer Infant Babble Band Wearable Audio Monitor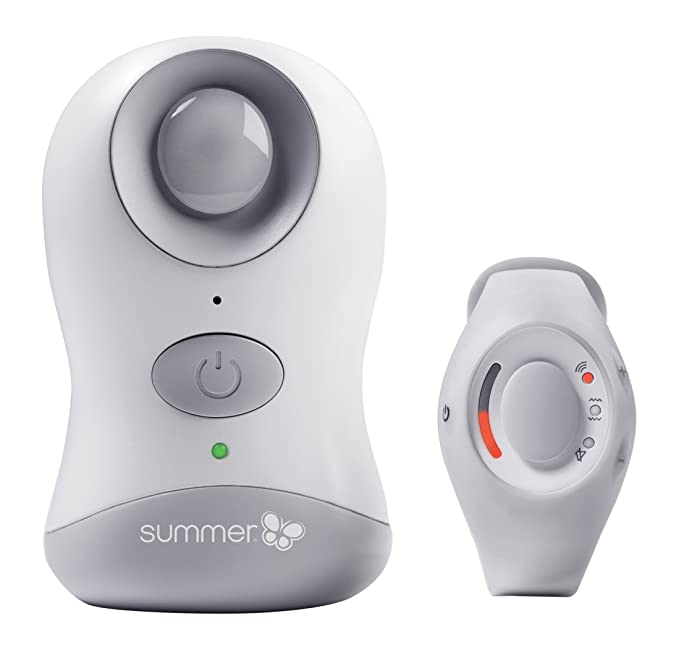 Deaf Parents can keep an eye on their little ones nonstop for up to 8 hours while using the Summer Infant Bubble Band. The operating range of up to 800 feet, and a reasonably long-lasting rechargeable battery.
Get this:
The biggest disadvantage of hearing-impaired parents have is an inability to detect when their kids are crying.
However:
That's something Summer Infant Bubble Band is intended to solve.
Hearing impairments would be no more difficult for new parents. As this monitor is specially designed to accompany deaf parents.
For example:
The band is referred to as a vibrating wristwatch for hearing-impaired parents. It has three monitoring modes that you may personalize based on how you want to monitor your child.
You don't need to be concerned about signal disruption or baby monitor hacking because the audio transmissions are safely encrypted.
Other cool features include:
This wearable audio monitor has an easily-adjustable, soft silicone strap that allows you to wear it like a watch. While monitoring any sounds your baby makes wherever you are in the house.
Vibration is one of three different monitoring modalities. The rechargeable battery may last up to 8 hours, and the range is considerable (up to 240 meters).
Even better:
You have the option of activating sound lights, and turning on vibration, or you may also choose audio and sound lights.
When the baby makes a little louder than a gentle snore, the wristband buzzes, and as the noise level increases, a line of light that resembles an EQ and volume mixer begins to flash.
The base device in the nursery, presumably also serves as a charging unit. It will reportedly send signals to the wearable bracelet each time your child screams or giggles.
| Pros | Cons |
| --- | --- |
| Operation range up to 800 feet | Only 8 hours battery life |
| The band is quite affordable | No separate charging hand |
| The baby unit is also a charging base for the bracelet | |
Final Verdict
Should you buy this? It's wonderful for daytime usage, but not amazing for nighttime use. When you wear it to bed, you risk accidentally pressing the button, it creates a slight hissing sound. If you sleep on your arms, it undoubtedly reduces battery life.
Basically, this is a good baby monitoring device for deaf parents. As it covers all the advanced functions that are best for hearing disabled parents.
Things to Consider When Choosing a Baby Monitor for Deaf Parents
Now:
Let's face it – raising a newborn can be extra hard for deaf parents. And that's mainly because of the limitations that come with their condition.
Right?
This is why, when it comes to finding the best baby monitor for deaf parents, you have to look out for several special features.
For example…?
Well, here are a few expert shopping tips:
Vibration Alerts
Vibration is deaf parents' best friend when dealing with their little ones.
This feature substitutes sound to inform the parent when their child requires assistance.
Vibration removes the need to constantly keep an eye on the display for visual signals when away from your child.
However, choose a device with long battery life if you plan to use it in this manner.
Why?
Because most monitors do not buzz while recharging.
Portability
Wearable baby monitors have some advantages.
Since deaf parents cannot hear sounds or feel the vibrations of a monitor that's not on them, it helps to get a portable device.
Luckily, some baby monitors come in the form of wearable tech while others can be carried around on belt clips. Video Feed Feature
Get this:
The ability to see what's happening at any time or once your baby's activities trigger an alert is priceless. And that's what makes the video feed feature critical for deaf parents.
This function allows users to do occasional checks on their child just to be sure (s)he's doing fine.
Plus:
This makes it easy to decide whether you should take action or continue doing what you are doing.
Security
A lot of important information passes through a baby monitor.
And if the system is video-based, it's important to ensure that the monitor is protected from external interference.
Also:
There are many more features that WiFi baby monitors offer. However, internet-enabled monitors may be vulnerable to hacking and unauthorized surveillance.
Therefore:
You have to make sure the baby monitor comes with foolproof security measures.
Child-Friendly Features
While you search for a monitor that offers some assistance to limited hearing, you also need to consider the baby.
One way of doing that is to get a child-friendly device with functions that sooth or engage the child.
For example:
The features could include lullabies, light displays, and the capability to converse with your infant.
Temperature Monitoring
Interestingly:
Many baby monitors show the temperature in your child's room these days.
Remember, babies are particularly vulnerable to extreme temperatures. When it's too hot, it can be uncomfortable for them. Whereas when it's too cold, they can get sick.
So, keeping an eye on the room temperature is always wise.
Operational Range
Lastly:
One of the biggest questions you must ask when shopping for a baby monitor is…
"How far can you go without losing your connection to the baby's monitoring unit?"
Obviously, the bigger the range, the better. Especially if you live in a massive home or work nearby (just a few minutes away).
Now:
Note that the range greatly depends on the technology used.
For radio frequency (RF) monitors, you can get up to 1000 ft of range. RF baby monitors are often ideal for parents who are always in the house or close by.
However, WiFi (internet-enabled) devices can be operated from just about any part of the world. But, they only work when you have access to a stable, fast, and secure internet connection. Thus, not so reliable.
At the end of the day, your needs will dictate how much range you need.
Conclusion
We can all agree:
Hearing-impaired parents face a plethora of difficulties while raising newborns.
However, having a reliable and feature-packed baby monitor is one way to ease these limitations.
Simply put:
This post gives you the top five recommendations from baby experts based on features that assist deaf parents. We specifically checked for functions like vibration alerts, vivid screen monitoring, light alerts, and night vision video feeds.
Even better:
If you can't find a product you like, don't fret. Our shopping tips tell you what to look out for when buying baby monitors for deaf parents.
Awesome, right?
Now:
Do you have any questions or thoughts you'd like to add? Well, feel free to leave a comment below. We'd love to hear from you.
Frequently Asked Questions about the Best Baby Monitors for Deaf Parents
How Long Do You Use a Baby Monitor?
Most parents use a baby monitor until their child turns one year old while others use it for longer. There is no universal rule in this regard. However, some studies suggest that turning off the monitor early aids in the improvement of sleep patterns for both the parent and the child.
What Age Do You Need a Baby Monitor?
During a child's early years. From birth to around 3 years of age. According to pediatric psychiatry, "when your child turns between 3 and 5, and they are developmentally ready to communicate their distress and have a sense of their privacy and space, parents should avoid constantly looking at their children.
When Should Toddlers Stop Using White Noise?
White noise can be used until your little one turns 3 years old. But some parents prefer its usage even after their children turn 4 years old. Also, you can wait until they decide for themselves whether or not they want to sleep with it. In some cases, white noise helps older children – as well as adults – to sleep better.