Cradlewise vs Snoo: Which Smart Bassinet Is the Best for Your Baby's Sleep?
Published by

Dominika

Created:
2. 11. 2023
Updated:
9. 11. 2023
Get this:
When it comes to ensuring your baby's comfort and sleep quality, the choice of a smart bassinet is a game-changer.
Now:
With a plethora of options available, parents find it difficult to select the right bassinet for their baby.
Luckily:
After thorough research and analysis, we've handpicked the best two contenders in the market. So it's down to the ultimate showdown: Cradlewise vs. snoo.
We've compared their features, safety measures, price points, and customer reviews, helping you to make an informed decision for your baby's sleep needs.
Let's get to it!
The Need for Smart Bassinets
Fact:
The arrival of a newborn can cause even the most well-rested adult to become sleep-deprived. The relentless feedings, diaper changes, and soothing sessions during the night can leave parents feeling overwhelmed.
As such:
This can significantly impact their ability to attend to their baby's needs, subsequently affecting their baby's overall well-being.
This is where smart bassinets come in. Smart bassinets are equipped with built-in sensors and technology that can detect a baby's movements and sounds.
They respond to movement with gentle rocking or swaying motions that soothe your baby back to sleep. This resembles the feeling of being held in a parent's arms.
In addition:
Smart bassinets aid in promoting safe sleep practices. They often come with safety features, such as secure swaddle attachments and well-ventilated designs.
Furthermore:
Some bassinets have white noise and lullaby options to create a serene and calming atmosphere for the baby.
Now:
We've done extensive research to identify the top selections for parents, and our picks are Cradlewise and Snoo.
So:
Let's get to an in-depth comparison between them to help you make the right choice for your family.
Shall we?
What is Cradlewise?
Fact:
Cradlewise is more than your typical baby bassinet. As a sleep companion, it leverages technology to provide an environment that enhances your child's sleep.
Now:
Let's delve into what sets Cradlewise apart from the rest—its impressive features, price point, and standard safety measures.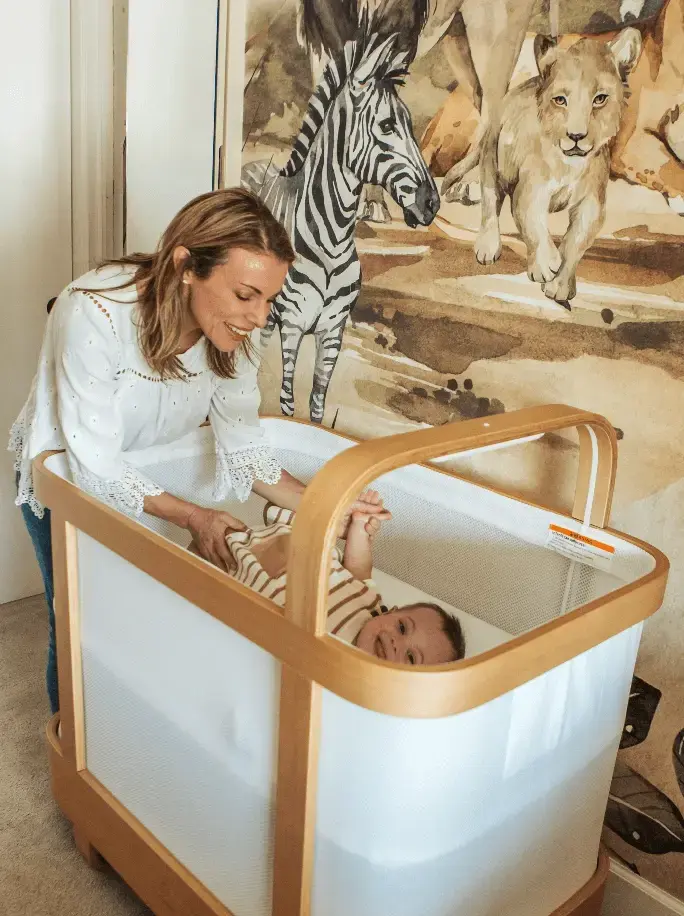 Features
AI-Driven Sleep Tracking: Cradlewise effectively serves as a personal sleep consultant by using AI to monitor your baby's sleep patterns.
Customized Sleep Routine: The data collected by Cradlewise's AI is used to create an ideal sleep routine for your baby. This adaptable feature ensures your baby's changing sleep needs are met, surpassing traditional bassinets.
Soothing Lullabies and White Noise: Cradlewise is equipped with soothing lullabies and white noise capabilities. These features help establish a calm and comforting atmosphere for your baby.
Innovative Swaying Motion: The bassinet employs an innovative swaying motion that replicates the soothing sensation of a parent's embrace. Interestingly, parents can adjust the intensity of this motion conveniently from their smartphones.
Safety Measures
Get this:
When it comes to your baby's safety, Cradlewise takes this responsibility seriously.
This smart bassinet complies with safety standards and certifications like ASTM F2194 for bassinets. It is also certified by the Juvenile Products Manufacturers Association and GREENGUARD Gold.
Again, Cradlewise is designed to reduce the risk of Sudden Infant Death Syndrome (SIDS), adhering to the guidelines established by the National Institute of Health.
In addition to these certifications, the bassinet features a breathable mesh liner that enhances airflow and reduces the risk of overheating.
That's not all:
The transparent sidewalls of the bassinet allow you to keep a watchful eye on your baby at all times.
To top it off:
The bassinet includes an eco-friendly mattress completely free from Polyurethane (PU) foam. This contributes to a safer sleeping surface for your baby and aligns with eco-conscious parenting values.
Price Point
First off:
Cradlewise offers affordability without compromising on quality. The price ranges from $1,399 to $1,999. This makes it a competitive option in the smart bassinet market.
Additionally:
You can opt for a financing plan starting at $49 per month or choose 0% APR with Affirm. Cradlewise provides parents and their babies with a top-tier sleep solution without straining your budget.
In all:
Cradlewise offers advanced features, wallet-friendly pricing, and top-tier safety measures. This makes it a wise investment in your baby's sleep quality and your peace of mind.
Now:
Let us take a look at what customers had to say.
Customer Review
Sarah B
⭐⭐⭐⭐⭐
Cradlewise has been life-changing this past month. My son stopped sleeping well around 6 months old. After 5 months of very interrupted sleep, we desperately tried Cradlewise (their trial/return policy was reassuring), and he is now sleeping so well, and I am, too! Love it!
Pilar
⭐⭐
It constantly tells me that my baby has been removed and placed back in the crib when he hasn't moved, and often doesn't even recognize that he's been placed in the crib.

What is Snoo?
Look:
The Snoo Smart Bassinet is the brainchild of a renowned pediatrician, Dr. Harvey Karp. This pedigree adds an extra layer of credibility and assurance for parents.
The bassinet provides a helping hand for your baby's first six months of life. It also responds quickly to disruptions and uses a unique "5-second swaddle" rule to prevent dangerous rolling.
Now:
Let's examine the features that set this smart baby bassinet apart.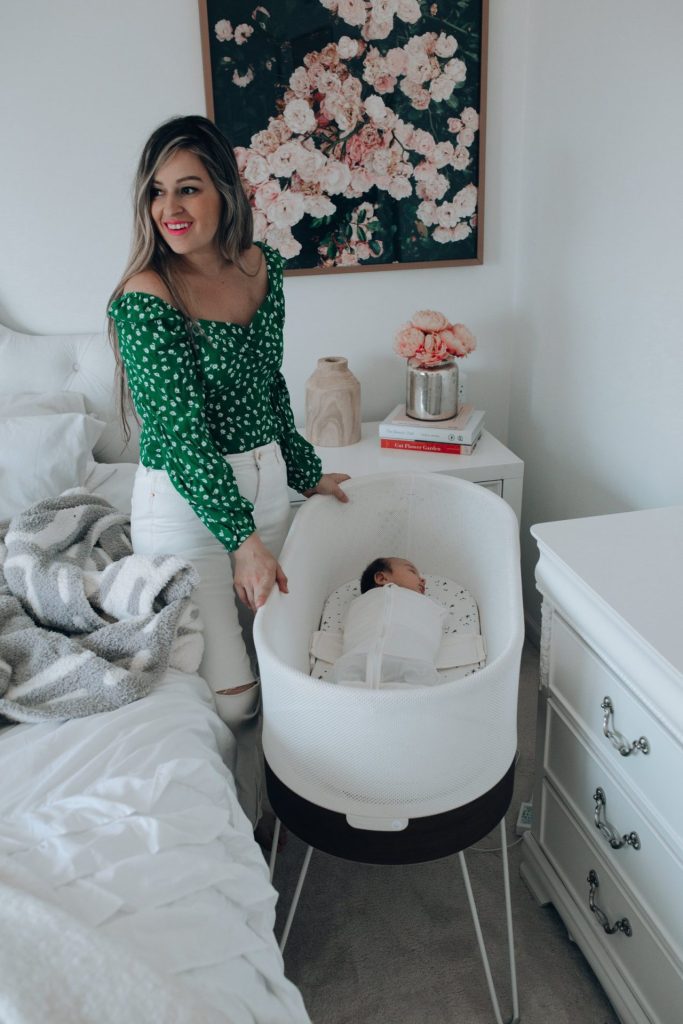 Features
Safe Swaddling: The Snoo's one-of-a-kind swaddle design ensures that your baby remains securely on their back. They feature connecting "wings" attached to the bassinet that prevent your baby from rolling their sides while sleeping.
Customizable Settings: The Snoo smart bassinet can be controlled through a mobile app. This feature allows you to adjust motion, sound, and sensitivity settings. You can choose what suits your baby's preferences.
White Noise: It comes with a built-in white noise machine, playing calming sounds throughout the night. White noises help babies sleep faster and more soundly at night, according to the National Institute of Health.
Responsive Rocking: The bassinet provides gentle rocking motions, mimicking the soothing feeling babies experience in the womb. This adapts to your baby's needs, calming them when they fuss, even during the witching hour, and helping them sleep soundly.
Safety Measures
Get this:
Safety is a top priority for Snoo, and it's evident in its design.
The secure swaddling provided by Snoo's unique sleep sacks prevents babies from rolling into potentially unsafe positions while sleeping.
The innovative swaddle features wings that connect to Snoo's built-in safety clips that secure your baby in a safe position.
In addition:
The flat and firm sleep surface adheres to the American Academy of Pediatrics (AAP) guidelines, ensuring a safe sleep environment for your baby. Snoo is not just smart; it's also exceptionally safe.
What's more?
Snoo's responsive mechanism is built to automatically soothe your baby's cries and provide swift relief. The bassinet employs a sound algorithm that distinguishes baby cries from room noise.
Also, the Snoo is the first and only medical device to receive Food and Drug Administration De Novo Approval. This recognition is due to its unique ability to keep babies sleeping safely on their backs, which is the recommended sleep position.
This approval further reflects the bassinet's commitment to your baby's safety.
Price Point
The Snoo Smart Sleeper is an investment in your baby's well-being and your own peace of mind. It is priced at $1,695.00.
However:
There is an option to rent the Snoo for $159.00/mo. This can be a cost-effective choice for parents who need it for a limited period.
The bassinet's cost may initially seem high, but the price point may well be justified by the improved sleep quality and overall well-being it offers.
Lastly:
Snoo offers a 30-day, no-risk trial for Snoo purchases, which starts on the day of delivery. This provides added confidence in your purchase.
Now, let's consider comments from customers about the Snoo.
Customer Review
Nicole
⭐⭐⭐⭐
The Snoo basically replaced us in settling her back to sleep so we could sleep between feeds. Easy to use/set up and figure out. Recommend getting an extra sheet because of spit-up. We did not like how strong the movement was above level 2, so we just locked it at 2, and that always worked. Also love the peace of mind to know this is such a safe sleep option.
Jaca
⭐⭐
There is no option to mute white noises. The button to turn off the bassinet doesn't always work. I had to unplug the bed to stop it.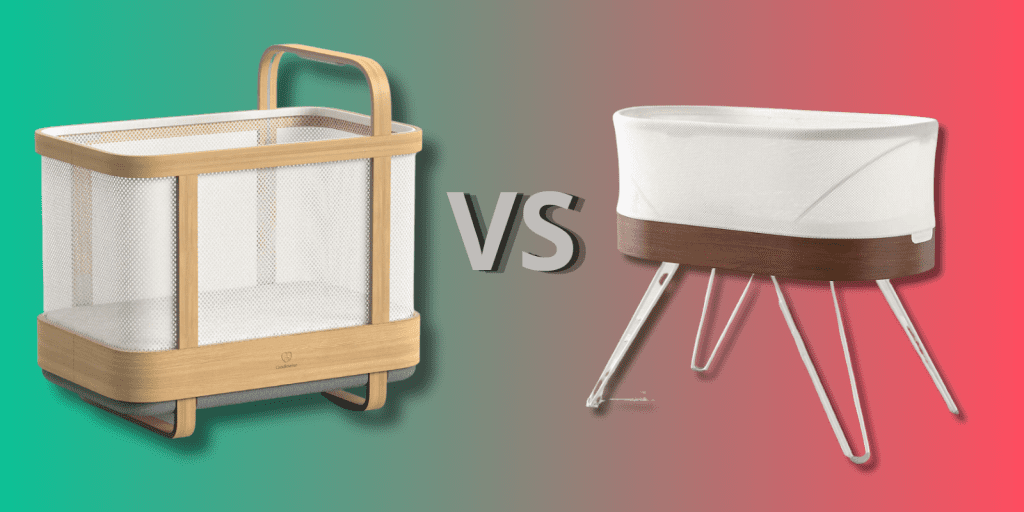 Direct Comparison: Cradlewise vs. Snoo
Get this:
For ensuring a baby's comfort and safety, smart bassinets have become an increasingly popular choice for parents.
In this section:
We will conduct a thorough comparative analysis between the Cradlewise and Snoo smart bassinets.
We'll delve into various aspects such as sleep technology, safety features, design, cost-effectiveness, and more. This is to help you make a wise choice for your baby.
Let's begin!
Sleep Technology
Cradlewise and Snoo use advanced technology to enhance your baby's sleep.
Now:
Cradlewise utilizes AI-driven sleep patterns that adapt to your child's preferences and needs. It monitors your baby and ensures that your baby enjoys the right level of comfort throughout the night.
Alternatively:
Snoo is the first and only FDA-approved medical device designed to keep sleeping babies safely on their backs. It achieves this with technology through gentle rocking and white noise, mimicking the soothing sensations of the womb.
Safety
The safety of your baby is important, and both Cradlewise and Snoo come with robust safety features.
First, Cradlewise offers a secure sleep environment, and its AI adapts to keep your baby comfortable. The bassinet has a breathable mesh to prevent overheating, and it uses a flat, firm mattress that is free from PU.
These features help reduce the risks of sudden infant death syndrome.
Alternatively:
Snoo's unique safety feature is its ability to safely swaddle your baby. The bassinet also has built-in wings that prevent babies from rolling onto their stomachs during sleep.
These are also vital considerations for reducing SIDS risk.
Ease of Use
Fact:
Ease of use is a significant factor when making a choice of bassinet for your child.
Now:
Cradlewise and Snoo provide user-friendly interfaces and mobile apps for remote control.
The setup process for both is straightforward, ensuring that parents can seamlessly integrate these smart bassinets into their daily routines.
Design and Aesthetics
The aesthetics of a baby bassinet affect the overall ambiance of their nursery. Cradlewise and Snoo come with distinct design elements.
Cradlewise offers a sleek and modern look with a focus on customization to match your nursery decor.
Additionally, the side walls of the bassinets are transparent, enabling parents to see their babies while they are inside.
On the other hand:
Snoo has a contemporary and minimalist design that prioritizes the well-being of your baby.
The inclusion of 100% organic cotton SNOO Sacks and an organic cotton sheet adds a touch of eco-friendliness to the overall design.
Cost-Effectiveness
When investing in a smart bassinet, it's essential to consider the long-term costs.
Cradlewise offers a competitive pricing model with prices ranging from $1,399 to $1,999.
For those who prefer a more flexible payment structure, there's a financial plan available at just $49 per month. This makes it budget-friendly and accessible to a wide range of parents.
In contrast:
Snoo has quite a high initial cost and offers a monthly subscription for additional features and support.
The bassinet costs $1,695. However, there's a rental option for $159 per month, providing flexibility for parents who prefer not to make the full purchase upfront.
Ultimately:
Snoo's rental option makes it a great choice for short-term affordability. Nevertheless, Cradlewise is a more cost-effective long-term solution.
Seamless Transition
Snoo and Cradlewise bassinets offer unique approaches to sleep transitions based on their respective design and capabilities.
Now:
Snoo is designed for babies aged 0-6 months. The bassinet emphasizes providing a safe and soothing sleep environment during the early stages of a baby's life.
So:
Parents should note that Snoo's design and features are optimized for this specific age group, and it is not suitable for older infants or toddlers. It restricts usage once a baby constantly rolls over, which is typically around 6 months.
Alternatively:
Cradlewise is designed to evolve with babies as they grow. It accommodates babies up to 24 months or approximately 33 pounds.
This design feature is particularly advantageous for parents who prefer a more extended use of their smart bassinet.
Overall:
Cradlewise allows for a seamless transition from infancy through toddlerhood. Parents can continue to use the bassinet as their child grows, reducing the need for multiple sleep solutions.
User Experience
Snoo
Kim S
⭐⭐⭐⭐⭐
The snoo saved our sleep! We love it but only plan to use it for 3-4 months, not 6.
Amelia
⭐⭐⭐⭐
The Snoo is a game changer. It eases the transition from being warm and rocked in the parent's arms to laying down in a crib. I think it helps the baby sleep much better than she would otherwise, and I feel so good knowing she is sleeping in a safe place. The Snoo is the one baby "device" I feel is truly worth it. We couldn't have done the newborn period without it!
Megan C
⭐⭐⭐
I had the highest hopes, but it just made our baby spit up. He would be fully asleep, so we put him in the snoo, and when it would rock, it would cause of baby to spit up. It was easy to return, which I appreciated.
Cradlewise
Jillian
⭐⭐⭐⭐⭐
Loving our Cradlewise!! It's been so nice to have all the features (bounce, white noise, monitor) all in one. Our newborn enjoys the bounce, and we love that the crib automatically bounces and soothes her back to sleep when she stirs.
Tim
⭐⭐⭐⭐
It has a very nice quality and craftsmanship on the crib, the technology is top-notch, and it works as advertised. It is easy to adjust the settings and keep your baby happy.
Nova B
⭐⭐⭐
The physical product is pretty good, but the app is not. At times, it randomly sends a push notification. The temperature reading was alarming for the first two weeks before we found it was a technical issue. Also, setting the bounce level on the app never actually makes the cradle bounce less or more.
Comparative Analysis
Advanced Technology: Cradlewise stands out for its incorporation of technology with features like bounce, white noise, and monitoring all in one crib. Users like Tim appreciate the quality and craftsmanship of the crib, as well as its easy-to-adjust settings.
User-Friendly Design: Cradlewise's combination of features in a single crib is convenient, and the automatic soothing function has been well-received by parents like Jillian.
Sleep Quality: While Cradlewise offers a range of features, Snoo may be the preferred choice for sleep quality and uninterrupted rest for babies.
Both products have their strengths and areas for improvement. While Snoo's rocking motion may not be suitable for all babies, Cradlewise's app may have some technical issues that need addressing.
The Verdict
The following verdict will help guide you to the ideal smart bassinet that aligns with your preferences.
So:
If you're tech-savvy, safety-minded, or budget-conscious parents, we've got you covered!
Best for Tech-Savvy Parents
Note:
Cradlewise is the top choice for tech-savvy parents. While both Cradlewise and Snoo offer smart features, Cradlewise's advanced AI technology is more impressive.
It excels in adapting to your baby's changing sleep needs through its AI-driven system, making it a long-term investment.
Therefore:
Cradlewise's intelligent sleep analysis and automatic adjustments cater to the needs of tech-savvy parents who value cutting-edge technology.
Best for Safety-Conscious Parents
Ideally:
Snoo takes the lead when it comes to safety-conscious parents. It's the first and only medical device granted De Novo Approval by the FDA. This is due to its ability to follow safe sleep guidelines.
With secure swaddling, motion, and sound, Snoo ensures a nurturing and secure sleep environment.
The bassinet also features a responsive sound algorithm and breathable mesh walls, making it an excellent choice for your baby's safety.
Best for Budget
Clearly:
Cradlewise is the winner for budget-conscious parents. Its competitive pricing model ranges from $1,399 to $1,999 and features a $49 monthly plan.
Snoo, while effective, comes with a higher initial cost of $1,695.
Ultimately, Cradlewise provides a cost-effective smart bassinet option. And with considerations of extended use, an economical yet efficient choice would be Cradlewise.
Final Tip: Annie Baby Monitor – Your Mush-Have Product in the Nursery
Watching over your little one when they start sleeping on their own is important.
You can easily do that by placing a monitor in their nursery.
With Annie's real-time video and audio monitoring, as well as cry and motion detection, you can always stay connected with your child, which will give you peace of mind and give you peace of mind.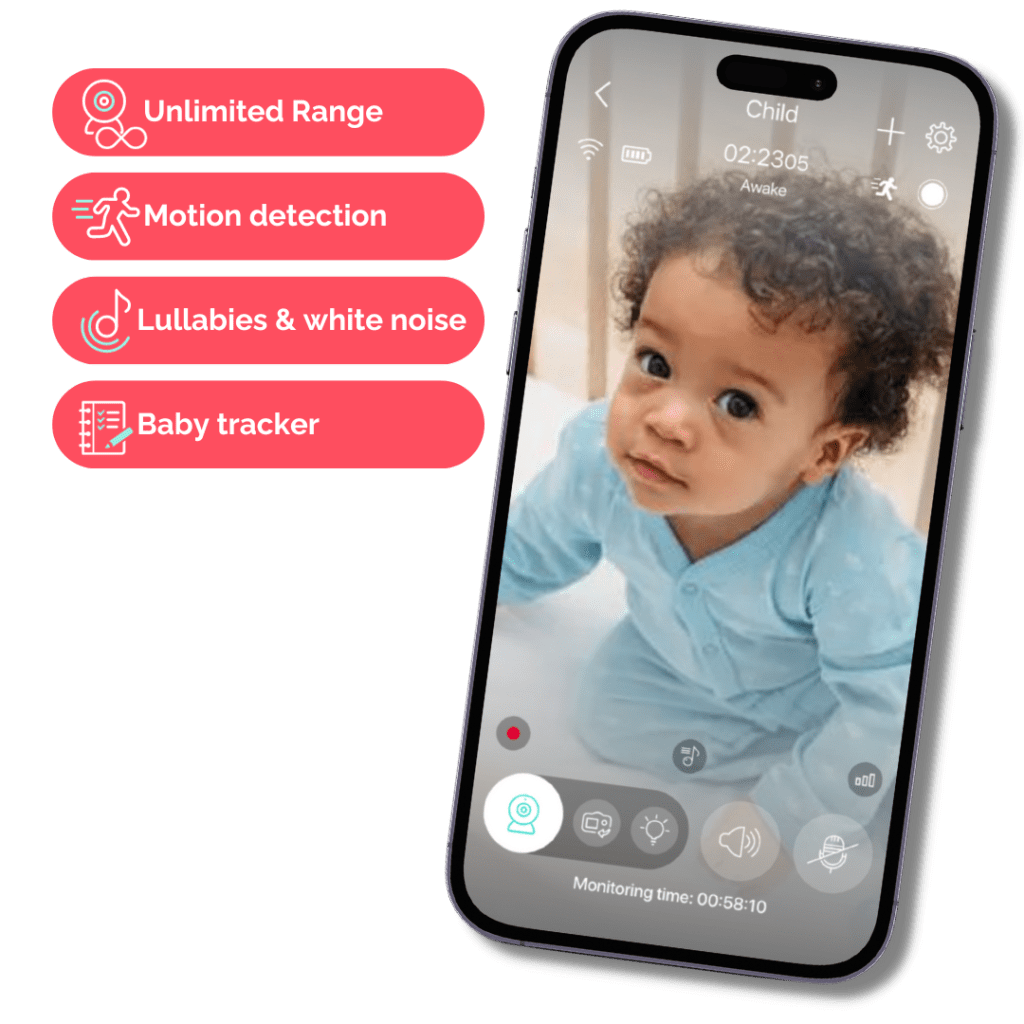 Looking for a top-notch baby monitor? Look no further than Annie Baby Monitor. It's the perfect solution for keeping tabs on your little one. Check it out now.
Conclusion
Wrapping up:
We've thoroughly examined two top smart bassinets—Cradlewise and Snoo, considering features, safety measures, price points, and customer reviews to guide your decision.
Now:
Both bassinets excel in providing advanced sleep technology, but they cater to different needs and preferences.
So:
Your final verdict depends on your individual priorities. We did a direct comparison between the two based on their:
Cost-effectiveness
Design and aesthetics
Seamless transitions
Safety measures
If you are tech-savvy, safety-minded, or budget-conscious, there's definitely a bassinet for you.
Finally:
I trust you discovered this comparison between Cradlewise vs. Snoo insightful. If so, please share your thoughts in the comments section below.