Do I Need a Baby Monitor: Benefits of Annie Baby Monitor App
Published by

Dominika

Created:
20. 12. 2022
Updated:
16. 10. 2023
In the hospital, the medical staff supervises the baby's health. But at home, the care of the baby is up to you. One way to keep an eye on your baby without worrying is with a baby monitor. Read on to find out why you need a baby monitor.
Do I Need a Baby Monitor?
The baby monitor is the perfect device to help you care for your baby daily. A baby monitor can effectively alert you, so you can easily prevent any consequences or misfortune. With the help of the baby monitor, you will be sure that everything is fine, even when you are not near the baby.
Do I Need a Baby Monitor? 3 Reasons to Get a Baby Monitor
A Great Helper for Everyday
A baby monitor can help you stay on top of your child. Since you'll be alerted to any unexpected behavior of your baby, you can easily prevent any negative consequences.
You can choose from many types of these helpers.
For example, a classic baby monitor will alert you if the baby is awake. A loud signal will not only wake you up but also get you on your feet quickly in any situation.
You can also use the audio and sound monitor, which acts as two-way communication. If needed, you can talk to your baby even when you're in another room. This makes it easy to calm the baby down until you can get there in person.
And if you want to see the baby too, you'll appreciate the audio, sound, and video monitor. You'll both see and hear your baby. Plus, you'll be sure everything is okay even when you're not with your baby.
Preventive Measures
A baby monitor offers you a constant overview of your baby.
Whether there were complications at birth, the baby was born prematurely, or with a heart defect, a baby monitor should not be missing in your home.
But mothers of healthy babies will appreciate it just as much because the baby monitor will save you trouble.
Why do i need a baby monitor?
A baby monitor's primary function is to alert you quickly and loudly if something is wrong with your baby.
Does your baby often drool? Has he inhaled breast milk? Does he have a stuffy nose due to a cold? Or is it a SIDS risk?
Whatever the cause, prevention is in order. And with a quality baby monitor, you'll be with your baby in time to step in or call for help.
Warning Signal You Will Hear
Worried you won't be there when your baby needs help? Don't worry!
The distinctive sound signal of the baby monitor won't let you sleep and will call you to be there for your baby. Even during the day when you're not near your baby's crib.
Extra Tip: To ensure that the baby monitor is always reliable, make sure it has a charged battery.
Simply put, a baby monitor is a great tool for moms who want to make sure their baby is sleeping or playing happily.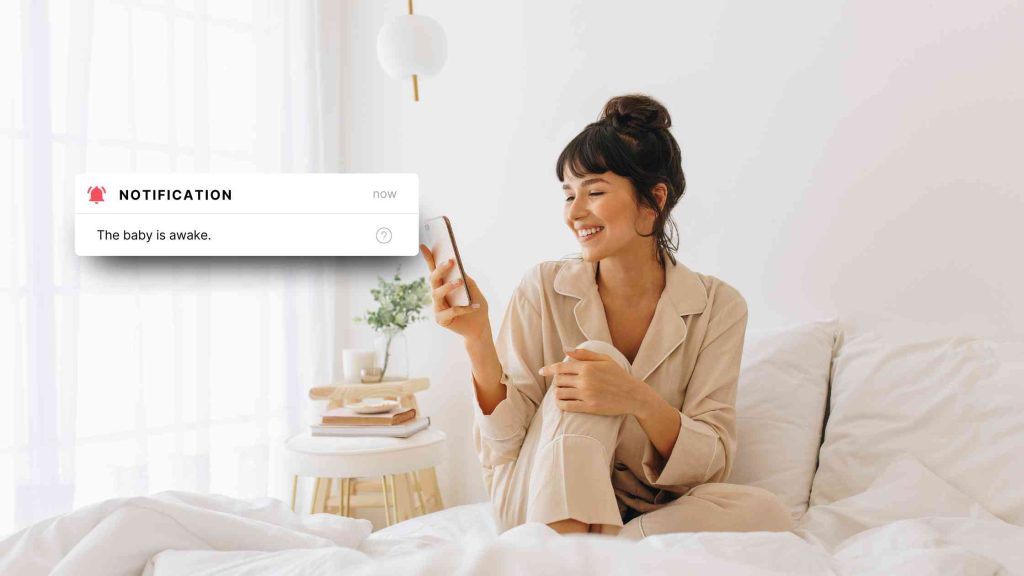 Is It Worth Buying a Baby Monitor?
Baby monitors are considered an essential tool for most parents of little ones. After all, it's simply not possible to keep an eye on your baby 24/7, and having a device that allows you to see and hear your baby when you are not in the room with them is worth its weight in gold.
The Pros of Baby Monitors
high-quality visual and audio capabilities
check on your child anywhere, anytime
talk to your baby or turn on a lullaby without going into their room
sleep analytics overview
one less device that you need! – all you need is your phone
motion detection and alerts if something unusual happens to the child
tons of other amazing benefits of using smart baby monitors – depending on the special features of baby monitor
The Cons of Baby Monitors
signal Interference – wireless signal on the best baby video monitors is excellent these days
hacking – make sure that you understand the security features
increased anxiety – never taking your eyes off your baby
too much hovering – find a balance so you are still meeting baby's needs
How Do I Know Which Baby Monitor to Buy?
The selection of baby monitors is vast. So you can choose the right one that exactly matches your needs.
Here are the things you should look for:
Range
The range indicates how far apart the units can be placed.
On baby monitors you will usually find two range values – outside, i.e. in an open space, which is obviously higher; and inside, which is much lower and takes into account obstacles, walls and so on. The more rugged the environment in your home, the higher the range of baby monitors you should choose.
A useful feature is also the "range indicator", which alerts you if you lose signal.
Audio Transmission Method
Baby monitors transmit sound in three different ways. Each of these has its advantages and disadvantages.
The simplest is the analog transmission.
These baby monitors operate on lower frequencies with fewer channels – so they are more sensitive to interference from other devices.
On the other hand, low frequencies have a better range and are not affected as much by the layout of the apartment or house.
Digital baby monitors operate on higher frequencies with a higher number of channels.
Higher frequencies are more prone to interference due to various obstacles in the area.
On the other hand, higher channel counts ensure that the baby monitors do not interfere with each other.
Some can even retune themselves if their channel is interrupted. They are therefore recommended, especially for densely populated areas.
DECT technology is the latest and also the most resistant to various disturbances.
It even offers a zero-interference guarantee by automatically selecting a free channel and encoding the transmitted data perfectly. So you can be sure that only you are really listening to your child.
Power Method of the Baby Monitor
It is important to consider where you will use the baby monitor before choosing the power method.
Parent units are usually automatically portable. But this is different with children's units, which often only have the option of being powered by an adapter.
If the baby monitor is on a shelf in the baby room, you just need to power it with adapters.
But if you want to use the baby monitor, for example, when you take the baby outside in the stroller, it's a good idea to look for models that offer battery power.
The manufacturers also offer the possibility of dual power supply, i.e. both via adapter and batteries.
If you choose battery power, get the rechargeable ones, the investment in batteries would definitely add up.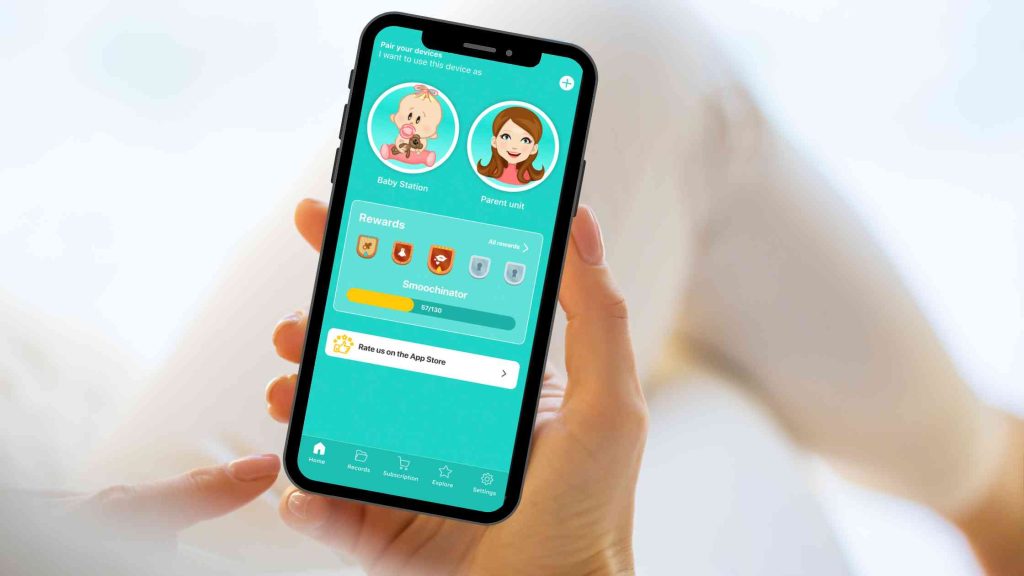 Special Features of the Baby Monitor
Sound Light Signalling
Most baby monitors now also offer a sound light – LED lights that alert you if any sound is detected in the baby's room. This is especially useful when you're in a noisy environment or taking a shower, for example. The lights let you know that the baby monitor has been activated.
Two-Way Audio Transmission
If the baby monitor has this feature, the parent unit works like a walkie-talkie, and you can talk to your baby without running to the baby right away.
Night Light
Some baby monitors have a built-in light that is pleasantly dimmed. Mothers will appreciate it, mainly when breastfeeding at night.
Lullabies and White Noises
You can also choose baby monitors that play a lullaby or white noise at bedtime to help your baby fall asleep.
💡TIP: Review of 8 best white noise apps and toys for baby
Read over eight good options of baby monitors. And the specifics of what makes excellent white noise apps and toys.
Thermometer and Hygrometer
Baby monitors with a display can also have a built-in thermometer that measures the temperature in the room.
Motion Detector
This feature can save your child's life. If your baby wakes up unexpectedly, the motion sensor will be activated. The baby monitor will alert you. The motion indicator is especially handy if your baby gets up in the crib instead of falling asleep.
Should I Get a Basic Monitor or a Smart One?
In general, you can expect a smart baby monitor to do more than provide audio and video of your baby.
Let's explain these devices' differences.
The significant difference between these two types of baby monitors is the number of devices.
Basic baby monitor, you can only monitor your child from the parent unit.
Smart baby monitors can be connected to multiple parent units. This is handy if you want to check your baby on your smartphone and tablet simultaneously. It also means several different people can keep an eye on the baby. Or you can watch multiple children at the same time.
Another major difference is in the range.
Basic baby monitor will lose its signal if the parent unit moves too far away from the baby.
However, smart baby monitors use wi-fi, so they are not limited by signal range. This means that, if you have a good wi-fi signal, you can check on your baby wherever you are, even if you're away from home.
Also, smart baby monitors often track and report on various vitals, including breathing and sleep patterns, sharing live data. They also may provide humidity and temperature tracking, as well as sound and nursery conditions.
Get the Best Baby Monitor Right Here!
Clearly, the most popular and best-rated baby monitor is the Annie Baby Monitor.
With a stable internet connection (WiFi, E, 3G, 4G, LTE, and 5G) it has unlimited range, excellent clear picture transmission day and night, night light with intesity adjustment.
Sound is double-sided with this video baby monitor. When you hear your baby crying or calling you, just press the button and speak to baby or play one of the integrated lullabies and white noises.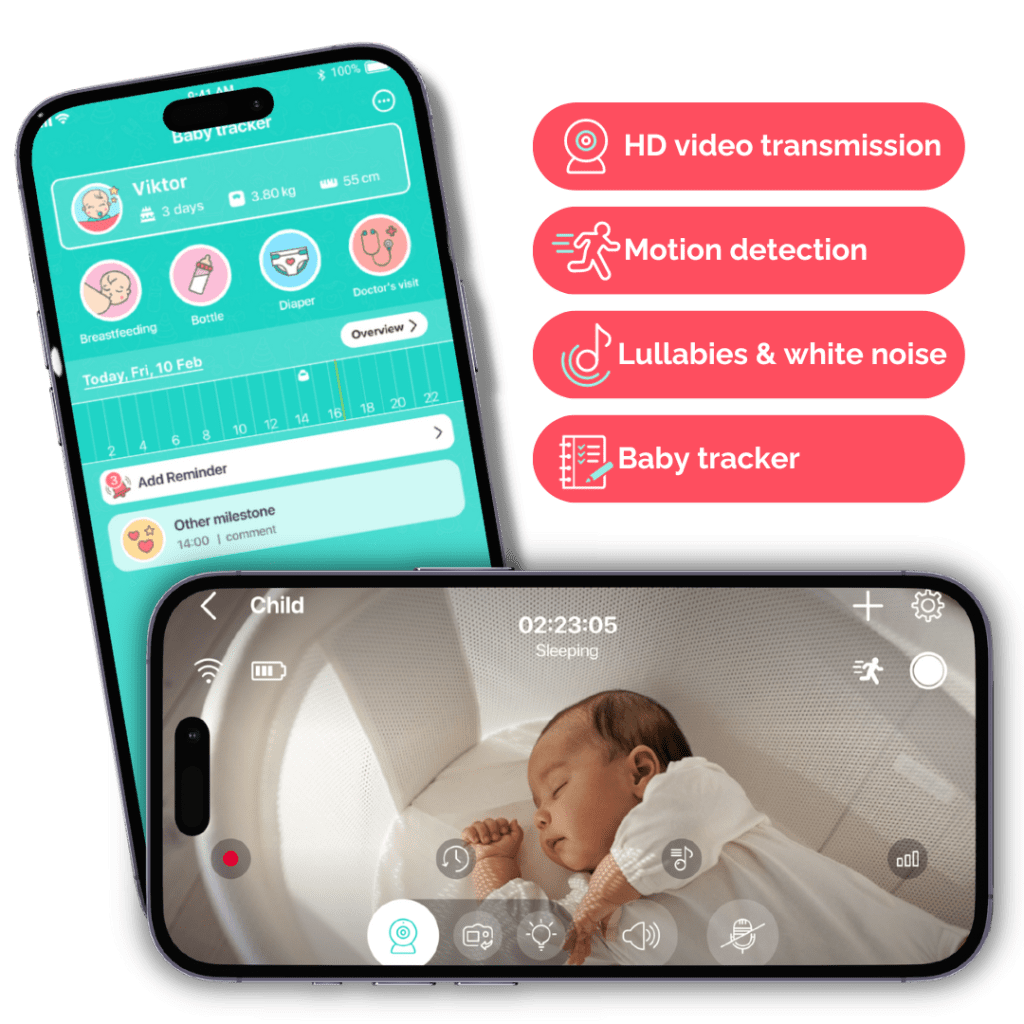 This baby monitor sends a solid alert to your device (parent unit) if the baby wakes up, moves or makes a sound.
The Annie Baby Monitor also has a motion detection function. This feature detects the baby's change and immediately alerts the mom with a strong alert.
In addition, the app will start recording as soon as sudden activity is detected. So you can look back at the recording and see what caused the baby to wake up.
You can recharge the Annie Baby Monitor video baby monitor conventionally via the charger or even via USB – perhaps from a Powerbank.
The parent unit is conveniently portable – because you can download the app to your phone. This baby monitor fits in your pocket, and you can also buy a practical stand for a few cents.
The price of the Annie Baby Monitor is also very reasonable, so it's no wonder this baby monitor with camera is one of the most popular.
You can choose from three subscriptions – weekly, monthly, yearly. With the annual subscription, you also get three days of free monitoring.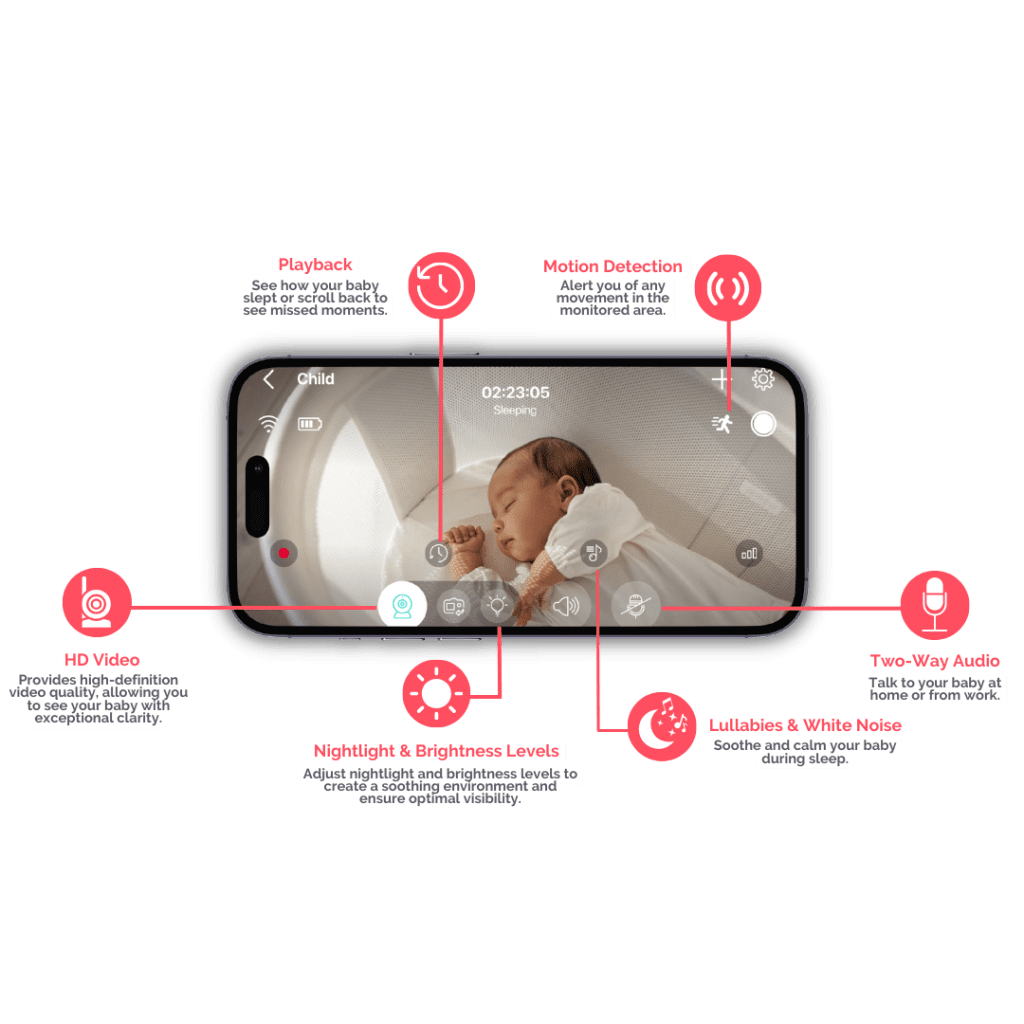 Conclusion
Well, one thing is for certain:
A baby monitor is not necessary, but for many parents, it will become a must in the child's care.
Here are 3 reasons to get a baby monitor:
great helper for everyday
preventive measures
warning signal you will notice
Bear in mind:
In the market, there is a wide range of baby monitors. The best baby monitor will allow you to keep an eye on your baby and give them the best care possible.
These are the key features of a baby monitor you should look for:
audio and video transmission
unlimited range
two-way audio
power supply via network and USB
motion detection
lullabies and/or white noises
Just remember…
Despite having your baby monitor on 24/7, you should still check on your baby often to make sure everything is fine. After all, a baby monitor is just a tool that helps you monitor your baby without disturbing baby too often.
F&Q: Do I Need a Baby Monitor?
Is it OK not to have a baby monitor?
As long as you are certain that you can hear what your child is doing, a baby monitor is not necessary. Nevertheless, it is useful to all households, even those with small houses. A few dollars will get you one, which will go a long way in protecting your child.
Are baby monitors a must have?
Almost all parents of little ones consider baby monitors to be an essential tool. Since you cannot be with your baby constantly, a device that lets you view and hear baby even when you are not around is a lifesaver.
What age do you need a baby monitor?
There's no age limit to using baby monitor – it's up to you. As long as you implement a safe sleeping area, using one for a newborn, infant, toddler, or even young child is not harmful.

Sleep consultant Katie DiMonico recommends a video monitor from birth until at least 4 years of age.

DiMonico notes that a baby monitor helps to keep the baby under constant supervision: "The main benefit is safety. With a video monitor, you can ensure safe sleep positioning for a baby in a crib. For a toddler, you can visualize if they are climbing out of their crib or if they are doing a potentially dangerous activity (climbing other furniture, playing with the curtains, etc)."
Do baby monitors prevent SIDS?
None of the baby monitors currently on the market are approved to prevent SIDS.

Despite the promise of reducing the risk of sudden infant death syndrome (SIDS), the American Academy of Pediatrics (AAP) warns against their use. In a review of research on apnea monitors, the AAP found no evidence that baby monitors prevent SIDS among healthy babies.