Mom-Approved: The Best Apps for New Moms
Published by

Dominika

Created:
10. 10. 2023
Updated:
10. 10. 2023
Look:
Understanding how to care for and breastfeed your newborn may be thrilling and challenging, especially for new parents.
Thankfully:
There are specialized breastfeeding apps designed to simplify the process. From user-friendly interfaces to data visualization tools, these apps aim to make parenting more manageable and enjoyable.
Fortunately:
In this article, we'll explore the best breastfeeding apps as well as essential features to look for when choosing a breastfeeding app.
Let's dive in and discover which app best suits your needs. Ready?
The Importance of Tracking Breastfeeding
According to the American College of Obstetricians and Gynecologists, breast milk has essential nutrients for your baby's growth and development.
As such:
Tracking breastfeeding sessions should be a necessary practice, particularly for new moms. It is crucial to maintain a consistent breastfeeding schedule and ensure your baby's nutritional needs are met effectively. This is important because newborns thrive on consistency.
In addition:
Recording each feeding session allows mothers to identify patterns and anticipate their baby's hunger cues more accurately.
It also enhances a baby's sense of security and contributes to restful nights and smoother transitions between feedings.
That's not all:
Tracking breastfeeding sessions allows mothers to monitor their baby's food intake closely.
By keeping a record, mothers can ensure that their little one receives the amount of milk required for healthy growth and development. Also, it helps mothers keep a close eye on their milk supply.
Tracking tools are valuable for healthcare providers and lactation consultants. These feeding logs enable professionals to offer personalized guidance and promptly address potential breastfeeding challenges.
This collaborative approach increases the chances of a happy breastfeeding experience for both mother and baby.
Top 5 Baby Tracking Apps: In-Depth Reviews
Let's face it:
Parenting is a beautiful journey. However, it comes with its fair share of challenges, especially when it comes to ensuring the well-being of your little one.
Fortunately:
Modern technology has brought us a range of breastfeeding apps designed to ease these challenges.
In this section:
We'll look at the top 5 baby tracking applications while offering in-depth details about their features, pros, cons, and costs.
Additionally:
We've gathered valuable user reviews to assist you in selecting the best app to support your parenthood journey.
Let's get to it!
1. Annie Baby Monitor
Annie Baby Monitor is a user-friendly all-in-one baby monitoring and tracking app that stands out for its versatility and convenience. It's a great choice for parents who value a convenient approach to feeding.
Now:
What distinguishes this app is the seamless integration of baby monitoring and tracking features. Parents can effortlessly monitor and record feeding times, as well as other essential feeding-related data.
This feature enables parents to maintain a structured feeding schedule, consistently meeting their baby's nutritional needs.
Thankfully:
Annie Baby Monitor offers flexible pricing options, including free and premium versions. The premium version unlocks additional features, including advanced feeding tracking capabilities.
Features
Motion and sound detection: This allows you to receive immediate alerts if your baby wakes up and needs to be fed.
Alerts and notifications: The app can send notifications to remind parents when it's time for the next feeding.
Parents resources: The Annie Baby Monitor app has a blog section with plenty of advice and tips on all aspects of baby care, including feeding.
Data and analytics: The app has a feeding summary feature where parents can access a comprehensive summary of their baby's feeding habits over time.
Pros
Annie Baby Monitor excels in helping parents maintain a well-structured feeding schedule. You can be assured that you're meeting your baby's nutritional needs.
Annie Baby Monitor's feeding tracker includes a growth milestone feature that allows parents to monitor their baby's growth progress.
All feeding-related data is conveniently stored within the app. This eliminates the need for manual record-keeping and ensures easy accessibility for future reference.
Annie's feeding tracking feature allows parents to share detailed feeding records with pediatricians or lactation consultants.
Cons
While the app offers a free version, some advanced features require a subscription, which can be a financial consideration for budget-conscious parents.
The app requires reliable internet connections to function, potentially causing inconvenience in areas with poor connectivity.
User Reviews
Madalynn Dalton
⭐⭐⭐⭐⭐
We didn't want to buy a classic baby monitor because we use it occasionally. They have a weekly subscription, so we worked it out this way.
Merna Mateo
⭐⭐⭐⭐⭐
Night vision, noise notifications, video, and audio… everything works as it should. Awesome!
2. Baby Feed Timer
Baby Feed Timer offers a range of features designed to simplify and enhance your baby's feeding experience.
This breastfeeding app is especially helpful during those late-night feeds when exhaustion can make it difficult to track. It also enables you to log feeding times and durations with minimal effort.
Additionally:
The app makes it easy to share your baby's day with your family or caregiver by synchronizing data. This enhances communication and ensures everyone involved in your baby's care stays informed.
Overall:
The app provides a range of customizable graphs and analytics, allowing you to select how you view your baby's data. This flexibility ensures you have access to the information you need, whether for your reference or discussions with healthcare professionals.
Baby Feed Timer offers a flexible pricing structure to cater to various preferences. While there are essential features for free, users can opt for a 7-day free trial.
At the end of this trial, you can make a one-time In-App purchase of $ 12.12 to unlock the complete features without automatic subscriptions.
Features
Reminders: Baby Feed Timer has intuitive feeding reminders, which ensure you never miss a schedule and even specify which side to start with for breastfeeding.
Voice control: The app has an innovative feature that enables hands-free voice-controlled data entry through Siri.
Night mode: The app's automated night mode reduces screen brightness during midnight feeding. This prevents you from disturbing your baby's sleep during nighttime feeds.
Pros
Baby Feed Timer offers Apple Watch support and Siri integration (iOS only), making it convenient for parents to record data swiftly.
Baby Feed Timer has a user-friendly UI, making it easy to use for non-tech-savvy parents.
Parents can identify trends and patterns in their baby's routine using the app's data analysis tools. This aids in creating structured daily schedules that accommodate you and your baby.
Baby Feed Timer allows parents to log a wide range of baby-related activities, including breastfeeding, bottle feeding, sleep patterns, and diaper changes.
Cons
The app's Android version doesn't have as many features as the iOS version. This puts Android users at a disadvantage.
User Reviews
Ste Patten
⭐⭐⭐⭐⭐
Brilliant. We have a 4-month-old and have used this app every day so far. To start, we used it mainly for feeds but started tracking his naps too. Also, I use this to go back through previous days to help understand his routines and patterns.
Cat Dalton
⭐⭐⭐⭐⭐
This app is amazing. It's exactly what I needed. I have a premie baby I need to keep track of. I only express that she is not breastfed due to her being tube-fed. To be able to turn off the things I don't need and keep the things I do need is great. It's super simple and super intuitive.
3. Baby Daybook
Listen:
Baby Daybook has a number of features, but its standout feature is the Baby Daybook's feeding tracker.
It offers detailed tracking and insights into your baby's feeding routine. With this feature, you can easily monitor breastfeeding sessions by recording the time your baby spends on each breast.
Also:
The app allows you to log bottle feeding, whether breast milk or formula, and quickly note the amount consumed.
You can confidently introduce solids as the app tracks your newborn's reaction to solid foods. This helps you identify preferences or potential allergies and ensures your baby gets the right nourishment.
Lastly:
You can choose between a monthly subscription for $4.99 or a yearly subscription for $19.49. There is also the option of a lifetime subscription for $29.99.
Features
Personal Diary: Baby Daybook has a notebook feature where mothers can add notes related to breastfeeding, such as latch issues or nursing challenges.
Growth tracker: The app helps you monitor and compare your baby's growth against global averages. You can connect feeding data with growth charts to visualize the correlation between feeding and growth milestones. It also includes specialized charts for premature babies.
Data export: This feature enables parents to export data to a printable file. This is very helpful when you need to share your baby's activity log with a pediatrician or healthcare professional.
Pros
Baby Daybook allows users to create custom activities to track specific aspects of their baby's routine.
Baby Daybook is compatible with Apple watches, allowing you to track your baby's feeding conveniently without constantly checking your phone.
If you're caring for twins or more than one baby, you can effortlessly monitor and record feedings for each baby separately.
Cons
Many users expressed dissatisfaction with the app's failure to sync with their partners' devices.
User Reviews
Ryan Griffin
⭐⭐⭐⭐
I loved this app until it stopped syncing data between our phones. When it works, it's really nice to see what's going on at home while you're at work. It helps you feel connected in a way.
Nehal Shah
⭐⭐⭐
The amount you can do with this app is fantastic. The main issue is synchronizing it. My wife and I each use it, and every time we log something, we have to force close the app and restart it to see it on each other's phone.
4. Medela Family
First off:
Medela Family is a maternity app designed to support mothers in their breastfeeding and breast-pumping journeys. This breastfeeding tracker allows you to monitor your baby's nursing sessions.
Moreover:
The app seamlessly integrates with specific Medela smart breast pumps like Sonata, Freestyle Flex, and Swing Maxi.
This enables real-time recording of pumping sessions and provides valuable information on how to optimize your breast pumping experience. Also, the Medela app is completely free to use.
Features
Milk management: The Medela Family app offers a virtual milk storage feature, allowing you to manage your breast milk stash and keep track of milk expiration dates.
Voice command: The app has a voice command feature to enhance user convenience.
Reminders and alerts: You can set reminders for crucial tasks like breastfeeding, pumping sessions, diaper changes, and other baby-related activities to stay organized.
Pros
Medela Family received recognition as the Best Baby App of 2022 at the Baby Innovation
Awards, showcasing its excellence in baby care.
Developed by a leading breast-pumping manufacturer, the app is designed to cater specifically to the needs of mothers during pregnancy and breastfeeding.
The app gives access to expert tips and articles that help mothers overcome challenges and reach their maternity and breastfeeding goals.
The app provides pre-set and customizable checklists for various maternity and baby-related tasks.
Cons
The app's graphical data layout has been criticized for being difficult to understand, especially when viewing trends and statistics.
Some features have been designed for specific Medela pumps, leaving users of other models with limited functionality.
User Reviews
Sandra Murdock
⭐⭐⭐⭐⭐
Love this app! Helps me track diapers and feedings all in one convenient place! As a mom who is new to nursing, all the articles and the chat feature are amazing! I love that it tracks and records my pumping sessions, lets me know when my stock will expire, and lets me know when to use it up before it expires!
Audrey Black
⭐⭐⭐
This app is super easy to use. Downside: the app signs me out every day in the middle of tracking. There is no widget or quick buttons. It would be handy to have a widget that lets me begin my tracking instead of going into the app.
5. Sprout Baby
Rating: ⭐⭐⭐
Download: iOS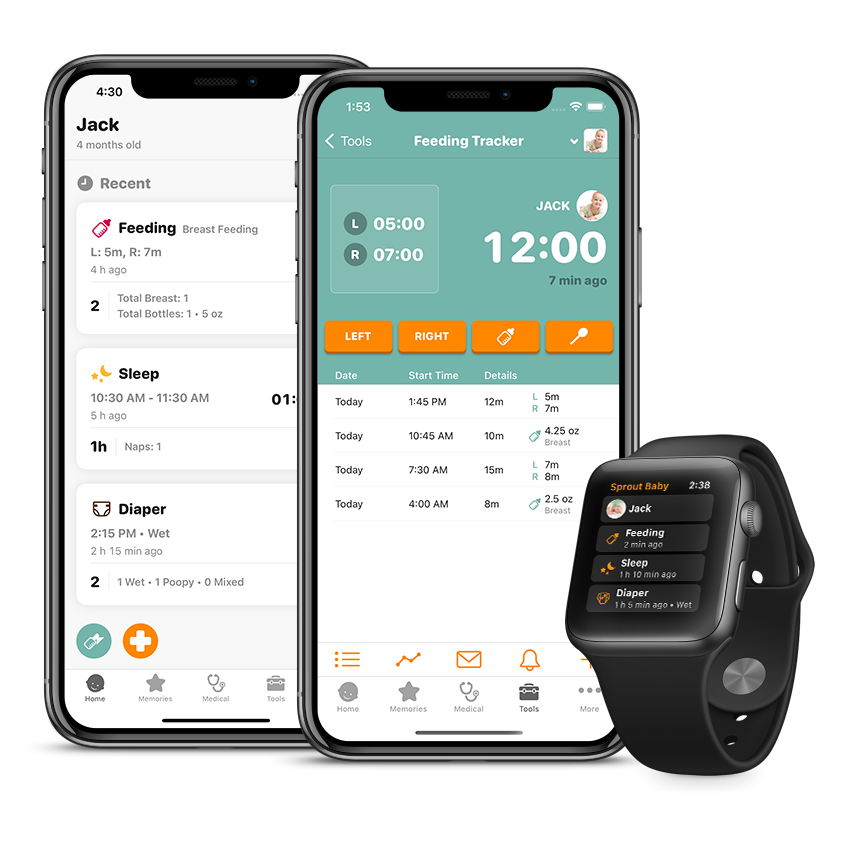 Note:
Sprout Baby is another app that offers parents a hassle-free way to track every aspect of their baby's feeding routine.
It allows you to log breastfeeding sessions, bottle feedings, and solid foods. The app also provides instant access to detailed summaries and charts to identify feeding patterns.
Additionally:
You can create a comprehensive snapshot of your baby's feeding habits. This can be presented to healthcare professionals to provide tailored guidance and recommendations for your child's development and well-being.
This app also offers a subscription-based premium service, which includes short-term and long-term plans. The pricing details for Sprout Baby range from 9.99 to 39.99 USD.
Features
Data export: Sprout Baby allows parents to generate PDF summaries that compile critical feeding data, making it an invaluable resource for pediatrician visits.
Easy accessibility: The app features an Apple Watch app for quick updates on the go, Siri Shortcuts for effortless access, and a widget for your home screen.
Data synchronization: Sprout Baby offers real-time data synchronization across devices through Sprout SAFEsync. This allows for smooth sharing with family members without requiring personal information.
Pros
The app lets you keep precise records of your baby's nutritional intake. You can specify the type of feeding (breast or bottle), the amount consumed, and even the duration of breastfeeding sessions.
Sprout Baby's health tracker allows you to log any health-related events affecting feeding, such as illnesses or medications.
You can easily identify feeding patterns or trends with detailed daily, weekly, and monthly summaries and charts. This can be particularly helpful in adapting your baby's diet as they grow.
For families with more than one child, Sprout Baby's multi-child support feature allows you to track the feeding routines of each child.
Cons
The app primarily focuses on breast milk or formula tracking and lacks a dedicated section for tracking other oral fluids. This could be a limitation for parents who want to monitor hydration more comprehensively.
Some users may find the Premium subscription cost relatively high compared to other baby tracking apps with similar features.
The app is only available to iOS users.
User Reviews
Mmsolomon
⭐⭐⭐⭐
I've been tracking my baby's activities since she was born. I love that I don't have to memorize four different times daily. I love the Medical tab with the development tracker and noting down when she has any symptoms so I can remember to tell the pediatrician. I love the Memories section. I can quickly add a milestone and have a PDF of all my daughter's accomplishments in the future.
Amalloy28
⭐⭐⭐⭐⭐
I love this app. As a new mom, it makes keeping track of my baby's needs so easy. I only have two 'issues' with the app itself. As a mom of a preemie, my baby needs every calorie available, meaning I have to supplement my breast milk with formula. So it would be nice if instead of having to choose between marking a feeding as just breast milk or just formula, I could mark the amount I used each in one feeding.

Key Features to Look for
Look:
Feeding your newborn has its fair share of challenges and uncertainties.
However:
The right breastfeeding app can significantly ease the burden and provide valuable insights into your baby's feeding habits or overall well-being.
Now:
Let's take a look at some key features that new mothers should prioritize when selecting a breastfeeding app.
Shall we?
User-friendly interface: The app should be easy to navigate, with clear icons and menus. This enhances the overall experience and makes it easier for parents to access essential features without confusion.
Latch and positioning tips: Prioritize apps that provide tips on proper latch and breastfeeding positioning. This can be especially helpful for new moms who need assistance with breastfeeding techniques.
Feeding timers and logs: This allows you to track the duration of each feeding session and which breast was last used. It also helps in maintaining a feeding schedule and ensuring balanced feeding.
Reminders and alerts: This is to notify you of upcoming feeding or pumping sessions and help you stay aware of your baby's feeding schedule.
Data visualization features: This includes summarized information presented through charts or graphs. Visual representations can provide valuable insights into your baby's feeding habits.
Multi-user support: Choose an app that supports multi-user functionality if multiple caregivers are involved in feeding and caring for your baby. Also, ensure your app offers real-time data synchronization across multiple devices.
Security and privacy. Feeding and baby care data can be sensitive, so the app should have strong privacy settings and data protection features to keep your information safe.
Compatibility: The app should be compatible with multiple devices and operating systems, enabling you to access it anywhere.
Customer support: A round-the-clock and responsive support team can assist you with any questions or issues you may encounter while using the app.
Cost: Some apps offer a free basic version with the option to upgrade to a premium version with additional features. Ensure that the cost aligns with your budget and needs.
How We Tested
First off:
Our testing process began with a thorough analysis of the competition, where we examined various baby-tracking apps available in the market.
We carefully assessed their strengths and weaknesses while considering user feedback and reviews. This evaluation allowed us to understand the precise needs and expectations of parents.
Then:
We followed this competitive analysis by incorporating user feedback and addressing the identified shortcomings in our app development process.
So:
We prioritized features such as a user-friendly interface, feeding timers, breastfeeding tips, and multi-user support based on the reviews we got.
Also:
We tested the effectiveness of our app by engaging a group of moms from diverse backgrounds. Their feedback helped us fine-tune our app, ensuring it met our target audience's practical needs and preferences.
Overall:
This testing process was instrumental in creating an app that truly caters to the unique requirements of parents, especially new moms.
Conclusion
All in all:
It's no news that breastfeeding apps have evolved into essential companions for mothers and caregivers.
These apps offer essential features like feeding timers, breastfeeding tips, and user-friendly interfaces. This makes them valuable for monitoring and tracking your baby's feeding routine.
Luckily:
We have carefully examined these apps and have come up with the best breastfeeding apps. The top 5 breastfeeding apps vetted by moms are:
Annie Baby Monitor
Baby Feed Timer
Baby Daybook
Mandela Family
Sprout Baby
We encourage mothers to explore these apps and find the one that's tailored to their preferences.
Lastly:
I hope this post has been beneficial in helping you determine the best breastfeeding app for your baby's needs. Kindly leave your suggestions and tips in the comments section below.