Summer Holidays With A Baby: Tips On What To Pack
Published by

Dominika

Created:
17. 6. 2021
Updated:
8. 8. 2023
Diapers, socks, bathing suit. And what else? What will make your summer vacation easier and more pleasant with your baby?
Packaging is challenging itself. And to pack things for yourself and at the same time for the baby … well, it's even harder. Everyone struggles with packaging in a different way. Proven is a universal long list of things that will remind you what not to forget. But I guess, you certainly have a guaranteed recipe for that in your family.
In this article, we'll provide a complete packing guide covering clothing and bedding, feeding essentials, diapering supplies, health and hygiene items, toys and more.
Follow this packing checklist, and enjoy a relaxing vacation with your baby without any stress.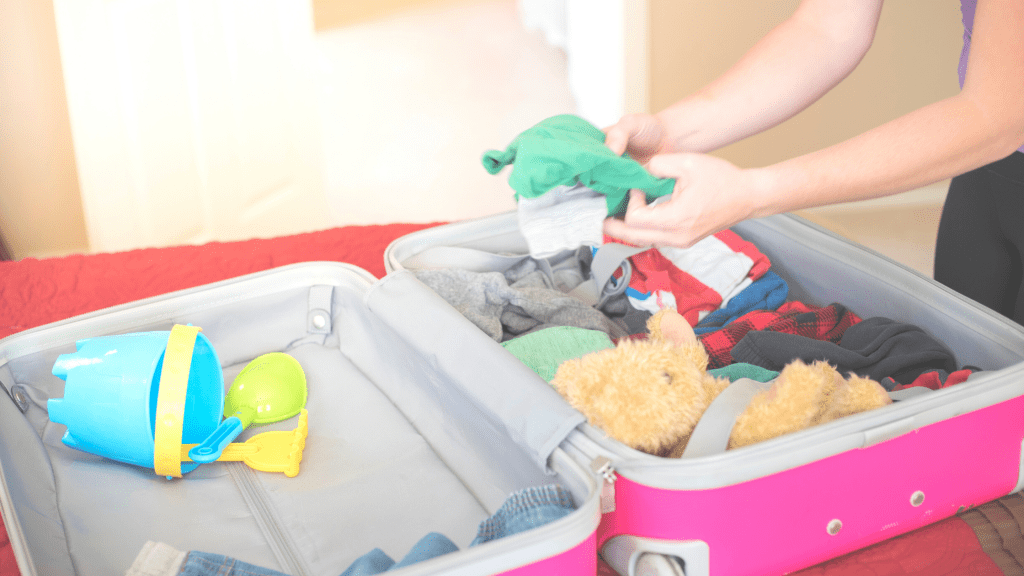 Pre-Travel Preparations
Preparing for a journey with your baby requires careful consideration and planning. Before starting your adventure, it is important to follow these essential steps:
Health Check-Up Before Travel
Before you hit the road, you must schedule a thorough health check-up for your baby. A visit to the paediatrician will ensure your baby is healthy and ready to travel. This check-up is an opportunity to address any existing health concerns or potential risks associated with your destination.
Discuss the Trip with the Paediatrician
Having a detailed conversation with your baby's doctor is extremely helpful. Make sure to discuss your travel plans in full, including the length of the trip, the climate of your destination, and any specific activities you plan on doing. The doctor can provide personalized advice and recommendations to ensure your baby stays safe and healthy throughout the holidays.
Vaccinations and Medications
Ensure that your baby's vaccinations are current according to age and destination. It is important to note that additional vaccinations may be required depending on where you are travelling to protect against diseases specific to that region. Also, make sure you have enough of any prescribed medications your baby may need during the journey.
Travel Insurance
When travelling with a baby, preparing for unexpected accidents is essential. Take the time to review your travel insurance to ensure that it covers your baby adequately. Look for provisions that address medical emergencies, unexpected delays, and any special needs related to infant care.
Packing Checklist: Clothing and Bedding
Packaging the proper clothing and bedding is crucial to ensure your baby's comfort during travel. Here are some tips to help you be prepared:
Appropriate Clothing Considering the Climate of the Destination
The weather at your destination will play a significant role in determining what clothing your baby needs. Pack a mix of lightweight, breathable outfits for warmer days and cosy layers for cooler evenings. Be prepared for unexpected weather changes by including universal, easily layered clothing options.
Warm Weather Destinations (e.g., beach or tropical locations):
5-7 short-sleeved onesies or bodysuits
3-5 lightweight pants or shorts
2 sun hats
2 swimsuits
1-2 sun-protective clothing (long-sleeved shirts, swim cover-ups, etc.)
4-5 pairs of socks
1 light jacket or cardigan
3-4 sleepsuits or pyjamas (consider sleeveless for warmer nights)
Cooler Weather Destinations (e.g., mountain or mild climate locations):
5-7 long-sleeved onesies or bodysuits
5-7 pants or leggings
2-3 sweaters or hoodies
2 warm hats
4-5 pairs socks
1 jacket or coat
3-4 sleepsuits or pyjamas (long-sleeved)
Bedding Essentials: Portable Crib, Sheets, and Blankets
It is important to ensure a comfortable sleeping environment for your baby, whether you are staying at a hotel or with friends and family. Bring a portable crib or bassinet that your baby is familiar with, if possible. Remember to pack enough crib sheets to cover any spills or accidents. Additionally, bring lightweight blankets that can be used to provide extra warmth during naps and bedtime.
portable crib or bassinet (choose the one that your baby is comfortable in)
2-3 fitted crib sheets
2-3 lightweight blankets
1-2 cozy blankets
Extra Items: Bibs, Hats, Socks, etc.
Babies often require multiple clothing changes throughout the day. Pack extra essentials such as bibs to manage feeding messes, hats to protect from the sun, and socks to keep tiny feet warm. Consider the activities you'll be engaging in and pack accordingly. If you plan to spend time at the beach, include swimwear and beach-friendly attire.
5-7 bibs
1-2 sun hats
1-2 warm hats
7-10 pairs socks
1-2 pairs booties
1 pair soft-soled baby shoes (for when baby is walking or crawling)
1-2 swimsuits
1 pair baby sunglasses
2 bandana bibs (for teething or drooling babies)
baby comb
bow ties, headbands, or other decorative accessories (if desired)
Packing Checklist: Food and Feeding Supplies
Making sure your baby is well-fed during your trip is crucial. Here is a comprehensive list of the necessary food and feeding items to pack:
Infant Formula or Breastfeeding Supplies
When it comes to feeding your baby, having the right supplies is essential for the baby's comfort.
If you formula feed, bringing enough of your baby's preferred formula to last the entire trip and planning for possible delays by packing extra is important. If you breastfeed, consider bringing a nursing cover for privacy and comfort during feedings. Don't forget to pack breast pads, a breast pump, and storage bags to maintain your breastfeeding routine.
Formula Feeding:
bring enough formula for the entire trip
extra formula – bring an additional 1-2 days' worth in case of unexpected circumstances
2-3 empty bottles (for mixing and storing formula on the go)
Breastfeeding:
1 nursing cover (for comfort and privacy)
10-12 pairs of breast pads
breast pump (portable and lightweight for travelling)
20-25 storage bags (for pumped breast milk)
1 cooler bag (to keep pumped milk fresh)
2-3 ice packs (to maintain the temperature of pumped milk)
Baby Food and Snacks if the Baby is Eating Solids
When your baby starts eating solid food, it's important to pack various options. Choose baby food in jars or pockets for convenience and ease of travel. Select food and snacks suitable for your baby's developmental stage, and include a mix of flavours and textures to keep mealtime interesting. Pack nutritious and easy-to-eat snacks for older babies and toddlers to help keep them satisfied between meals.
1-2 per day of baby food jars or pouches
2-3 options per day portable baby snacks
finger foods: puffs, teething biscuits, or small fruit pieces
Bibs, Feeding Bottles, Utensils, Sippy Cups, etc.
When it comes to feeding your baby away from home, mealtime accessories are essential.
Bibs are essential for keeping your baby's clothes clean during feedings. Look for waterproof bibs with a catch pocket, making cleaning up any spills easy. Feeding bottles are also a must-have, especially if you're using formula. Pack enough bottles filled with pre-measured formulas to save time on the go.
Be sure to pack extra spoons. If your baby is older, include a fork and knife for more advanced self-feeding. Sippy cups are great for offering water or juice to keep your baby hydrated.
Also, remember to bring an insulated bag or cooler to store breast milk, formula, or perishable baby food. And for added convenience, a portable high chair cover can transform any seating arrangement into a safe and clean space for feeding.
5-7 bibs
3-4 waterproof or wipeable bibs (easy cleanup)
2-3 bibs with catch pockets (reduce mess)
3-4 feeding bottles
2-3 extra bottle nipples
3-4 baby spoons
2 silicone-tipped spoons
1 set of baby fork and knife
2-3 sippy cups
insulated bag or cooler
portable bottle and pacifier sterilizer
portable high chair cover
baby feeding mat
Packing Checklist: Diapering
Making sure your baby is comfortable and clean while travelling is extremely important. Let's take a closer look at some essential diapering items to pack.
When packing for a trip with your baby, it's important to consider how many diapers you'll need. A good rule of thumb is to bring 8 diapers per day, but it's recommended to pack an additional 1-2 days' worth of diapers just in case.
Remember to bring baby wipes for easy cleanups. You can either opt for a small travel-sized pack or invest in a resealable wipes pouch that can be refilled as needed. Diaper rash cream is also essential to keep your baby comfortable.
Be sure to bring disposable diaper bags to dispose of soiled diapers hygienically and odour-free. A waterproof changing pad is a practical tool for keeping your baby clean during diaper changes on the go. Look for a portable pad that can be easily wiped clean after each use.
Consider bringing a portable diaper-changing kit that includes baby wipes, hand sanitiser, and a few extra diapers for even more comfort. Having everything you need within arm's reach will streamline the diapering process and ensure you're prepared for any situation.
8 diapers per day
1-2 days' extra diapers
travel-sized pack of baby wipes
diaper rash cream
disposal bags
changing pad
hand sanitiser
Packing Checklist: Health and Hygiene
When embarking on a journey with your precious little one, ensuring their health and maintaining impeccable hygiene is a top priority. Here's an in-depth exploration of the essential items to include in your baby's health and hygiene kit:
First-Aid Kit for Babies
Your baby's first-aid kit is your go-to help for handling minor health concerns while on the go. This compact yet comprehensive kit should be thoughtfully collected to provide immediate care for your baby's well-being. Here are essential first-aid items:
thermometer
baby paracetamol or pain reliever (consult your paediatrician for guidance)
adhesive bandages (various sizes to cover minor cuts, abrasions, or blisters)
sterile gauze and adhesive tape (for small wounds or cuts)
antiseptic wipes
saline nasal drops
tweezers and small scissors
antiseptic cream
Baby Toiletries
When you're travelling with your baby, it's important to establish a consistent and comforting hygiene routine to promote their well-being. Be sure to pack these essential baby toiletries:
bath wash or soap
baby lotion or moisturizer
nail clippers or scissors
soft baby brush or comb
baby shampoo
Sunscreen and Insect Repellent Suitable for Infants
Outdoor adventures require careful protection from the sun's rays and insects. Safeguard your baby's soft skin with these essentials:
baby sunscreen (broad-spectrum sunscreen with a high SPF)
insect repellent (baby-friendly, without DEET or harsh chemicals)
💡TIP: What are some tips for sun safety? READ NOW!
Packing Checklist: Entertainment and Comfort
Making sure your baby is comfortable and entertained during your travels is crucial for a stress-free and enjoyable vacation. Here is the list of the necessary items to pack:
3-4 of my favourite toys
1-2 small, engaging books
baby carrier – hands-free mobility and keeping your baby close
stroller – lightweight and portable stroller for walking and tours
car seat – if you plan to travel by car or rent a car
1 pair of noise-cancelling headphones
Favourite Toys, Books, and Comfort Items
To keep your baby calm and happy on vacation, bringing along familiar items they love is important.
Pack a variety of baby's favourite toys and books to keep them engaged and entertained during travel and quiet moments.
Choose toys that stimulate babies' senses, improve fine motor skills, and captivate attention.
Remember to include comforting items like a soft blanket or a cuddly stuffed animal to provide security and familiarity, primarily when the baby rests.
Baby Carrier, Stroller, or Car Seat for Transport
Ensuring your child's comfort and safety during transportation is crucial. Depending on your travel plans and preferences, you have several options to choose from baby carrier, stroller, and car seat.
Noise-Cancelling Headphones for Flights or Loud Environments
Travelling can expose your baby to different levels of noise that can be overwhelming. Noise-cancelling headphones offer a great solution, especially during flights or in noisy places. These headphones help create a calm and peaceful acoustic, enabling to rest or interact with surroundings without any unnecessary disruptions.
Other Important Items to Pack
Apart from the necessities, various crucial items can enhance a hassle-free and comfortable travel experience for you and your little one.
passport and visa
2-6 pacifiers, depending on the baby's age
10-30 disposable plastic bags, depending on the length of your trip
portable baby monitor
Here's a detailed look at these essential miscellaneous items:
Travel Documents for the Baby, if Necessary
Before you embark on your travels with your baby, it's important to make sure that you have all the necessary travel documents, including a passport and visa if needed. This is especially important if you're travelling internationally. We recommend checking with your country's embassy or consulate for specific travel document requirements.
Extra Pacifiers, if Your Baby Uses Them
Packaging some extra pacifiers when travelling with your baby is a good idea. These can be a source of comfort and can help calm your baby, especially during flights.
The number of pacifiers you should bring will depend on your baby's age, how often they use them, and the length of your trip. Generally, it's best to bring a few spares.
Infants (0-6 months): If your baby relies on pacifiers for soothing, consider packing around 4-6 pacifiers.
Older Babies (6 months and above): As babies grow, their reliance on pacifiers may decrease. Packing 2-3 pacifiers should be sufficient for comfort and emergencies.
Plastic Bags for Dirty Clothes or Diapers
When travelling, disposable plastic bags can be handy for storing dirty clothes, diapers, and other items that may produce unpleasant odours or cause contamination in your luggage.
The quantity of bags you should pack depends on the duration of your trip, your planned activities, and how often you think you will require them. As a general rule, consider these factors to determine the appropriate number of disposable plastic bags.
Short Trip (1-3 days): For a brief getaway, packing a small roll or pack of disposable plastic bags, approximately 10-15 bags, should be enough.
Medium Trip (4-7 days): When planning for a week-long trip, it's advisable to pack a slightly larger amount of bags, around 15-20, to prepare for any unforeseen circumstances or changes in the itinerary.
Longer Trip (1-2 weeks or more): When going on a long trip, it is recommended to pack a larger amount of bags, around 20-30, to make sure you have enough for different situations such as changing dirty diapers, storing dirty clothes, or holding wet items.
Portable Baby Monitor for Extra Watchful Eyes
Packing a portable baby monitor for extra watchful eyes during your summer vacation can offer several important benefits and provide you with peace of mind. Here are some reasons why a baby monitor is an essential item to bring along:
maintaining sleep routine – ensuring consistency, reducing disruptions and promoting a smoother transition
safety and security – ensure their safety and comfort in a new environment
freedom to relax – relax with the assurance that you'll be alerted if your baby needs attention
optimal comfort – monitor the temperature and humidity levels in the room, ensuring your baby's comfort and well-being
uninterrupted activities – engage in summer activities while keeping a close eye on your baby's well-being in the accommodation
flexible bedtime – put your baby to bed and still participate in evening activities, knowing you'll be alerted if your baby wakes or needs your attention
naptime freedom – take advantage of naptime for your baby while also having the flexibility to enjoy other activities without worry
preventing overstimulation – keep tabs on your baby's nap and sleep times, ensuring baby gets the needed rest to stay happy and well-rested
Enjoy your holiday while your child is resting. Download the best travel baby monitor app. Which one is the best? Let's take a look at our top 4 favourites.
Printable Travel Packing Checklist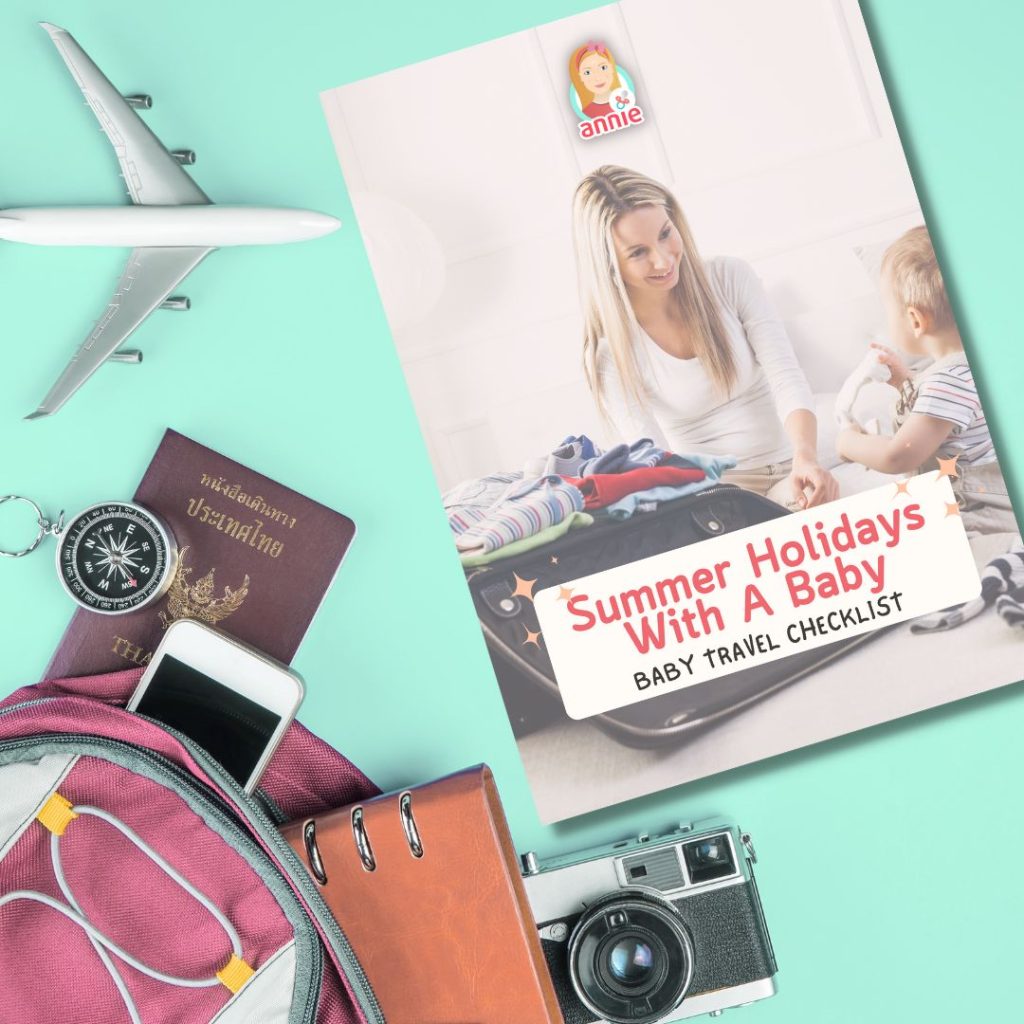 Ready for a stress-free journey with your infant?
We're introducing our FREE PDF travel with infant checklist!
🖨️ Download here and start packing!
Tips for Ensuring a Smooth Journey
Planning ahead can make travelling with a baby a fun and exciting adventure. Here are some helpful tips for managing your child's feeding and sleeping schedule during a journey and ensuring your baby remains happy throughout the trip.
Managing Feeding and Sleeping Schedule
1. Sync with Sleep Patterns
We recommend synchronizing your travel plans with your baby's sleep routine. By planning your departure or breaks during your baby's nap times, you can guarantee that your baby will be well-rested and happy.
2. Create a Familiar Sleep Environment
When travelling with your baby, it is important to recreate their usual sleeping environment to promote better sleep. To help the baby feel comfortable, we recommend bringing the baby's favourite blanket or swaddle and creating a peaceful environment. Doing so can lead to improved sleep quality for your little one.
3. Adapt the Feeding Routine
If you are breastfeeding, we recommend continuing, as this will provide the baby with the necessary comfort and nourishment.
On the other hand, if your baby is formula-fed, we recommend packing pre-measured formula for easy access during travel while trying to stick as closely as possible to their regular feeding schedule.
Tips for Keeping Your Infant Entertained and Calm
1. Pack Familiar Comforts
Fill your travel bag with your baby's favourite toys, blankets, or soft items. Having familiar objects around can help ease the feeling of being in a new environment and provide comfort and protection.
2. Engage the Senses
Choose toys that stimulate multiple senses, like those with diverse textures, colours, or sounds. These toys stimulate the senses to captivate your baby's attention and curiosity.
3. Interactive Play
Try incorporating some simple and enjoyable interactive activities into your journey, such as peek-a-boo, gentle tickling, or making funny faces. These playful moments can help create positive bonding experiences.
4. Comfort of Your Voice
Talk, sing, or hum to your baby. The soothing sound of your voice can provide a reassuring presence and help keep your baby calm.
5. Visual Stimulation
Attaching toys to strollers or car seats can offer infants visual stimulation, entertainment, and engagement. It's a great way to keep them occupied during travel.
6. Explore During Breaks
Whenever you have a chance to take a break during your journey, let your baby explore their surroundings. Even a short change of scenery can awaken a baby's curiosity and ease restlessness.
7. Gentle Motion
Babies often find comfort in motion. These movements can be calming, whether it's a gentle rocking movement in your arms or a ride in a baby carrier or stroller.
8. Stay Alert
Pay close attention to your baby's cues and signals. Being flexible and responsive to the baby's needs can significantly help keep the baby calm and happy.

Conclusion
Planning a summer vacation with your baby?
Our travel with infant checklist has got you covered with tips on vaccinations, packing, sleep schedules, nourishment, and more!
With preparation, you'll have a stress-free trip and make unforgettable memories with your little one. Safe travels and happy adventures!