Thanksgiving Easy Recipes Kids Can Make
Published by

Dominika

Created:
10. 11. 2020
Updated:
3. 10. 2023

Thanksgiving is family time. It's the perfect opportunity to cook together and cooking with your children can be a very funny activity. They learn new skills in the kitchen and you make some lasting memories.
Even though this year is very hard for all of us, don't let destroy your family time. Luckily, by utilizing things like Zoom and FaceTime, your family can still be together.
Have a Thanksgiving to remember by letting your children help you in the kitchen with these easy recipes!
1. Adorable Candy Pretzel Turkey Bites
These adorable turkey snacks are a great treat for young children. Set out all the ingredients and let them build their own turkey crackers. This would be an excellent craft for Thanksgiving day. While you're cooking the turkey, they can be making their own.
How to:
Preheat oven to 300 and line a baking pan with parchment paper or a Silpat baking mat.
Place pretzels with the salted side down with the double rounded end pointed toward you.
Now, unwrap your Rolo candies and place them in the center towards the top of the pretzel.
Place them in the oven until the chocolate softens but isn't totally melted about 1 minute. It's important to make sure they don't get too soft!!
Begin decorating by placing the candy eyeballs towards the middle, slightly towards the top, of the Rolos candy. Take Reese's Pieces and turn it sideways and insert it below the eyes. Finally, take three pieces of candy corn and insert them along the top of the Rolos for the feathers.
Finally, place your little turkeys in the freezer to solidify for 5 – 10 minutes. Store in an airtight container. Enjoy!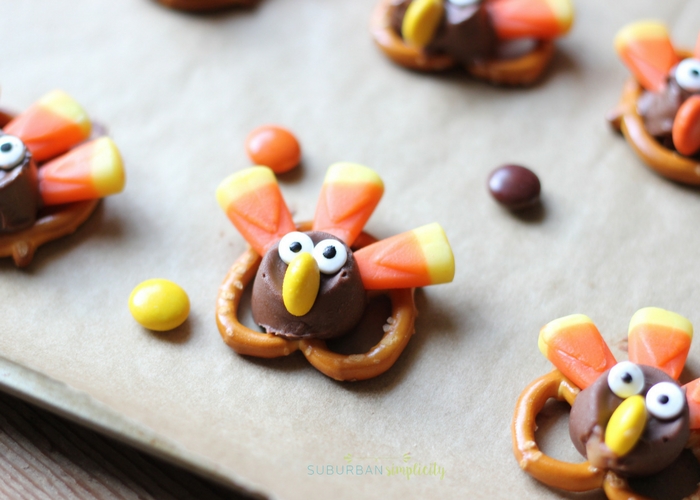 Source: Suburban Simplicity
2. Easy Decorated Sugar Cookies
Bake those cookies and let your kids decorate it in their own way. Just gather your supplies and let their imagination work.
How to:
Whisk the flour, baking powder, and salt together in a medium bowl. Set aside.
In a large bowl using a hand mixer or a stand mixer fitted with a paddle attachment, beat the butter and sugar together on high speed until completely smooth and creamy. Add the egg, vanilla, and almond extract and beat on high speed until combined.
Add the dry ingredients to the wet ingredients and mix on low until combined.
Divide the dough into 2 equal parts. Place each portion onto a piece of lightly floured parchment paper or a lightly floured silicone baking mat. With a lightly floured rolling pin, roll the dough. Cover with plastic wrap or aluminum foil, then refrigerate for at least 1-2 hours.
Preheat oven to 350°F. Carefully remove the top dough piece from the refrigerator. If it's sticking to the bottom, run your hand under it to help remove it. Using a cookie cutter, cut the dough into shapes.
Arrange cookies on baking sheets and bake for 11-12 minutes or until lightly browned around the edges.
Decorate the cooled cookies.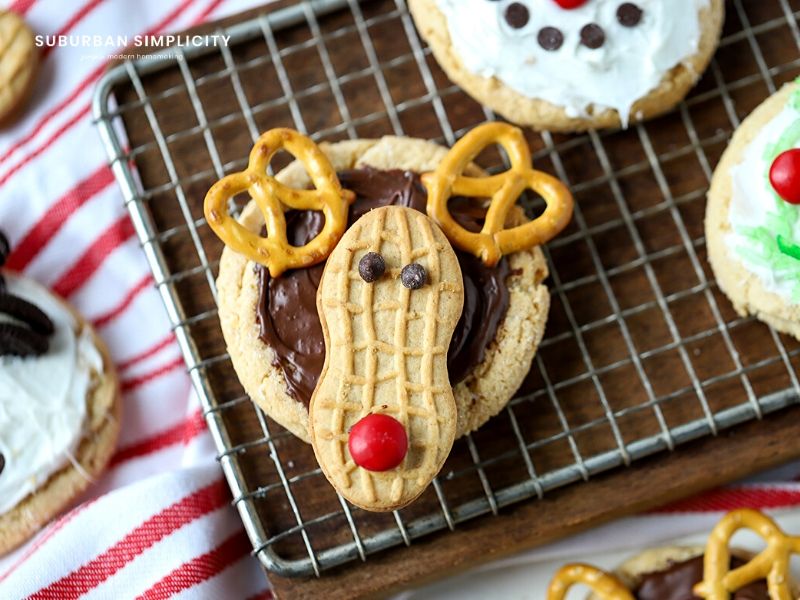 Source: Suburban Simplicity
3. Oreo Turkeys and Cookie Pilgrim Hats
These turkeys and little pilgrim hats are made from candy and completely edible!  They are a fun activity for holiday parties or family nights.
How to:
Grab a cookie.  You don't have to put frosting in there, but I like to because it holds in the candy corn a little better. Just give it a little squeeze of chocolate.
Then stuff in your candycorn.  If you're in some sort of candy corn shortage, you can cut off the white tips to use later for your beaks.  Go ahead and do all of the cookies through this step.
Next, put a dab of frosting on the opposite end of the cookie and secure it to the "base" cookie.  It helps to place them next to a wall as they dry so they stay put.
While those are drying, unwrap your peanut butter cups.  Take a sharp knife and cut a sliver off one end.  It helps to gently cut in a sawing motion so you don't break the PB cup.
Place a dab of frosting on the peanut butter cup, and place it on the cookie.
Now those little guys will need heads, so glue a whopper on there with frosting as well.
Put two yellow dots on for eyes, and for the black spots in the eyes you can use a dab of chocolate frosting, or a mini chocolate chip, or a little sprinkle.
Flip them over and draw on some little yellow feet. And there you go, cute as can be!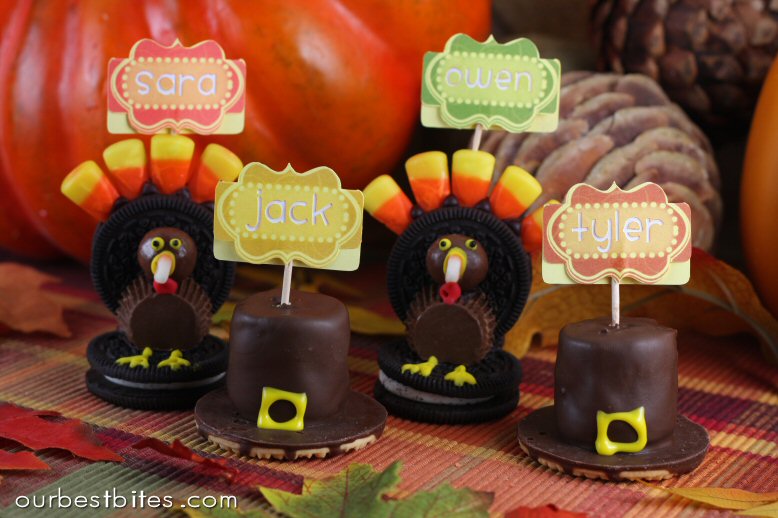 Source: Our Best Bites
4. Chocolate Turkey Fondue
This can make your kid by themself! Let your children chop fruits and meanwhile prepare some chocolate fondue.
How to:
Chop your favorite kinds of fruit.
Dip it into the chocolate and enjoy it!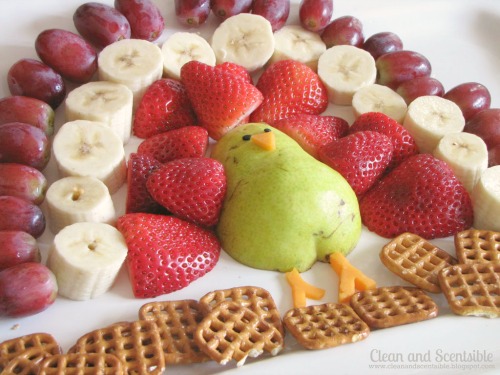 Source: Clean and scentsible
Making their own snacks helps children develop many important skills such as:
learning how to follow directions,
sequencing skills such as first, next, and last,
fine motor skills when scooping and spreading ingredients,
math – counting and measuring, pouring,
retelling (after a child makes something have them tell you the steps),
ordinal numbers – first, second, third,
independence.
5. Pizza Turkey
Kids and also adults alike will love putting together this super cute pizza!
How to:
Prepare our pizza crust.
Spread on your sauce & sprinkle on your cheese.
Slice up your red & yellow bell peppers into rings.
Layout the pepperoni,  salami, peppers, & black olive pieces. The salami makes the turkey's body & a piece of pepperoni makes the head.  The eyes are made of small pieces of a black olive.  The beak, legs, & feet are made from a yellow pepper cut accordingly.  And, the red & yellow peppers are cut into strips to form the peppers, along with circular rows of pepperoni.
Bake it just like you normally would.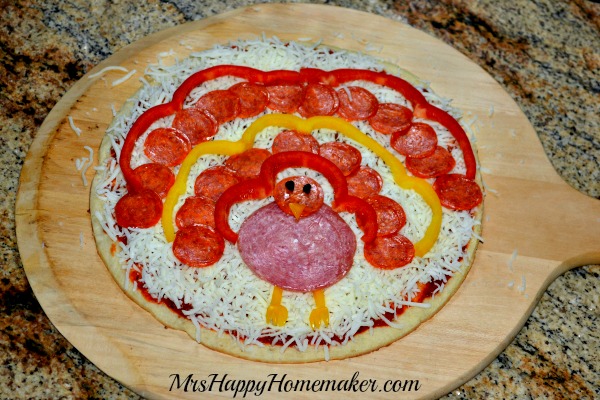 Source: Mrs Happy Homemaker
6. Turkey-Shaped Sandwich
You do not need to use turkey for this sandwich, that is the wonderful part. You can make this sandwich out of any type of sandwich your child enjoys eating. Cut off the crust if you need to and you can still make it! Also, you can make a pilgrim hats sandwich!
How to:
First step is to have your sandwich fully made.
ut out the turkey shape using a sharp knife. For the body, cut a bowling pin shape in the center. Cut pieces around the outside to make the tail. Make sure these cuts are completely through or the sandwich could tear. I used an up and down motion to avoid squishing or tearing the bread.
Cut an eye shape out of the white cheese and a small triangle for a beak out of the yellow cheese.
Cut tiny pieces of black olive to look like pupils for the eyes then place the candy piece, pepper, or cranberry sauce along the beak as the snood (the red piece off the beak.)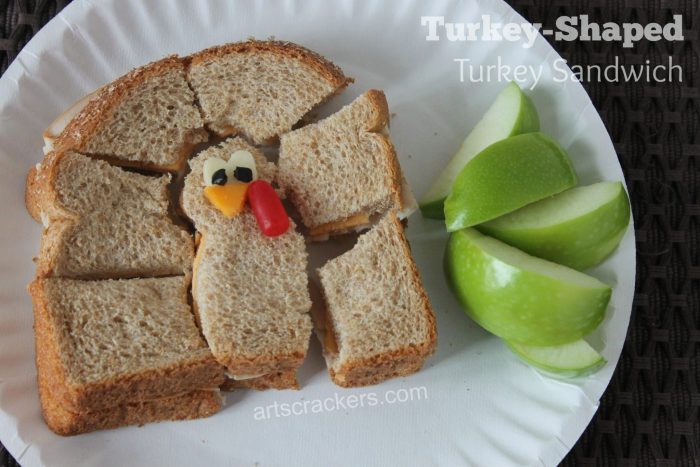 Source: Arts & Crackers
7. Thanksgiving Turkey Peppers
Make some turkey peppers!  All you have to do is fill the cavity of a turkey with hummus and arrange slices of pepper inside the hummus so you have these: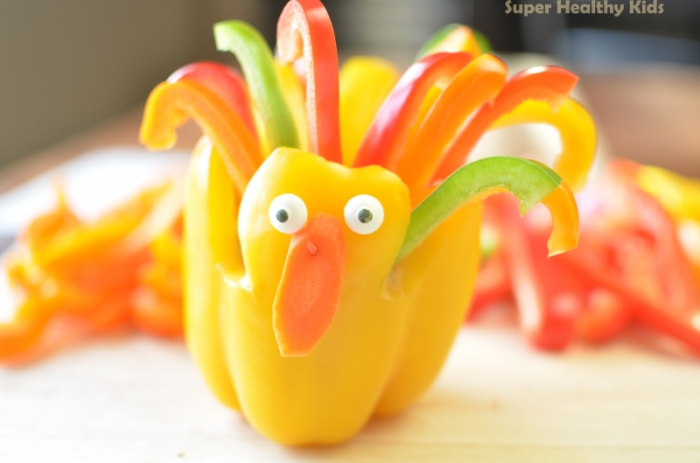 Source: Super Healthy Kids
8. Pumpkin Hummus
And the hummus of this season is? Pumpkin hummus! A sweet dip for veggies sounds gross, so maybe you could make a savoury pumpkin dip using roasting spices instead of pumpkin spice. You could definitely add a dash of cinnamon or allspice to this dip, but rather stuck with traditional hummus spices.
How to:
Boil/soak your own dried chickpeas for this recipe, or made it with canned chickpeas.
Using a food processor add your drained and rinsed chickpeas, pumpkin puree, salt, cumin, lemon juice, and extra virgin olive oil.
Process until completely blended.
Serve immediately or cover and store in the refrigerator.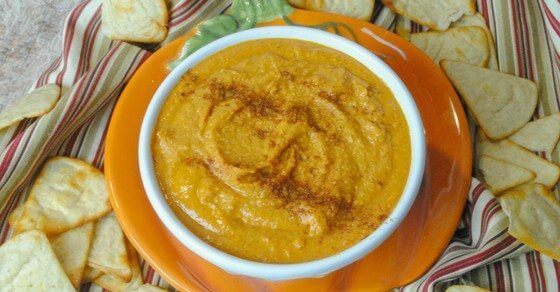 Source: Sugar Spice and Glitter
And that's it!! Looks easy and tasty right?
More ideas of food: