Newborn Necessities for Winter: Baby Winter Clothes
Published by dominika
30. 11. 2021 03:30



Snow, ice, sparkling lights, hot cocoa and cute, cozy onesies, winter is a magical time especially with a newborn, but it can be stressful for new parents.
When the whole country wraps into the white blanket, it warms our hearts, but our fingers often freeze. I suppose that you wondering if your baby is already big enough for walk through the freezing winter? It depends on the temperature. At high temperatures below freezing, the baby should be older than three months. Avoid temperatures below -15 degrees Fahrenheit. If it is warmer, you can go for a winter walk two to three weeks after birth. In any case, the baby should not have any health problems.
💡 TIP: What else should you look out for during your first winter? Check our Baby Winter Guide: The first winter with a baby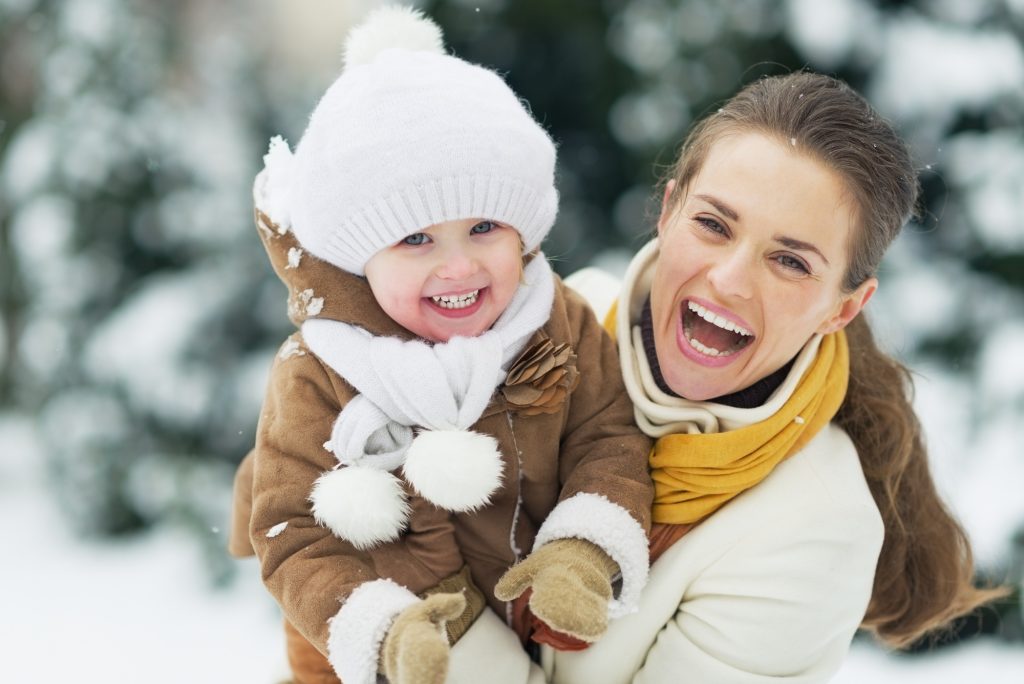 What Should Babies Wear in the Winter?
What your baby should wear in the winter depends on where the baby is and what they will be doing. If your baby will be staying inside, a long sleeve sleeper should suffice. However, the general rule is that your baby should wear the same thing you would comfortably wear, plus one layer.
Clothes for Staying Indoors
In this cozy time you may be tempted to bundle your baby up even when you're inside, but don't go overboard. The ideal temperature is between 68° and 72°F, and the one-more-layer rule applies indoors too. So if you're comfortable in two layers, your baby needs three. A good way to check to see if the baby's too hot or cold is to put a hand on his back neck, which should be warm but not sweaty.
Sweating, damp hair, flushed cheeks, and rapid breathing are all signs of overheating, so if you observe them, remove a layer of clothing. But there's no need to go crazy checking on the baby every five minutes. That means if baby's sleeping in his crib is clear of loose bedding, and the temperature is set to the appropriate range, baby's probably just right.
Clothes for Winter a Walk
Since babies lose heat more rapidly than adults do, is good to apply a rule of dressing your child in one more layer than you would wear in the same conditions. So if you're going out in a long-sleeved T-shirt and a winter jacket, add a sweater to your baby's long-sleeved outfit, plus a bunting or a coat. Top it off with mittens, a snug-fitting hat, and warm boots if the bunting doesn't cover his feet.
If your baby will be in their stroller for a longer period of time, you want to make sure the baby is comfortable as can be. Sleeping bag is fine, don't forget it is another layer. Adding a stroller windscreen will help protect your baby's delicate skin from windburn, but avoid walks if the wind is biting.
Clothes for Playing in the Snow
Let your little miracle explorer the winter's greatest pleasures. By 6 months, even before baby can walk, so baby will probably be excited by snow's novel texture. The rules for newborn baby winter clothes for snow play have a large emphasis on staying dry. A waterproof snowsuit with attached feet—or a snow jacket and waterproof pants and boots—are a must. Don't forget a hat and waterproof mittens, though you can take them off to allow your baby to feel the snow with baby's bare hands. There is no set limit on the amount of time baby can play in the snow, use your best judgment and take the baby inside at the first sign of discomfort.
You'll know your baby has had enough winter weather if his eyes tear up, he becomes fussy, or he starts crying. Also watch for signs of hypothermia—such as blue lips, shivering, or an unusually pale appearance to the nose or ears—and cut your outing short so that you can get somewhere warm quickly.
💡 TIP: Five Tips on How to Handle Winter With a Baby
Clothes for the Car
Dressing your child for their car seat may seem tricky. Avoid snowsuits and winter coats when your baby is strapped in. The reason for this is car seat safety. When the snowsuit or coat is worn in the seat, the straps cannot be fitted closely to your baby's body. In the event of an accident, the coat could compress, and your child could slip out of the looser straps, suffering serious injury. Choose thin, close-fitting layers, like tights and/or leggings instead of that bulky coat. Add pants and a warmer top, like a sweater or fleece shirt, and don't forget socks, hats, booties, and mittens. Once the baby is secured in their seat, place a coat or blanket over the straps instead of between your baby and the straps.
Clothes for Bedtime
When it comes to bedtime, babies sleep better when they're cooler. It also reduces their risk of SIDS (Sudden Infant Death Syndrome). Footed pajamas are a good choice, as are bodysuits. Swaddles and sleep sacks can be used for younger babies if the room is cooler and/or if your baby prefers the comfort of a swaddle.
Winter Newborn Clothes Necessities
Worried about keeping your little one warm this winter? Whether you're playing outside, driving in the car, or staying indoors, these winter clothes necessities for the baby can help you pick the perfect warm outfit. 
Socks, a lot of them
Booties – soft, warm booties are worth every penny, if your baby already walk but those waterproof
Footed Pajamas
Long Sleeve, Kimono-Style Shirts
Short-Sleeve Onesies for Layering
Hats
Mittens
Warm One-Piece Outer Layers – fleece or thermal pieces, waterproof snowsuit
This Could Also Come in Handy



Published by dominika
30. 11. 2021 03:30