10 Completely HILARIOUS and Relatable Movies About Parenting
Published by

ruggirello

Created:
17. 9. 2019
Updated:
2. 11. 2023
Being a parent is hard work.
You will need to relax and make a few laughs from time to time.
You also want to feel like you are not alone in this. Like there are other parents who are experiencing the same joys and troubles.
That's why we have prepared this list of 10 super funny and relatable movies about parenting for you to watch.
When it comes to accessing a wide range of movies and shows, including an array of family-friendly content, look no further than US Netflix. With its diverse selection and user-friendly interface, it is your go-to streaming platform for a fun-filled movie night with the whole family.
Do you prefer a classic or a new movie? Choose one from the list below and enjoy some time for yourself while making a good laugh.
Movies About Parenting: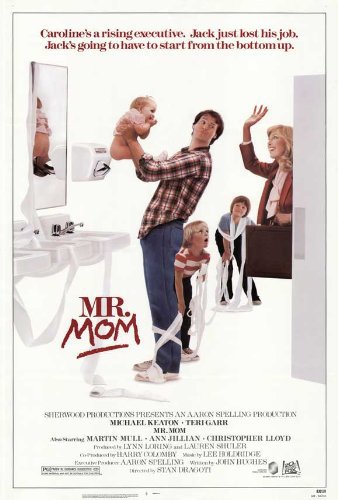 When he's laid off from his job as an automotive engineer, Jack (Michael Keaton) becomes MR. MOM, a stay-at-home dad in charge of three kids and the household, while his wife Caroline (Teri Garr), a former ad exec, dusts off her shoulder-padded suits to prove herself worthy in the boardroom. Jack and his mommy friends play poker with coupons; Caroline applies domestic know-how to land a tuna campaign; Jack conquers a wayward vacuum cleaner, and Caroline fends off her randy boss. In the end, Jack realizes his wife does more than he can ever imagine while he is away, and Caroline realizes she can hold her own in the corporate world.
Source: commonsensemedia.org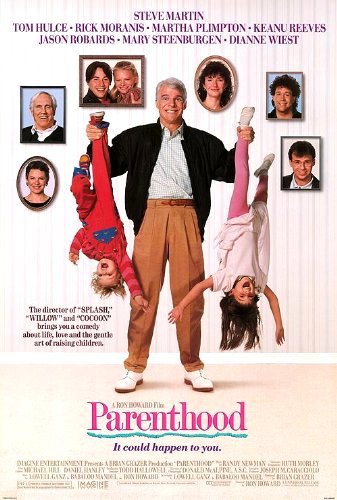 Three adult siblings — Gil (Steve Martin), Helen (Dianne Wiest), and Susan (Harley Jane Kozak) — discover there's more growing up to do as they take on the challenges of parenthood. Gil and his wife (Mary Steenburgen) have their hands full with three kids, one of whom's suffering from anxiety. Plus, Gil's job pressures weigh heavily on both their shoulders. Helen, a single mom, is battling a headstrong teenage daughter (Martha Plimpton) and a young son (Joaquin Phoenix) who'd rather lock himself in his room than spend any time with either of them. Susan's husband (Rick Moranis) thinks training their daughter for the rigors of academia starting at preschool is the way to go, but she's not certain. And with their youngest sibling (Tom Hulce) arriving out of the blue, Gil, Helen, and Susan, plus their cranky father (Jason Robards), find that life's about to get even messier.
Source: commonsensemedia.org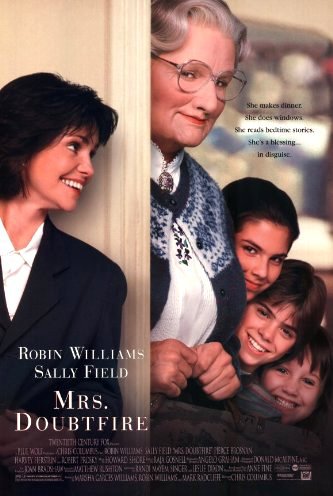 In MRS. DOUBTFIRE, loving-but-eccentric dad Daniel Hillard (Robin Williams) is devastated when his wife, Miranda (Sally Field) files for a divorce and gets custody of the kids. Regular visits with his three children aren't enough, so when he hears that Miranda is looking for a nanny/housekeeper, he gets his make-up artist brother (Harvey Fierstein) to transform him into a matronly old woman. Posing as the veddy proper Mrs. Iphegenia Doubtfire, Daniel gets the position and quickly wins over the kids. But his double-life ruse gets complicated when Miranda starts dating the dashing, debonair Stu (Pierce Brosnan).
Source: commonsensemedia.org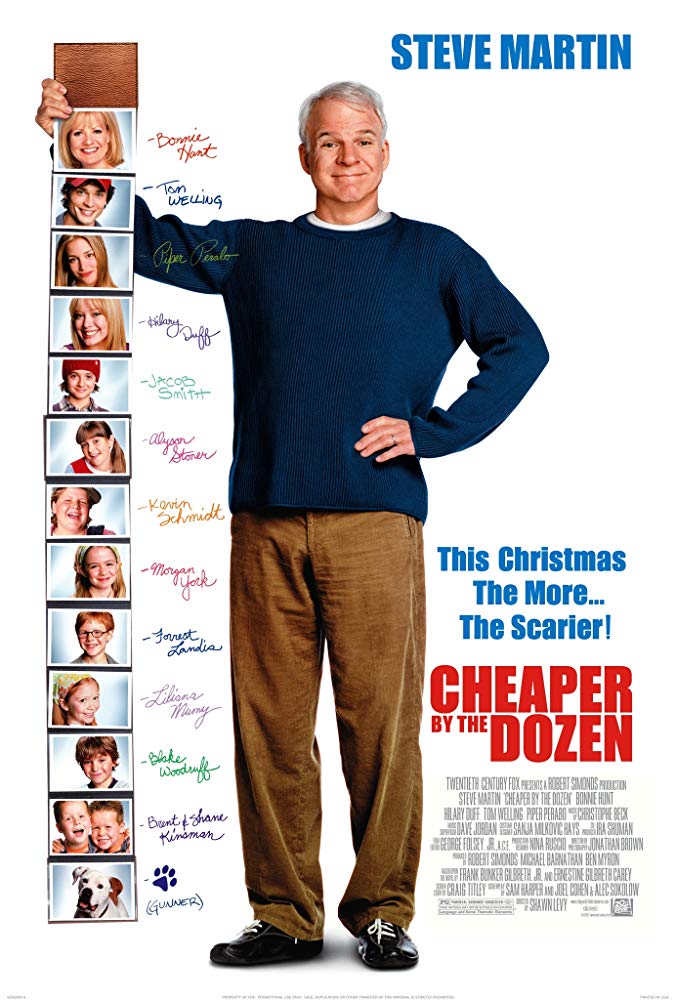 Steve Martin plays Tom Baker, a coach who is offered his dream job at his alma mater just as his wife Kate (Bonnie Hunt) hears that her book about the family has been accepted for publication. The 11 children still living at home don't want to move, but Tom promises that it will make them a stronger and happier family. But the new job is very demanding, and when Kate has to go on tour to promote the book, Tom is quickly overwhelmed by the challenges of taking care of his children.
Source: commonsensemedia.org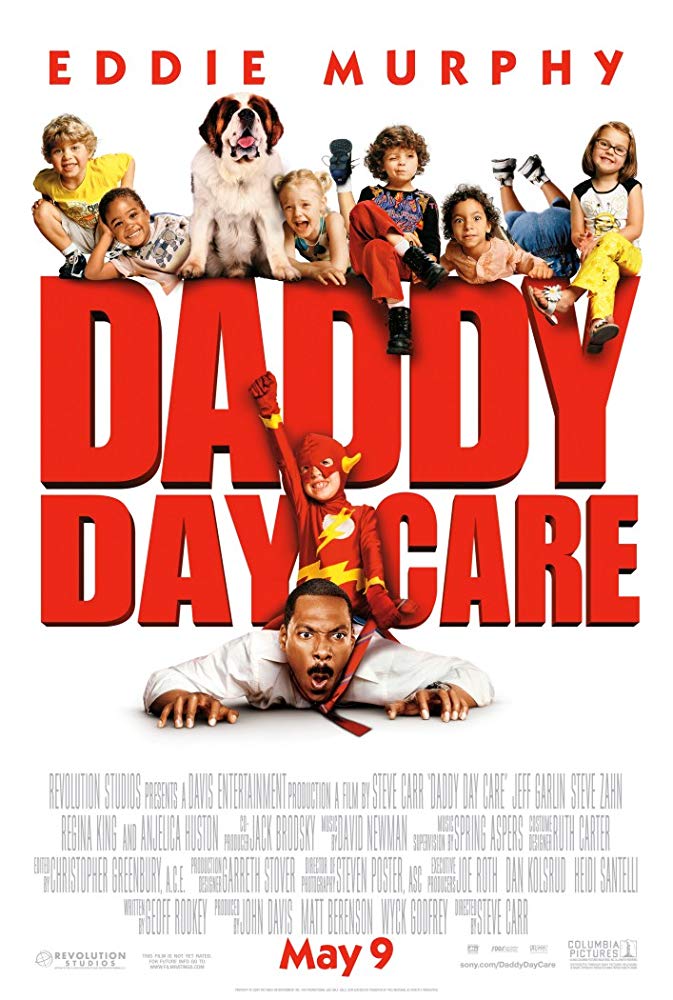 Eddie Murphy plays Charlie, who loves his wife, Kim (Regina King), and 4-year-old son, Ben, but has trouble finding time for them due to a high-pressure job in marketing. When his new product, breakfast cereal made from vegetables, is a flop, Charlie and his friend Phil (Jeff Garlin) are laid off. Kim has just started working, so Charlie stays home with Ben. The only preschool in town is the snooty Chamberlin Academy, where children in prep-school uniforms study Freud, Portuguese, and SAT vocabulary words. It is run by mean Ms. Harridan (Anjelica Huston). When Charlie and Phil can't find new jobs, they decide to start Daddy Day Care at Charlie's house.
Source: commonsensemedia.org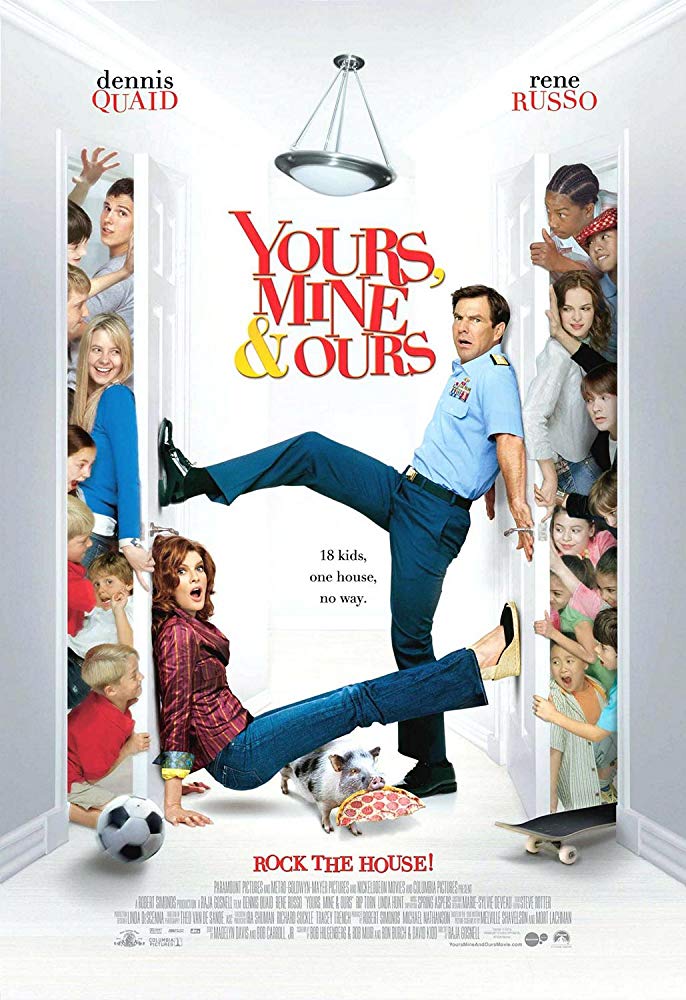 In YOURS, MINE & OURS, Coast Guard Admiral Frank Beardsley (Dennis Quaid) re-meets his beautiful high school sweetheart, Helen North (Rene Russo). Both have lost their spouses and have large numbers of kids (he has eight, she has ten, six of whom are adopted). They marry without telling their kids of ahead of time. Of course, the kids are unhappy with their abruptly changed living conditions. Helen's children are artistically inclined and free-spirited (the conduct family discussions using a "talking stick"); Frank's are regimented, used to following orders and running a "tight ship." Frictions between the kids first cause arguments (including competition between the two teen girls over a cute boy at school). Eventually, the children decide to break up their parents' marriage.
Source: commonsensemedia.org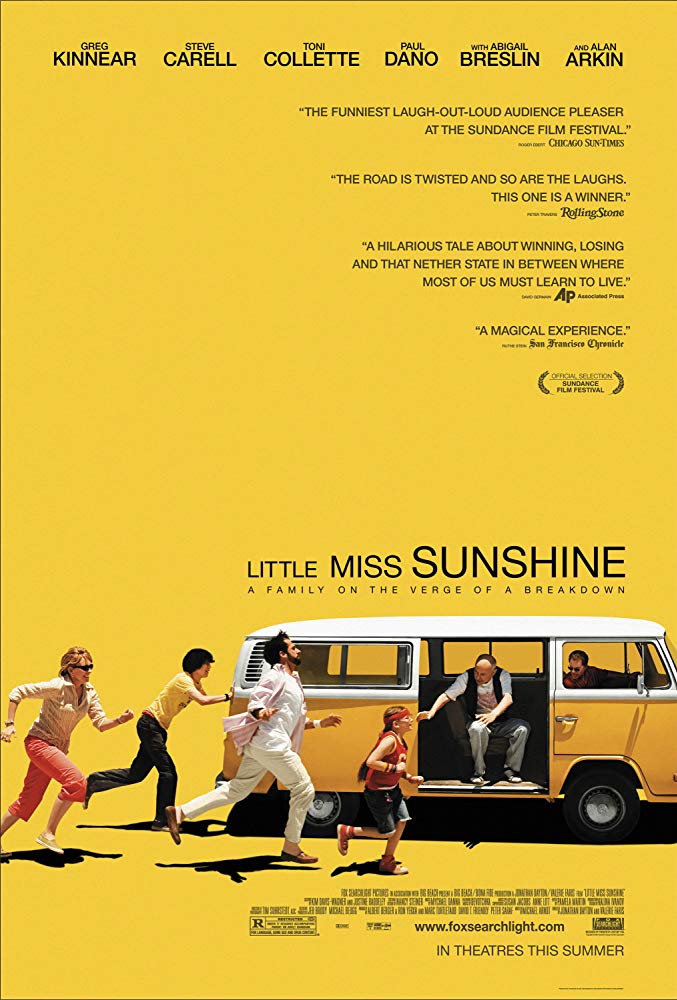 The Hoover family decides to make the trip from Albuquerque to Southern California after starry-eyed daughter Olive (Abigail Breslin) unexpectedly scores a spot in the regional Little Miss Sunshine beauty pageant. The whole clan — sunny Olive; anxious mom Sheryl (Toni Collette); aspiring motivational speaker dad Richard (Greg Kinnear); feisty, drug-using Grandpa (Alan Arkin); cynical teen Dwyane (Paul Dano); and gay, suicidal Proust scholar Uncle Frank (Steve Carell) — piles into their old yellow Volkswagen bus (which has become the movie's signature image) and hits the road. Naturally, that road is full of all kinds of obstacles — including car trouble, lots of bickering, and even an unexpected death. But in the process of working together to help Olive make it to the pageant, the Hoovers come to understand each other anew … or at least appreciate the fact that no one else could possibly understand them except each other.
Source: commonsensemedia.org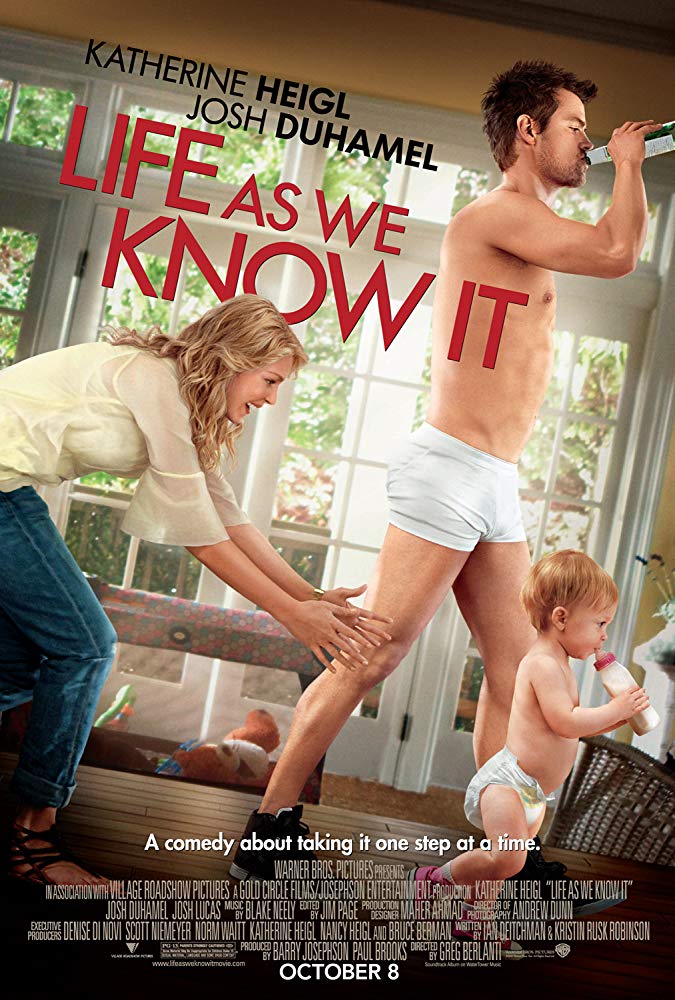 Put-together caterer Holly Berenson (Katherine Heigl) and womanizing TV-sports producer Eric Messer (Josh Duhamel) were once set up on a blind date by their best friends, Alison (Christina Hendricks) and Peter (Hayes MacArthur), but they quickly realized that they couldn't stand each other — but that doesn't prevent Alison and Peter from naming the "frenemies" godparents after they get married and have a baby girl, Sophie. When Alison and Peter are killed a car accident, Sophie, now 1, is left with Holly and Messer, who are expected to live in their friends' house and raise their daughter. As the odd couple settles into their unconventional routine, they find themselves falling in love, despite instructions from the child welfare caseworker not to "complicate" their situation by getting together romantically. And when a tough choice arises, things get even trickier.
Source: commonsensemedia.org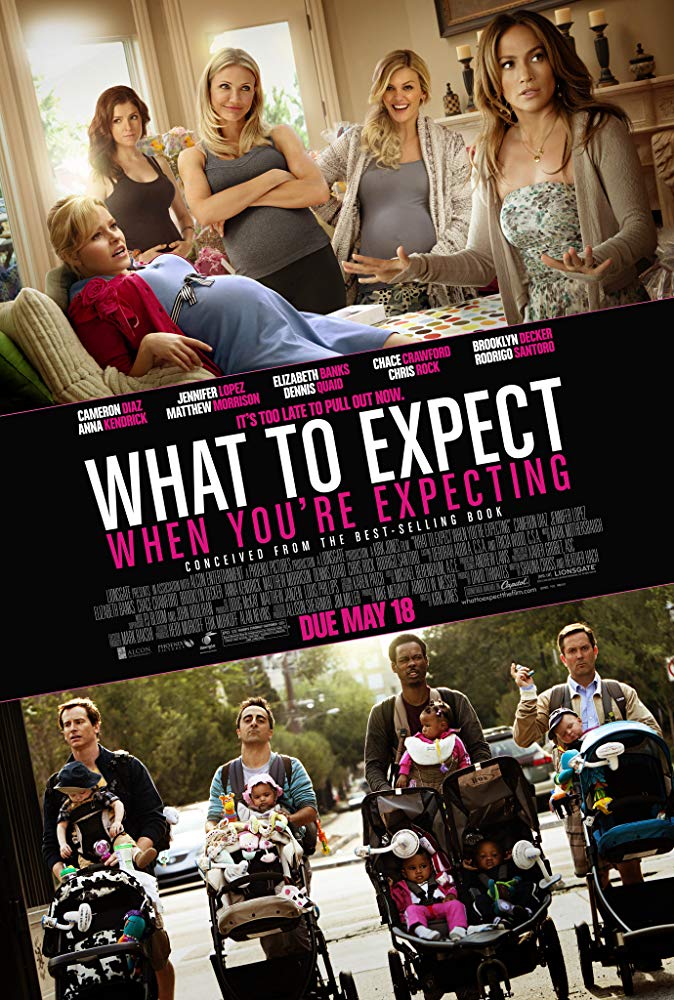 In WHAT TO EXPECT WHEN YOU'RE EXPECTING, couples are about to face their biggest test yet: parenthood. Start with fitness guru Jules (Cameron Diaz) and dancer Evan (Matthew Morrison), who fall in love and get pregnant while paired on a celebrity dance competition TV show. Then there's children's store owner Wendy (Elizabeth Banks), who's hoping to have a baby soon with her husband, Gary (Ben Falcone), whose race-car driver father (Dennis Quaid) and stepmother (Brooklyn Decker), seem to be racing for the maternity ward, too. Photographer Holly (Jennifer Lopez) can't wait to adopt with her husband (Rodrigo Santoro), but he's not so sure. And then there's twentysomething food truck proprietor Rosie (Anna Kendrick), whose one-night stand with an old classmate/business rival (Chace Crawford) becomes something more. This ensemble comedy follows all of them as they navigate the labyrinth of physical and emotional challenges that are part of impending parenthood.
Source: commonsensemedia.org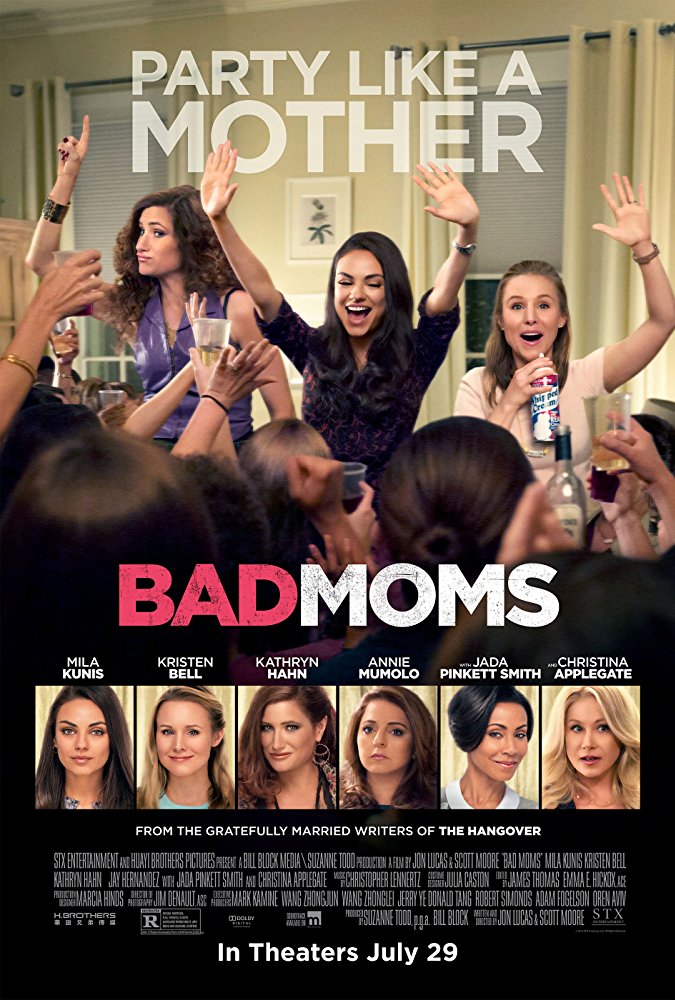 In BAD MOMS, Amy (Mila Kunis) is a coffee company exec who's trying to juggle an intense part-time job (that's really more full-time), a strained marriage, two kids, household responsibilities, and everything else — all under the watchful gaze of the critical PTA moms at her children's school. When Amy discovers that her husband has been having online sex with a woman across the country, Amy kicks him out and is left juggling even more. Soon, she decides she's had enough and can no longer live up to society's expectations of perfect motherhood. With two new friends — Carla (Kathryn Hahn) and Kiki (Kristen Bell), both mothers at the school who feel her pain, too — at her side, Amy decides it's time to embrace "bad" motherhood. But at what cost?
Source: commonsensemedia.org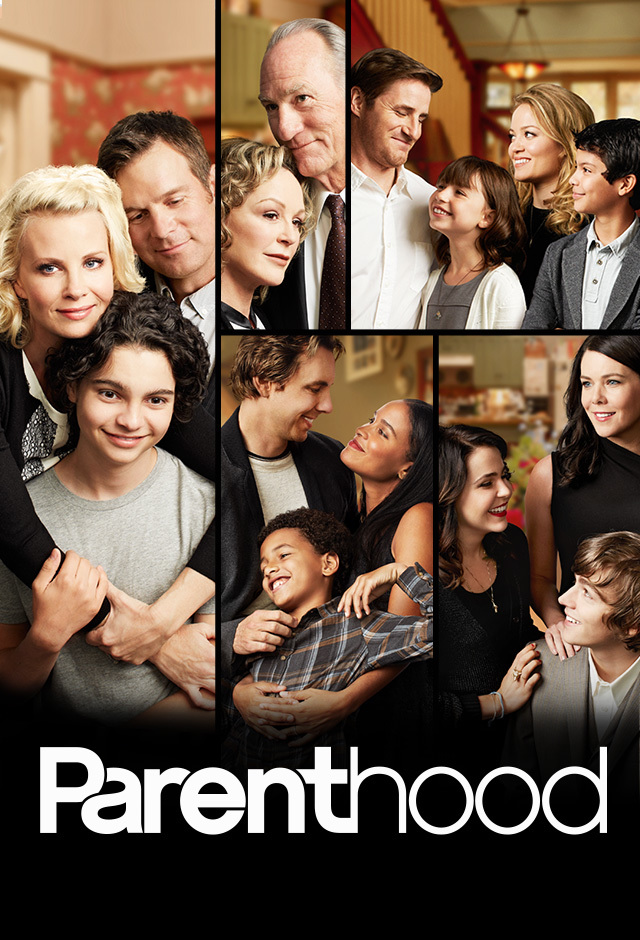 Based on the 1989 film of the same name, PARENTHOOD concerns the day-to-day dramas of the sprawling Braverman family, centering on the spawn of patriarch Zeke (Craig T. Nelson) and matriarch Camille (Bonnie Bedelia). Because married oldest son Adam (Peter Krause) seems to have it all together, he often serves as the de facto "Mr. Fix-It" for his three younger siblings: single mom Sarah (Lauren Graham), free-spirited Crosby (Dax Shepard) and workaholic Julia (Erika Christensen). But every now and then, even Adam needs a little parental guidance. In the midst of these thirtysomethings' various dramas are the kids they're raising, including a young boy with Asperger's syndrome and brooding teens.
Source: commonsensemedia.org
Final Tip: Movie Nights with Peace of Mind, Thanks to Annie Baby Monitor
As you prepare for a delightful movie night, there's no need to worry about the safety of your baby.
With the Annie Baby Monitor by your side, you can enjoy every laugh-out-loud moment with absolute peace of mind.
Annie Baby Monitor isn't just a baby monitor; it's your ticket to perfect movie nights.
Real-time video streaming, audio capabilities, and motion detection keep you connected to your baby, ensuring they're safe and sound in their room while you savor the hilarity on the screen.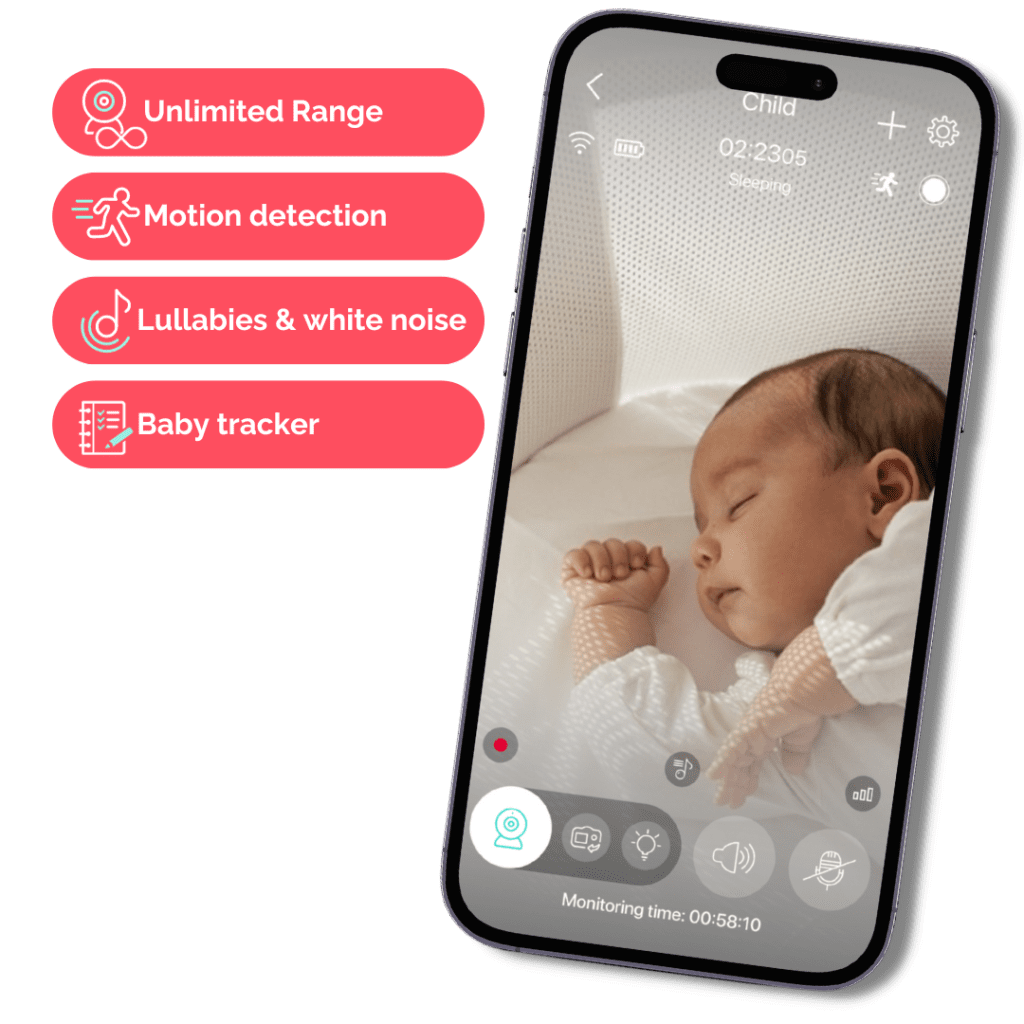 So, dim the lights, grab your popcorn, and press play, knowing that the Annie Baby Monitor has your back. Cheers to a night of laughter and relaxation!