When Can Baby Eat Cheese and What Kind Is Best
Published by

ruggirello

Created:
27. 8. 2019
Updated:
7. 10. 2022
Once your baby is a few months old you are probably wondering when can you start giving him solid foods. You might be especially cautious about dairy products. One of the questions you might be asking yourself is when can baby eat cheese.
Today, we are answering when can baby eat cheese and more cheese-related questions.
Your baby should be ready to try out cheese for the first time by the age of 6 months. The more conservative approach recommends waiting till 9 or even 12 months. It depends on how early you start introducing your baby to solid foods and how is he reacting to them.
Cheese is usually introduced to a baby's diet once he starts to eat some more traditional solid foods. If your baby eats vegetables and fruit without any allergic or other reaction, to can proceed to give him cheese.
Start by giving your baby with a non-sharp cheddar, cottage or mozzarella. If you want to give solid cheese to your baby, make sure it is cut in small portions or shredded. Do not give him solid cheese if he cannot chew well yet.
Other ways of adding cheese to your baby's diet may be grating it over pasta, melting it over warm veggies or mixing it into scrambled eggs.
Whatever type of cheese you end up giving your baby, make sure it is pasteurized. Raw milk (and cheese made from raw milk) could be contaminated with listeria monocytogenes, a form of bacteria that can be fatal for infants. That means cheese like brie or feta is off-limits. All your cheese should also be full-fat as it is less processed and it is a healthy type of fat.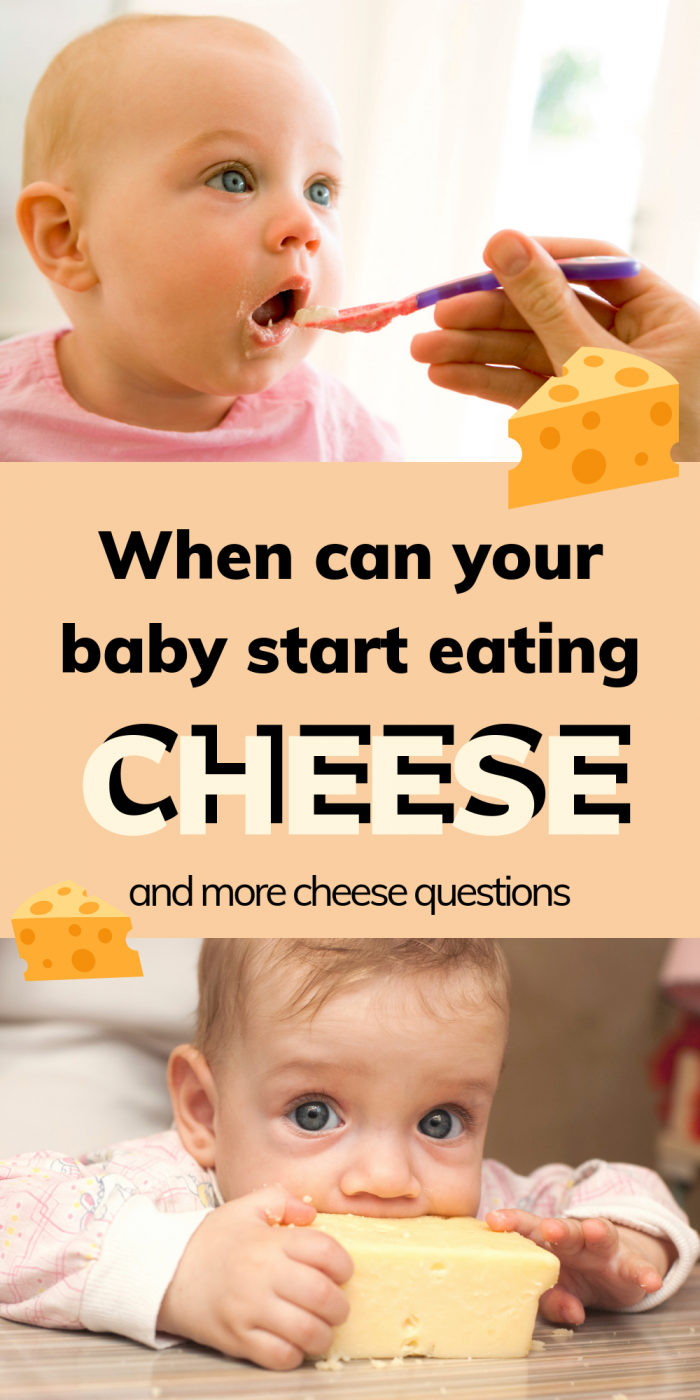 So, let's repeat all the important information.
Q: When can baby eat cheese?
If your baby is already used to solid foods, then from 6 to 9 months.
Q: When is it not safe to feed baby cheese?
(And you need to contact a doctor first.)
If your baby has chronic eczema or a food allergy.
Q: How to know if my baby is allergic to cheese?
facial swelling
skin rash
wheezing
abdominal cramping
vomiting
diarrhea
Q: What about lactose intolerance?
There is not much lactose in cheese and is, therefore, safe.
Q: What type of cheese is good for my baby?
It has to be pasteurized. Either cow, sheep, or goat cheese.
Cheddar
Parmesan
Edam
Colby
Colby Jack
Swiss
Mozzarella
Monterey Jack
Romano
Babybel
Paneer
Provolone
Red Leicester
Cheshire
Jarlsberg
Gouda
Lancashire
Double Gloucester
Grana Padano
Cottage Cheese
Ricotta
Mascarpone
Cream cheese
Cheese spread
(Source)

Q: What type of cheese is NOT good for the baby?
Brie
Camembert
Chevre
Queso Blanco
Queso Fresco
Danish Blue
Stilton
Saga
Gorgonzola
Roquefort
Wensleydale
Q: Low fat or full-fat cheese for a baby?
Definitely full-fat.
Q: How to prepare cheese for a baby?
cut into small pieces
shredded
grated on pasta
melted on veggies
mixed into eggs