Babyproofing Your House: A Checklist for Every Room
Published by

Dominika

Created:
29. 11. 2022
Updated:
4. 1. 2023



All you think about is the safety of your baby. You choose the best hospital to welcome your baby and then the best Rear-Facing Car Seat for their first ride home from the hospital. But what after reaching home? Is your house babyproof? Have you given a thought to it?
Babyproofing your home is an important part of protecting your family from any type of injury or harm. Here are some general tips for babyproofing house.
Tips for Babyproofing House
Even though babyproofing your house can feel overwhelming, there are only a few easy actions you need to take. By following these suggestions, you will ensure that your child is kept safe from all dangers. Remember that babyproofing is more about going with your guts and less about the latest safety products or electric gadgets being marketed.
Using Door Knob Covers to Secure the Doors to Unsafe Areas
Making sure that your children cannot escape the house or enter unchild-proofed rooms is one of the first stages in childproofing your house. Little hands find it challenging to grasp, spin, and open doors due to door knob covers. You should hang these on all of your home's exit doors and restroom doors to make them babyproofing doors. Additionally, it is a smart idea to put them on closet doors and any other doors to rooms that you don't want your child to enter.
Cupboard locks:
Just as you don't want your child to open doors to enter dangerous spaces, you also don't want them to open kitchen or bathroom cupboards that can contain hazardous chemicals. The two main options for securing your cabinets are often an exterior lock or an inside latch that you screw into your cabinets.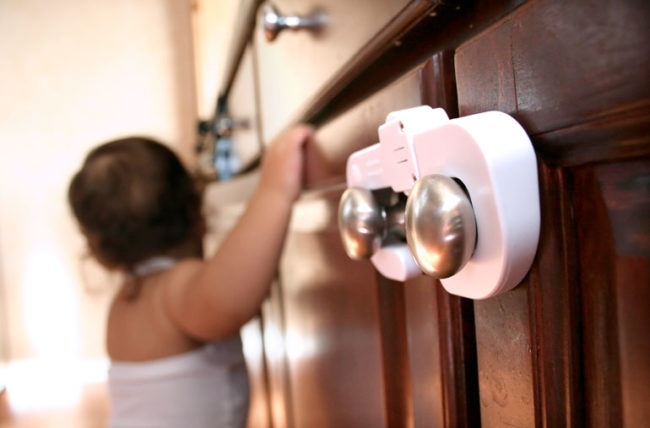 Nursery Safety Measures
When it comes to your baby's nursery design, cordless window coverings, non-tipping furniture, and smart toy storage are all excellent choices. Hence, when you think about furnishing the nursery, you should choose the Best babyproofing products and every piece of furniture tactfully.
Crib:
The safest crib of all is one that is completely empty, so avoid using a bumper, cover, pillows, or stuffed animals. As soon as your baby starts to pull herself up, slide the mattress to the lowest position and refrain from hanging a mobile over her crib. (Grabbing it would be too tempting.) Moreover, always ensure that the crib for your infant is located away from windows in general. As it's hard to predict when they will learn to pull up in the crib and may start to expand their reach.
Practice toy safety:
Always choose the toys for your little one that are secure for them. Like, toys should be substantially bigger than their mouth to avoid choking hazards. Verify that every component of a toy, such as doll eyes or teddy bear ribbons, is firmly fixed and cannot be taken off.
Baby-safe toy box:
An open large toy basket is better than a toy box with a lid since curious toddlers could climb inside and become stuck or their fingers might get caught in the hinges. Hence, pick a toy box with a secure layout. Avoid using containers with slamming hinged lids. You want one that slips open or has a light, removable lid. Make sure it has lid support that can prop the lid open if yours has a hinged top. Choose a toy box with ventilation holes or a gap under the lid in case a child manages to get inside.
Dresser:
Secure any heavy or potentially unstable furniture or the baby's dresser firmly to the wall. There are many different tips to help prevent your child from getting their fingers stuck in the door, drawer, or cabinet. You can buy babyproofing drawers or make your baby-¨proofing straps fit around drawers and cabinets. These straps keep the baby out while still allowing them to close by themselves.
Window Blinds:
To reduce the chance of unintentional entanglement or strangulation, choose cordless window coverings. When looking for new window treatments, cordless solutions are easily distinguishable by seeking the Best for Kids accreditation label. As babyproofing products have undergone independent testing and are suitable for use in households with young children. If cordless blinds are not an option, shorten or tie them up so they are out of the way.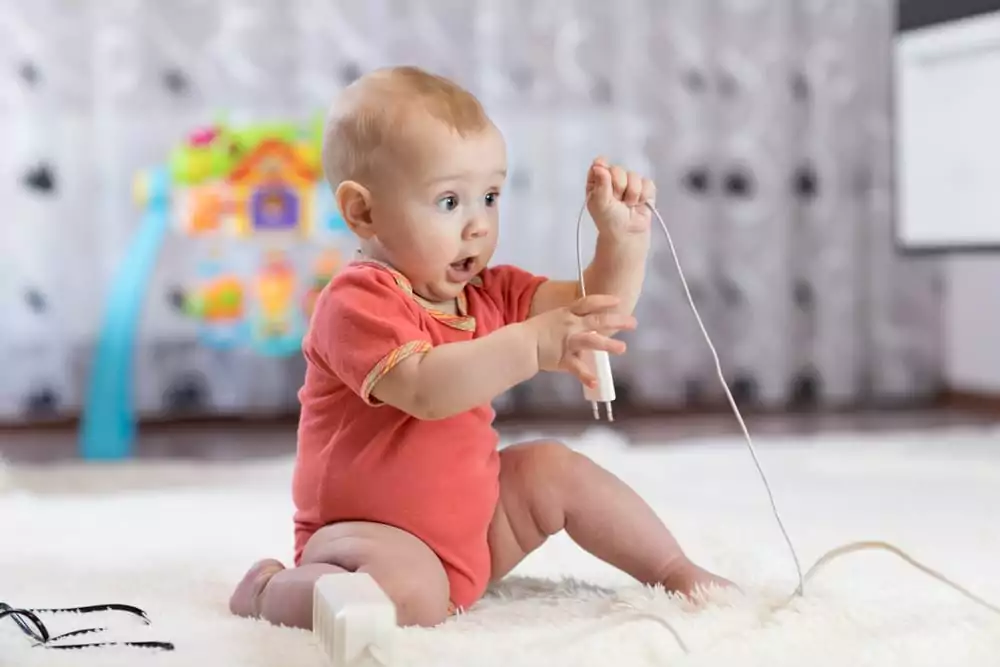 Electricity Items
When you're pregnant and have a baby, you'll have to make sure that your house is safe from all the hazards. There are some things that you can do to make sure everything is secure for your baby. You should keep electrical items turned off, out of reach, in the open, and away from your baby so they don't get shocked while playing around or running in the house.
Appliance Locking Strap
Your home's appliances can be a safety hazard. Your kids might pick dangerous objects out of the refrigerator or open the dishwasher and pull out a knife, or it may also open the oven and get burned. Hence securing each of these kitchen appliances with an appliance latch or lock has become necessary.
Swing Stair Gate With Extensions
Another crucial component of babyproofing your house is to lock the stairs to avoid falls. In your home, gates need to be installed at the top and bottom of each stairway.
Adjustable Gate:
Baby gates can assist in preventing your children from walking into rooms through large doorways in addition to keeping them off the stairs.
When you are visiting friends or family members who do not have babyproofing stairs, it can be simple to set up a temporary barrier with the help of an adjustable, portable mesh gate.
Become Familiar With Your Water Heater's Settings
Make sure your water heater is set to less than 120 degrees in order to keep curious babies safe. Children start to get attracted to twisting and playing with knobs around the age of 15 months, according to a survey. "They possibly burn themselves, When they turn on the hot water in the bathroom. Kids playing in bathrooms caused a lot of burns that we saw in the emergency room, but if the thermostat is set to less than 120 degrees, they can't do that. Parents usually look over such a simple thing. To prevent your children from opening the toilet and drowning, a toilet lid lock is also a smart option.
Babyproofing Home Depot
You should be extra careful with your babyproofing home depot, it is where you keep your medicines and cleaning materials. Since children don't think in terms of poison avoidance. However, some common household things like hand sanitizer, disinfecting wipes, laundry pods, and colorful soaps may be appealing to toddlers but they are quite dangerous if consumed.
"Keep all drugs, both over-the-counter and prescription, away from your little one and other vulnerable groups as well. Although child-resistant packaging is useful, toddlers are smart enough to access it easily."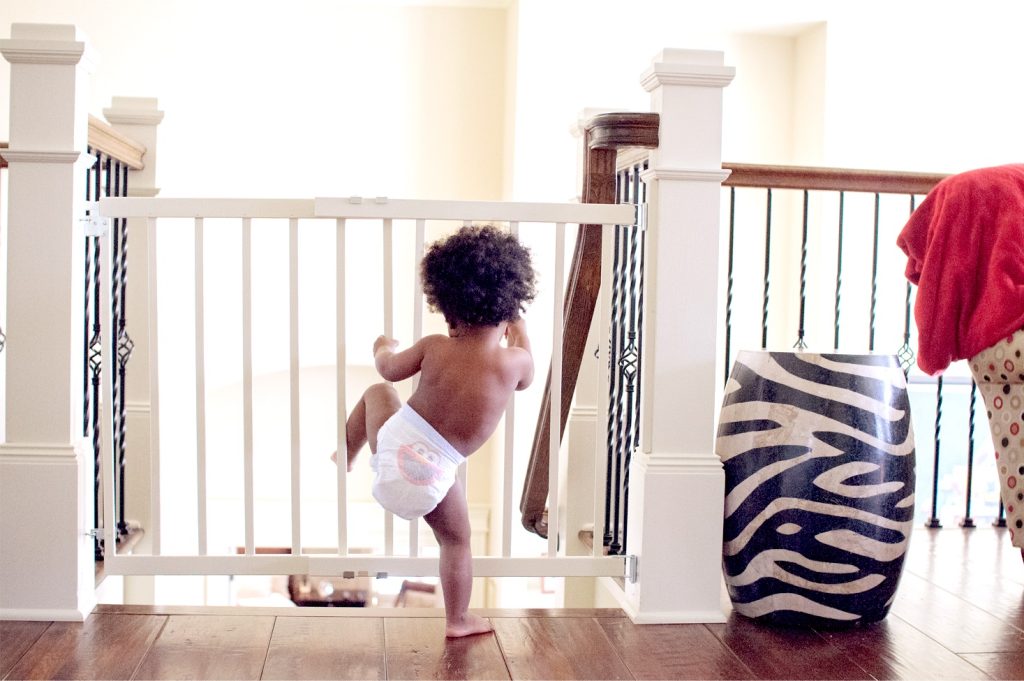 Babyproofing the Kitchen
Kitchen dangers include cleaning supplies, sharp objects, and high heat from the stove and oven.
Stove guard:
Stove knob safety covers can prevent your toddler from turning them on. As your kids may get burned by food that is cooking on the stove or may accidentally switch on the burners and suffer severe burns. Moreover, Cooking on the back burners will prevent your youngster from getting to the pot handles, and turning knobs away from the front of your stove is also a smart idea.
Plastic guards, like the stove guard, can prevent your children from accessing household gadgets like your TV, VCR, or DVD player.
Gadgets and knives with sharp edges:
Keep knives out of children's reach in a block that is kept up high or in a drawer with a safety latch. Never leave a knife on the kitchen counter or table. Additionally, keep sharp-edged items like food processors locked up and away from your children.
Keep matches out of sight:
Always keep matches far away from your little one's sight. Don't forget to keep them in a locked or high cabinet.
Locks and a cabinet:
The under-sink cabinet and other lower cabinets, where cleaning supplies, bleach, and other hazardous chemicals are frequently kept, should have locks fitted, just like in the bathroom. You can instead keep such home items locked up high in cupboards for added security.
Unplug electronics and stash cords:
When not in use, make sure to unplug kitchen appliances to prevent access by curious children. Additionally, check that no appliances or windows have any dangling cords.
Keep the edges clear:
Avoid using tablecloths, and keep hot meals and drinks away from counter edges where they could fall on your baby (a child can yank the bottom of one, causing serving dishes or heavy plates to topple).
Making the living room child-safe
The fireplace, sharp furniture corners, and lamp wires are just a few of the living room's trouble spots. Additionally, pay special attention to this place if you keep guns in this area.
Fireplace:
You should never leave your infant unattended in a room with a burning fireplace. Glass or screen doors don't offer the best safety because glass can reach lethal temperatures, screens can fall off, and surrounding fireplace tools are frequently bulky and possibly sharp.
Weapon cases:
According to the American Academy of Pediatrics, a home without guns is the safest one for a baby or toddler (AAP). However, if you have one, make sure it is locked up, unloaded, and that the ammunition is kept (and locked) in a different spot.
Making the Home Office BabyProof
The home office is another space that should have an exterior door lock because it is not appropriate for a baby or toddler. This area is certainly covered in electrical cords, and there are several outlets.
However, the most hazardous items in this area are the tiny button or coin-sized lithium batteries and comparable choking dangers like paper clips, pen caps, staples, push pins, and thumbtacks that can be on the ground or your desk.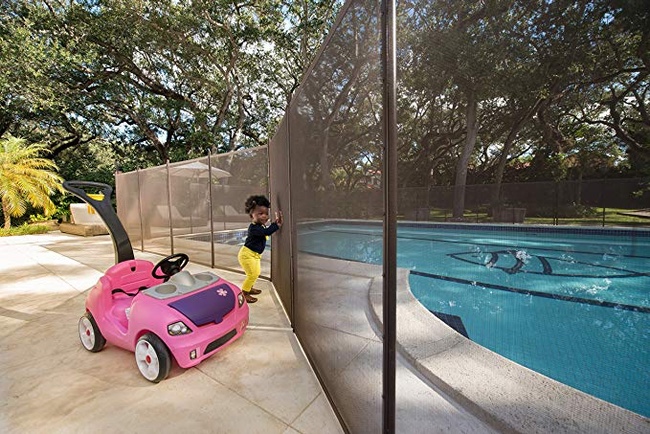 Around Swimming Pools and Water Features
Take precautions to protect the regions around swimming pools, hot tubs, and other water-containing components of your home, such as ponds and fish tanks. Backyard swimming pools need to be fully enclosed by a 4-foot fence, ideally one with a self-latching gate. Alarms and pool coverings could give more security. Keep toys out of swimming pools. A child near water should always have your full attention, just like in the bathtub.
Understand Your Child's Viewpoint
Seeing things through your baby's eyes is the best approach to babyproof a space. Get on your hands and knees and begin to crawl. What is easily accessible and at the baby's eye level? Any object, including computer cords and glassware on low shelves can pique a child's curiosity. When you are standing directly over breakable or dangerous objects, you might not see them.
Babyproofing Kit
A babyproofing kit is a great place to start. With so many different products on the market, you'll find the right fit for your home. If you need specific items, it may be wise to purchase them all at once -that way you won't be shopping for each one individually.
The babyproofing kits are designed to teach your child about different electrical devices such as baby monitors, lamps, and outlets so that they can recognize how dangerous they can be. Most importantly, the babyproofing items can help you prevent kids from triggering any embedded fall hazards.

Conclusion
Babies never seek out trouble; however, they do learn some things by exploration. They are fascinated and curious about their surroundings. They also spend most of their time at home at that age.
Babyproofing the house entails being vigilant and nearby, of course, but it also provides an opportunity to teach your child that some things are off limitations. Say "No, that's not safe to touch" firmly when she reaches for a hazardous object. Play this toy instead. and whenever needed, use alerting words like "hot!" or "ouch!" to strengthen your safety lessons.
The first ten years of a child's life are a magical time. Children are genuinely curious and still develop their independence every day. Despite their age, they also crave love and approval from their parents. This can make it difficult to balance the responsibilities and obligations you have toward your child, while not going overboard and putting them in danger. Because of this, it is important to babyproof your home before even thinking about having children
FAQ: Babyproofing Your House
When should I Babyproof my house?
One can babyproof the house as soon as they enter the second trimester of their pregnancy or even before that. It may seem strange to babyproof your home, even before the baby can't even roll over. However, you might be amazed at how quickly they'll start moving around and getting into things. It is thus never too early. When your child is still a newborn or even before they arrive, take the time to babyproof the space.
How do you Babyproof a room?
We have compiled a list of babyproofing tips that you can use to keep your babies happy and safe. The biggest tip we can give to parents is to make sure their room is as safe as possible.
For the greatest outcomes, remember to use these suggestions!
Verify that there is sufficient room around the doorframe for babyproofing accessories to fit.
Use a range of patterns and characters with kid-friendly designs and colours.
Store toys out of the way but not too high that your youngster can't get to them.
Be sure there are no gaps for a baby to easily escape through between furniture and walls, corner bookcases, or the ends of couch tables.
What do you need for childproofing?
It's natural for parents to go overboard when it's about babyproofing the house, but still, much of it is just common sense. Like, bumpers or safety padding should be used to cover all sharp furniture corners and edges. Use safety plugs or furniture to ensure babyproofing outlets. Lock each and every cabinets, drawers, or doors that are within the baby's reach. Any blinds or drapes with looped cords should be removed, or the cords can be stashed with safety tassels and cord stops.
Is Child Proofing necessary?
You'd be surprised at how easy it is for a baby to get into trouble. From kitchen cabinets to outlet covers. Therefore, babyproofing is the best way to keep your baby from accidental injury. By installing a few house baby care products and childproofing your home, you can ensure that your child will be safe, but also happy exploring their environment.