How to Organise a Perfect Baby Shower
Published by

Natalia

Created:
11. 2. 2020
Updated:
7. 10. 2022
Are you thinking of throwing "a baby party"? A new phenomenon called BABY SHOWER gets more and more popular among future mums. It is a celebration for a mum-to-be and her unborn child. The mum is "showered" with the presents and games are played. It can get very emotional, even tearful, so bring tissues! Here are some step-by-step tips for you when planning a baby shower. 
---
Guestlist, date, time and place
First, make a list of your friends and family members you would like to invite to your baby shower. Usually, only women are invited, but it is totally up to you, for example, if you have any male friends, invite them, too! 
Choosing a place and a date can be a struggle. A baby shower can be held at:
home
friend's house
restaurant or a café 
garden, terrace 
Airbnb apartment
rooftop terrace
¨
Since everyone is busy nowadays, it is difficult to arrange a date. Try to send an email or message via Facebook, create a poll and let your friends choose a suitable date and time. Friday evening or a weekend is a safe option as people are usually off work- we would recommend having a party on Sunday. Baby shower brunch or afternoon tea is never a bad idea!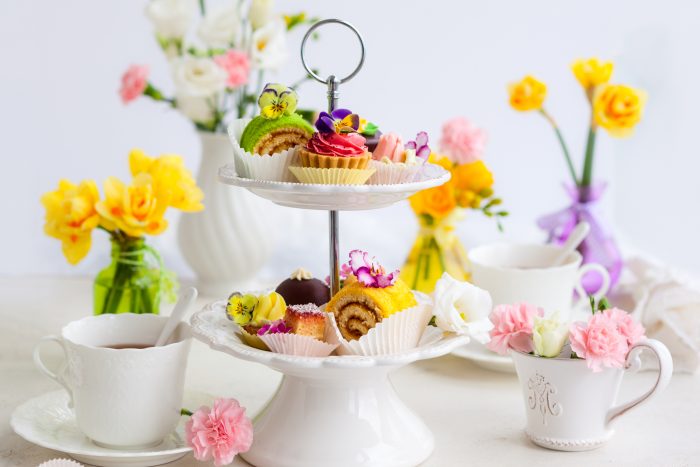 Invitations
Old school printed invitations are stylish and everlasting. Create your own invitation with a unique personalized style. DIY invitations are even more appreciated.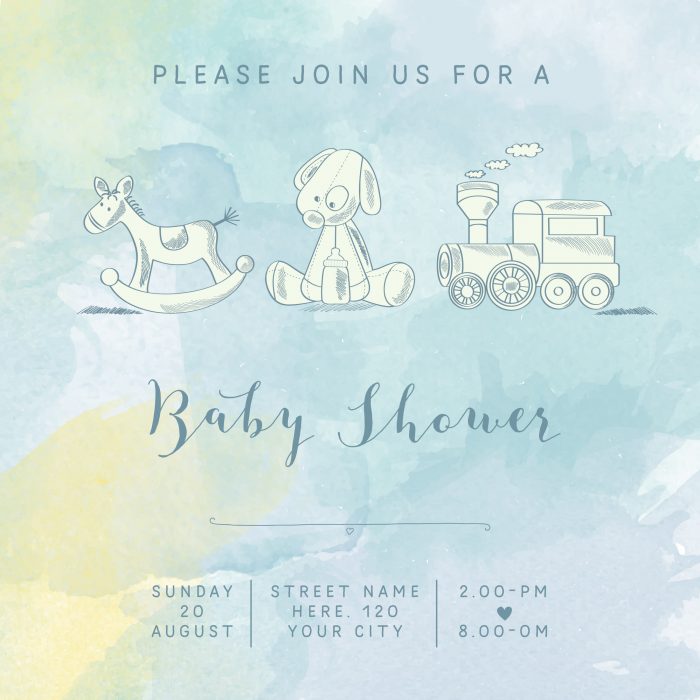 If you are not a fan of old-fashioned invitation,  just send an online invitation via e-mail. 
Make sure you will mention all the relevant info (date, time, place, dress code, etc.)
Click here for inspiration.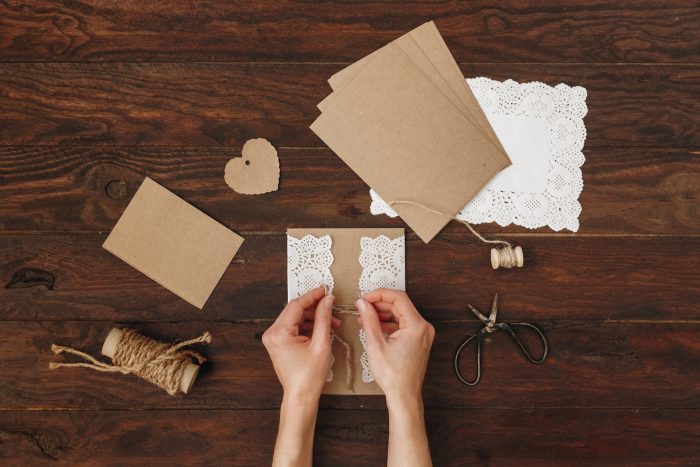 Food and drinks
A big advantage of having a baby shower at a restaurant is that you don't have to prepare everything by yourself. You can order whatever you like from the menu and the chefs will take care of your needs. Or you can hire a catering service. It can be quite expensive though, so if you don't want to spend too much money, you can host the party at home and ask guests to bring nibbles with them (muffins, tapas, fruit salad, crisps, etc.). Here are some food ideas for you: 
muffins or cupcakes 
fruit salad
tapas
small treats (lollipops and candy)
 mozzarella – tomato – basil sticks
cold pasta salad
mini pizzas, mini burgers, sandwiches
chocolate fondue
cheese board
popcorn, crisps, savouries
apple pie, cheesecake
hummus with carrots/cucumber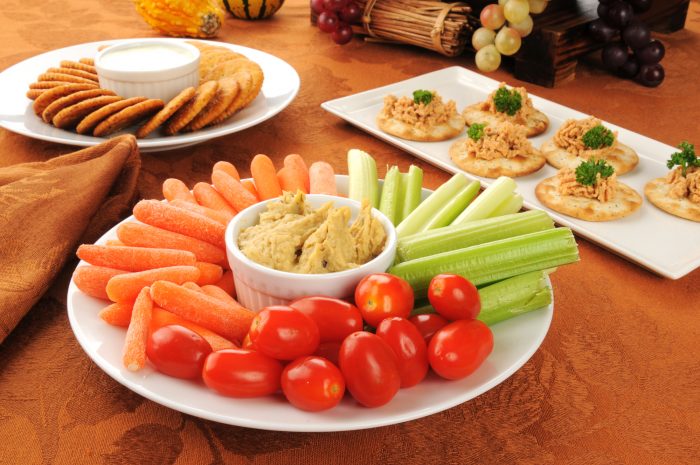 + cake (order or make it) 
Drinks ideas: 
non-alcoholic champagne 
virgin mojito 
virgin piña colada
 smoothies 
 water with lemon, cucumber, and mint 
 non-alcoholic mulled wine 
 non-alcoholic beer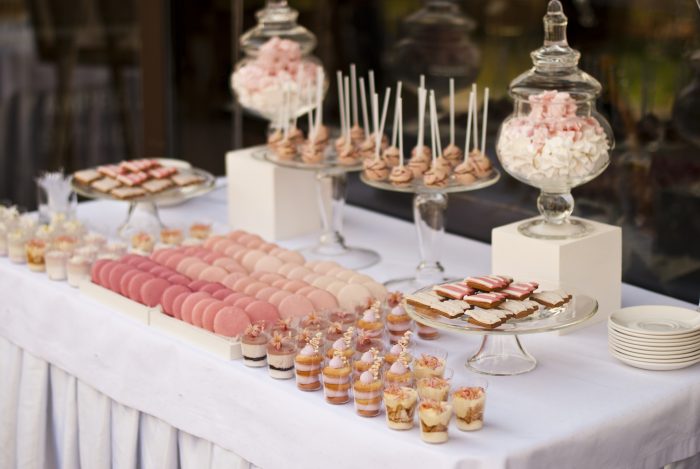 Presents
"What should I get you?" – the frequently asked question the future mum gets when planning the baby shower. To make life easier for your friends, you can create a list of things you or your little one would need the most.
If it is too pricy for someone, there is a solution. Just ask them to bring their old toys, books or baby clothes. Sustainable and personal gift giving-> win-win!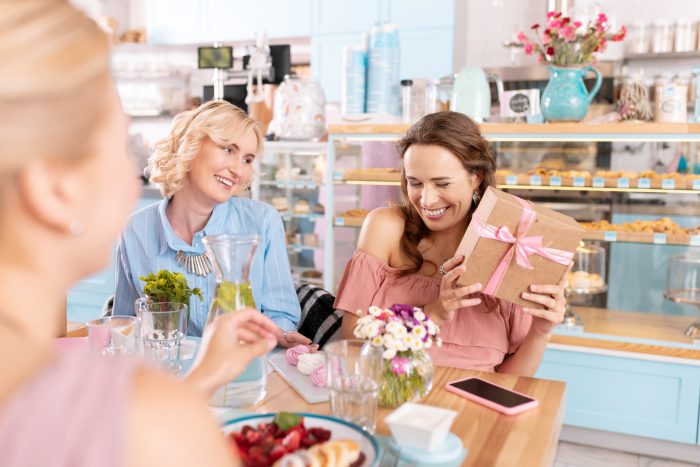 Decorations
Party decoration can make a real difference. Set a theme:
girls' baby shower theme,
boys' baby shower theme,
gender-neutral baby shower theme
If you are planning to reveal the gender during the baby shower, buy proper supplies and decorations to enhance the theme. Hanging decor, banners, confetti, photo booth props, tableware – all the essentials. Choose one table where guests will put the presents, hang a lot of balloons and garlands above it. Place food and drinks nicely on a separate buffet table. You can also place the food all over the room so the guests can mingle and grab a snack while chatting.
Another way to celebrate the joyous occasion of a new life entering the world is a custom-made inflatable. Whether you are looking for something unique to announce the gender of your baby or simply want to add a special touch to your party's decor, an inflatable is a way to go. Perfectly designed Inflatables can come in all shapes and sizes, from small balls that can be used as part of a balloon bouquet, to large columns that can be used as centerpieces. Many inflatables even come with light-up features that add an extra bit of excitement to your party. And because they are easy to set up, take down, and are durable, you can use them over and over again for all your special occasions or keep them for the baby to play with in the near future.
💡TIP: Check decorations online – click here.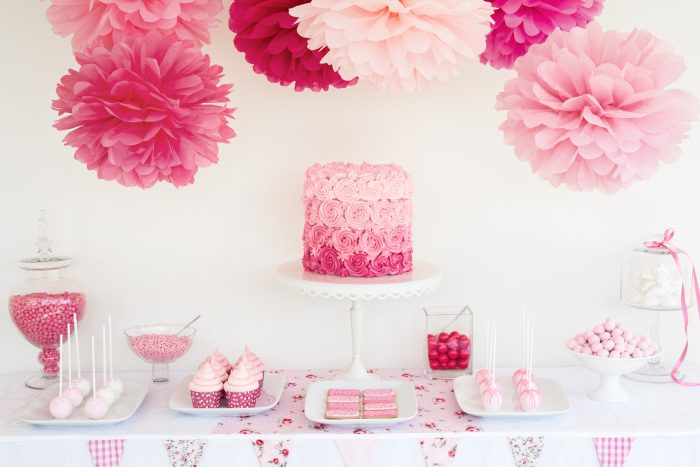 Games and activities
A baby shower is a party so you should have some fun! When the preparations are over, you can relax with your loved ones and have a blast. To entertain yourselves you can:
ask all the guest to bring their baby photos, collect and place them in random order, give everyone a piece of paper and let the guests guess who is who in the pictures
baby food contest – buy different baby food items, put them into separate bowls, and let them guess the flavours, may the best one win!
karaoke – favourite party activity that never disappoints
write a funny advice list for a baby girl/boy
name/gender guessing game 
drawing contest – try to draw an image of the expected child, keep the drawings and after 1 year you can surprise the winner with the gift
make the guests buy tombola tickets and surprise them with funny gift cards (babysitting voucher for 2 people etc.)
soundtracks – play songs from Disney movies or fairy tales and let your friends guess the name of the movie, the fastest one wins!
gender revealing ceremony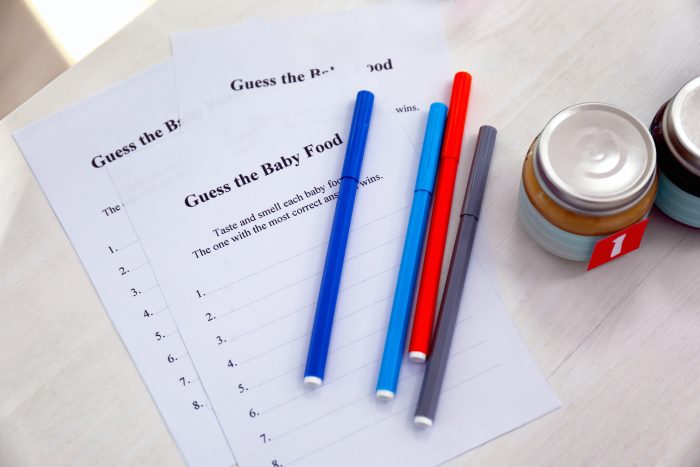 To sum everything up…
Your tick list:
Guestlist
Choose date and time
Pick place
Invitations
List of presents
Food and drinks
Decorations
Games and activities
Hopefully, this article will help you when organising your baby shower. With or without pink garland, you will experience a wonderful party. It all depends on you. If you wish to have 2 cakes, you will get 2 cakes. Just enjoy your party and get ready to welcome your baby into the world. Good luck!